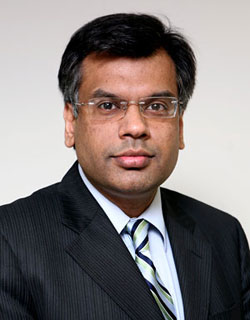 SP Guide Publications (SP's): Congratulations on taking over as CEO of one of the world's most technology driven company headquartered in US. Can you indicate on your foreseeable roles within the company and for the company?
Dr Vivek Lall, General Atomics (Vivek Lall): Many thanks Jayant. As Chief Executive globally responsible for Commercial Strategic Development it becomes imperative for me that the cutting edge technologies developed by the world's leading scientists and engineers are of benefit to US and international governments and customers.
SP's: General Atomics is renowned for its contribution towards nuclear sector. Can you elaborate on this? Its initial charter was focused towards peaceful missions of atomic energy. Can you take us to the journey from that point to the current vastly expanded capabilities?
Vivek Lall: General Atomics had an initial charter to explore peaceful uses of atomic energy. Leading scientists came to GA, forming the nucleus of the human resources. GA carries out the largest and most successful nuclear fusion program in private industry. The company has been the primary developer of modular helium-cooled nuclear power reactor systems, and its TRIGA® research reactors have operated around the world for over 50 years. General Atomics is committed to developing innovative energy solutions to meet global needs. We are focused on the fundamental theoretical research needed for sustainable, alternative technologies that are safe and economical through improved performance. And with over 50 years of experience, General Atomics plays an important role in nuclear research and scientific discovery.
" India is increasingly becoming the epicenter of great innovation and it is critical to contribute to its growth and the technological prowess."
What are the core strengths of the company as of today?
Vivek Lall: In addition to what has been mentioned, GA develops electromagnetic aircraft launch and recovery systems for the US Navy, as well as electromagnetic railgun launchers, pulsed power systems, and projectiles. General Atomics Aeronautical Systems is a world leader in proven, reliable Unmanned Aircraft Systems (UAS) and tactical reconnaissance radars, as well as advanced high-resolution surveillance systems. GA produces a variety of high technology products from high-energy capacitors and nuclear/radiation monitoring systems, to deicing products and diagnostic enzymes.
SP's: How would you view, as the CEO of General Atomics, India as part of your global expansion and global marketing strategy?
Vivek Lall: India is increasingly becoming the epicenter of great innovation and it is critical that we help contribute to its growth and technological prowess.
SP's: How do you find the policy initiatives by the new government in India?
Vivek Lall: It is very encouraging that the new Government is working actively to create an enabling environment for catalyzing true technology growth and innovation. One element of that enabling environment is FDI policy. I am very optimistic about the future prospects.