Commodore N.A.J. Joseph laying wreath at the War Memorial on the occasion of Armed Forces Veterans' day
The Armed Forces Veterans' Day, was commemorated by Southern Naval Command (SNC) at Kochi, on January 14, 2021. Commodore N.A.J. Joseph, VSM, Commanding Officer, INS Venduruthy and the Station Commander, Kochi along with the Veterans from all three Services laid a wreath at the War Memorial inside naval base, Kochi. This was followed by a Veterans Online Rally, chaired by Vice Admiral Anil Kumar Chawla, PVSM, AVSM, NM, VSM, ADC, Flag Officer Commanding-in-Chief, SNC.
A total of 30 ex-servicemen from the Army, Air Force and Navy, settled post retirement in and around Kochi, attended the event, which served to remind both serving and retired personnel of the supreme sacrifice made by their brothers in arms towards the defence of our nation. Vice Admiral M.P. Muralidharan (Retd), the present President of the Navy Foundation, Kochi Charter, was the senior-most veteran present.
Armed Forces Veterans Day, observed each year ever since 2017 on January 14th as a mark of respect and recognition of the services rendered by Field Marshal K.M. Cariappa OBE – the first Indian Commander-in-Chief of the Indian Armed Forces who retired on January 14, 1953 is meant to commemorate the selfless devotion and sacrifice of our veterans; many of whom laid down their lives in service of the nation and also to salute the indomitable spirit of those personnel who served the Indian Armed Forces with pride and honour. The event also serves to strengthen the bond between serving personnel and the veterans.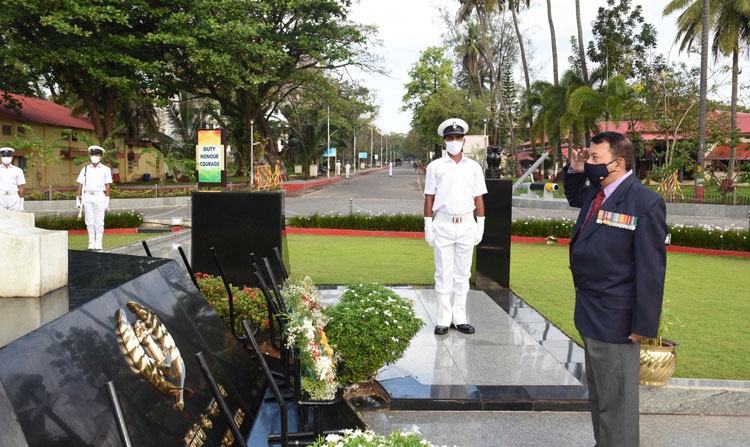 Vice Admiral M.P. Muralidharan (Retd) laying wreath at the War Memorial on the occasion of Armed Forces Veteran's day