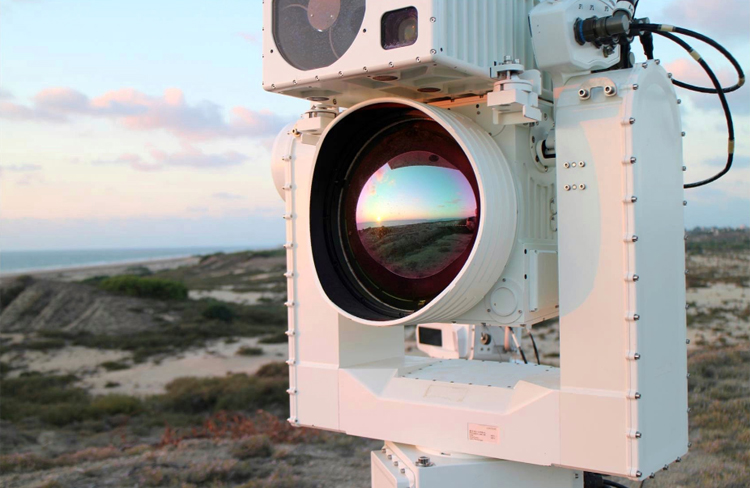 SKY SPOTTER
RAFAEL UK is presenting a portfolio of life saving defence systems and technologies at DVD 2022. With a pedigree of over 70 years in delivering state-of-the-art, combat proven systems to customers around the world, RAFAEL's solutions rely on cutting edge technological innovations that have prevailed in the most complex battlefields.
RAFAEL UK's showcase will feature the TROPHY APS, the world's only active protective system that has saved lives on the battle field. The TROPHY APS was chosen by the UK Ministry of Defence (MoD) as the solution for its Challanger-3 MBT. The showcase will also feature air defence solutions like the DRONE DOME Counter UAS, already used by the UK MoD. Additionally, the MIC4AD Command and Control Air Defence deployed in the GBAD programme by the British Armed Forces will be displayed, as well as the SKYSPOTTER — the only deployed passiveEO solution for early warning against incoming ballistic threats will be displayed.
These systems amongst other technologies featured will provide an up-close look at RAFAEL UK's portfolio of combat-proven systems that can bolster the defence of British assets around the world.
Systems in focus:
TROPHY APS: As the world's only operational, combat-proven active protection system for armoured fighting vehicles, TROPHY APS detects, classifies, and engages incoming threats and delivers unmatched survivability and manoeuvrability for all vehicle classes. TROPHY creates a neutralization bubble around the vehicle. It rapidly detects, classifies, and engages all known chemical energy (CE) threats – including recoilless rifles, ATGMs, AT rockets, HEAT tank rounds, and RPGs. It increases the lethality of combat forces, successfully neutralizing the enemy's anti-tank teams. It can locate the fire source, enabling the crew to return fire effectively using the platform's armament, or by interfacing with other fighting platforms via the BMS network. It can be deployed on any AFV including main battle tanks (MBTs), 8x8, and other medium weight platforms. Since becoming operational in 2011, TROPHY APS has reshaped the battlefield, enabling unprecedented level of survivability with over 5,300 live fire events and 1 million operational hours. It was selected by the German Army for the Leopard 2 MBT, and by the British Army for the latest Challenger 3 tanks.
DRONE DOME: is an innovative end-to-end, combat-proven Counter-Unmanned Aircraft System (C-UAS), providing all-weather, 360-degree rapid defence against hostile drones. Fully operational and globally deployed, DRONE DOME offers a modular, robust infrastructure comprised of electronic jammers and sensors and unique artificial intelligence algorithms to effectively secure threatened air space. DRONE DOME's artificial intelligence capabilities, along with the advanced laser and sensor systems, provide a more precise picture of the incoming threat. This additional information allows the system both to detect and identify specific threat elements more accurately engage and neutralize the target faster & more efficiently. The system's flexibility across military and civilian applications offers advanced protection for manoeuvring forces, sensitive facilities, border protection, as well as increasingly vulnerable civilian targets like airports and other public facilities.
MIC4AD Command and Control Air Defence Missions: An advanced, modular, integrated C4I system that commands and controls both air and missile defence missions, MIC4AD is the optimal solution for all threats at any command level – national, regional, or tactical. It provides end-to-end, highly automatic air and missile protection, assessing and classifying hostile targets. As a unified command and control system, it optimizes resource management to swiftly determines the most appropriate defence systems - SPYDER, IRONDOME, DAVID'SSLING, or customer systems - and allocates targets to weapon systems with full, semi-automatic or manual fire control.
SKY SPOTTER: a passive electro-optical early warning system with a high probability of detection and a very low false alarm rate, enhancing the capability of air defence radar detection systems.