Iron Dome is the only dual mission counter rocket, artillery and mortar (C-RAM) and Very Short Range Air Defense (VSHORAD) system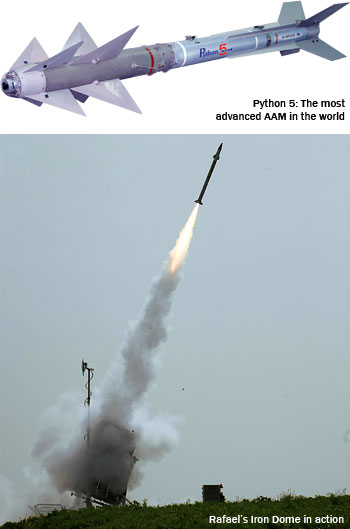 A blog of Israel's Defence Forces (IDF) mentions how Israelis are regularly threatened by rocket fire from the Gaza Strip. Hamas and other terrorist organisations launch mortars, rockets and missiles towards Israelis cities. Since 2001, more than 15,200 rockets and mortars, an average of over 3 rocket attacks every single day, have targeted Israel. Hamas, the ruling entity of the Gaza Strip, is responsible for most of the rocket fire on Israeli population centres. The organisation – which is recognized by the US, UK, EU and Israel as a terrorist group – has been increasing the size and capabilities of its rocket arsenal, the blog mentions.
Twice since 2005, the IDF has been forced to launch major operations in response to heavy rocket fire on Israel's civilians. The most recent, Operation Protective Edge, began after continual and relentless rocket attacks on Israeli cities since the beginning of 2014.
Operation Protective Edge – 2014
On July 7, 2014, the IDF launched Operation Protective Edge in order to restore quiet to the region and stop Hamas terrorism. The single goal of the operation is to stop Hamas incessant rocket attacks against Israel's civilians. Since the start of the operation, over 1,000 rockets have been launched at Israel. Of those, 754 have hit Israel and approximately 201 were intercepted by the Iron Dome Missile defence system, states the blog.
In this article, we feature how Israel has used technology to thwart attacks on the country. In 2004, the idea for Iron Dome gained momentum with the installation of Brig. General Daniel Gold as the head of the research and development bureau of the Israel Defense Forces (IDF). In February 2007, Defense Minister Amir Peretz selected Iron Dome as Israel's defensive solution to this short-range rocket threat. Since then, the $210 million system has been developed by Rafael Advanced Defense Systems working jointly with the IDF.
Rafael's Iron Dome
Iron Dome is the only dual mission counter rocket, artillery and mortar (C-RAM) and very short-range air defence (VSHORAD) system. Iron Dome is an affordable, effective and innovative defence solution (CR&AM Class) to the asymmetric threats of short-range rockets, (up to and over 70 km), and mortars as well as VSHORAD Missiles System (up to 10 km) against traditional Air Defense targets.
It has been selected by the Israeli Defense Ministry to provide the lowest layer of Israel multi-layered air & missiles defence umbrella. The system was chosen as the best system, offering the most comprehensive defence solution from a range of threats, in relatively short development cycle and low cost-per-kill.
Iron Dome is an advanced defence system, designed for quick detection, discrimination and interception of rockets & mortar threats with ranges of up to and over 70 km and against aircraft, helicopters, UAVs and PGMs. The system is effective in all weather conditions, including low clouds, rain, dust storms or fog.
It provides robust, yet selective defence. Its ability to discriminate between threats headed towards the defended area and those that will fall into the sea or open fields reduces costs and limits unnecessary interceptor launches. A single launcher can protect against a medium-size city. Iron Dome uses a unique interceptor with a special warhead that detonates the targets in the air within seconds. The system can handle multiple threats simultaneously and efficiently.
The Iron Dome system includes the following components:
Mobile detection and tracking radar - Multi-Mission Radar (MMR) Battle Management & Control Unit Sensors
Mobile Missile Firing Unit (MFU) with 20 "TAMIR" interceptors
The Iron Dome meets the following requirements:
All-weather operation
Effective and selective handling of salvo threats aimed at the "Defended Zone"
Threat warhead is detonated on its trajectory
Threats are destroyed outside the defended area, during their flight
Ignores targets predicted to fall outside the defended area zone
Capable of continuous operation day/night and in all weather conditions
The system can be connected to the high echelon Air Situation Picture
Enables classification of target threat families
The Battery with all its components is transportable and moveable
Interceptors are maintenance free with a life cycle of 15 years.
RAFAEL offers integrated air defence systems for site (point target) protection, as well as mobile forces. RAFAEL's air defence systems rely upon the excellent performance demonstrated by state-of-the-art missiles such as the Python 5 short range full-sphere missile and DERBY - Beyond Visual Range missile. RAFAEL's systems and missiles are provided as stand-alone platforms or can be integrated within system modernization programmes. RAFAEL also offers acoustic and electro-optical sensors and communication networks that can be integrated within the air defence systems.
Broad Spectrum Solutions from IAI
Israel Aerospace Industries (IAI) provides unique system-of-systems solutions for a broad spectrum of needs in space, air, land, sea and homeland defence. In theatre defence, IAI has Arrow weapon system; integrated air picture and EZ Guard, exclusive economic zone protection guard.
Arrow Weapon System
Against the rising threat of Theater Ballistic Missiles (TBMs), carrying various types of warheads, Israel Aerospace Industries' MLM Division with its partners developed an effective, powerful and modular defence system. Utilising the uniquely effective Arrow II and the innovative Arrow III interceptors. The system detects, intercepts and destroys incoming TBMs and provides a large defended footprint allowing the protection of important strategic assets as well as civilian population centres.
Integrated Air Picture ELM-2026B - VSHORAD
ELTA's ELM-2026B VSHORAD radar is the fifth-generation of 3D tactical air defence radars. The ELM-2026B VSHORAD radar is a light weight transportable, X-band, solid-state electronically scanned, pulse-doppler radar. This cost-effective radar delivers early warning and target data for supporting surface-to-air missile weapon systems.
The radar employs multi-beam elevation coverage by applying Digital Beam Forming (DBF) and 360 deg. azimuth coverage by antenna rotation. The radar detects a wide variety of low RCS targets such as low flying fighter aircraft, low velocity ultra-lights and UAVs. The radar provides accurate target measurements of velocity, range, azimuth and elevation angles.
The ELM-2026B VSHORAD can be deployed as a local air defence system providing early warning and target track to surface-to-air weapon systems.
ELM-2080 - Green Pine Radar System
The ELM-2080 "Green Pine" radar system is a transportable ground-based, multimode solid state phased array radar. Incorporating ELTA's vast experience in surveillance and fire control, the "Green Pine" radar is designed to autonomously detect and simultaneously track dozens of tactical ballistic missiles from long ranges, under all-weather conditions and in the presence of undesired echoes.
ELM-2084 - MMR
The ELM-2084 is a mobile S-Band multi-mission radar (MMR) family implementing an advanced 3D active electronically steered array (AESA) supporting modular and scalable architecture. The MMR family supports artillery weapon location and air defence operational missions and provides optimal solutions for short, medium and long range missions. The ELM-2084 features high redundancy, graceful degradation, high reliability and very high availability.
ELM-2106 ATAR Medium Range Tactical Air Defence Radar
The ELM-2106 ATAR (Advanced Tactical Acquisition Radar) is ELTA's fourth-generation 3D Tactical air defence radars. It Reflects ELTA's 35 years of experience in tactical military radars. The ELM-2106 ATAR System is a 3D solid state L-band medium range tactical radar with Active Electronically Steering Array (AESA) in elevation. The radar detects a wide variety of low RCS target such as: low velocity ultra-lights and UAVs.
The ELM-2106 ATAR can be deployed as a local air defence system providing warning and target designation to surface-to-AIR weapon systems including MANPADS. The system can also be deployed as gap filters for supporting C3I centres for AIR Traffic Control (ATC). THE ELM-2106 ATAR has been field proven, operating in noisy and high-clutter environments.
ELM-2106NG - ADSR - 3D Tactical Air Defence Radar
This 3D portable radar detects a wide variety of flying platforms including low level high-speed fighter aircraft, hovering helicopters, low ultra-light aircraft and UAVs. The radar provides accurate range, azimuth and elevation angle measurements for each target, differentiating between aircraft and helicopters and classifying the helicopter type according to its blades returns.
ELL-8388 3-D Multi-Mission Ground ESM/ELINT System
ELL-8388 is a modern advanced 3-D ESM/ELINT surveillance system for tactical and strategic intelligence collection and air defence support. This integrated system has the unique capability of creating a 3-dimensional situation picture by providing location and dynamic tracking of airborne, shipborne, and mobile/fixed ground-based emitters.
ELW-2085 - CAEW - Conformal Airborne Early Warning & Control
The long-range, high performance, multi-sensor AEW introduces a new level of performance to airborne early warning, tactical surveillance of airborne and surface targets, and the gathering of signal intelligence. The ELW-2085's four sensors are: Radar, IFF, ESM/ELINT and CSM/COMINT. A unique fusion technique continuously cross-correlates data generated by all sensors: this data is combined with an automatically initiated active search by one sensor for specific targets detected by other sensors.
ELW-2090 - Airborne Early Warning & Control (AEW&C)
ELTA's integrated mission suite, with a powerful command, control and communication system, supports a variety of operational missions such as: long-range air surveillance; airborne C4I for air & naval operations; airborne command & control post; network-centric warfare operations and communication node.
This long-range, large cabin,4-engine turbojet military transport aircraft, supports a comlpete and high performance AEW&C suite. The IL-76 provides exceptional cabin space for the operator's crew including a large rest area for additional operators. The ELW-2090 IL-76 AEW&C aircraft can be air-refuelled for extending mission time.
Elbit's Proven Experience
A supplier of advanced artillery systems for over 25 years, Elbit Systems Land and C4I has proven experience with large variety of artillery guns, launchers and mortar types, advanced integration capabilities with various types of radios and artillery sensors, and a deep understanding artillery processes, ballistic computing and battlefield management.
Air Defence and Mortar Services
There are Platform Upgrades – comprehensive upgrade of existing platforms, including C4I, fire control and navigation systems. Truck Mounted Guns – artillery modernisation for heavy and light platforms utilizing existing towed, track, or mounted guns - improving effectiveness, accuracy and survivability. Autonomous mortar – automatic movement mortar system, fully integrated with C2, fire control systems, navigation, positing and communication, and leveraging existing platforms.
High Repetition Range-finders
The ability to measure the range-to-target at high repetition rates is critical to improving air defence systems' operational capabilities. Elbit Systems Electro-optics - Elop's (Elop) cutting edge eyesafe, high repetition rangefinders upgrade the capabilities of the full range of anti-aircraft weapons.
Virtual Training
The Air Defence Simulator (ADS) is a sophisticated indoor training facility that provides a simulated environment for advanced air defence (AD) training. The simulator combines training of short-range AD weapon systems with varying operational scenarios and environmental conditions. The ADS utilizes a powerful proprietary scenario generator that supports a large number of simultaneous entities, including high-fidelity simulation of virtual blue and red forces.