Pakistan considers the jihadi tanzims as their strategic assets to be used suitably both in peace and in war. This suits China too which is opening up a China-Pakistan Economic Corridor (CPEC) to Gwadar Port via PoK for which large amounts of funds are being invested by China to the tune of $46 billion.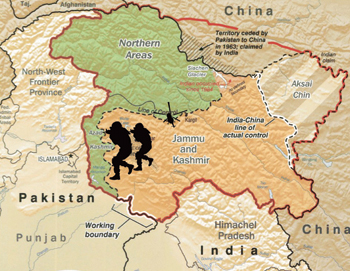 Since 1989 Pakistan has waged an unrelenting asymmetric war on India which we call "proxy war". We have been dealing with the terrorists sent by jihadi tanzims like the Lashkar-e-Toiba or Jaish-e-Mohammed who have their home and hearth in Pakistan-occupied Kashmir (PoK). They are funded, equipped, abetted, trained, logistically sustained and launched by Pakistan's Inter-Services Intelligence (ISI) and the Pak army across the line of control (LoC) or the international border based on the situation that favours them to achieve the optimum results in destruction of human life and infrastructure in India. This is in keeping with the strategy of "bleeding India through a thousand cuts". Their targets currently are mostly security forces personnel (Indian Army, J&K Police and Central Police Forces deployed in J&K). By so doing their intention is to keep the Indian Army engaged on the borders which is an important overall aim both for Pakistan and for China and hence the latter is supporting them in many ways. They consider these jihadi tanzims as their strategic assets to be used suitably both in peace and in war. This suits China too which is opening up a China-Pakistan Economic Corridor (CPEC) to Gwadar Port via PoK for which large amounts of funds are being invested by China to the tune of $46 billion.
The Federal Bureau of Investigation, an American Government intelligence agency, in its first ever open acknowledgement in 2011 in US Court said that Pakistan's Inter-Services Intelligence sponsors terrorism in Kashmir and it oversees terrorist separatist groups in Kashmir.
The Indian Army deployed along the LoC has a well coordinated counter-terror grid to neutralise the infiltrated terrorists who cross the LoC whereas currently in the hinterland the other security agencies, mainly J&K Police and Central Police Forces, have been managing the insurgency within Kashmir which has now waned to an insignificant level and they are now dealing with a restive population whose penchant for creating unrest is phenomenal. Currently it is this issue that has to be tackled politically in Jammu and Kashmir.
The terrorists who infiltrate into J&K have a short lifespan. In 1993-94 when I was commanding an armoured brigade in Jammu, the insurgency and terrorism was at its height and the lifespan of a jehadi varied from a few days to a few weeks. So many questions used to be asked as to why do they undertake such missions when they know that they will not be able to return to their homeland? The answer is quite simple. They are recruited from among the poorest sections of Pakistan's society and are promised a considerable amount of funds for their families. They are also motivated to think that as a jehadi if they die they will achieve Heaven (Jannat). When they come for a mission they are given drugs and injections of morphine and thus even if they are shot, but not in a vital place in the body, they continue to fight till the last breath. The insurgency and terrorism in J&K have caused widespread destruction and loss of life. Thousands of locals and security forces personnel have perished in this fight.
The URI Attack
On September 18, 2016, a terrorist group of four terrorists struck a battalion administrative base in Uri Sector. Some 18 soldiers of the Indian Army were martyred and many others injured in the terrorist attack in the early hours of Sunday morning. All four militants were killed within a few hours of the commencement of the attack, though combing operations to clear the entire area took longer. However, the casualties suffered by the Army (including injured personnel) were so heavy that it caught the attention of the entire Indian nation and an atmosphere got created, especially by the television media, for a savage response to teach our perverse and recalcitrant neighbour a lesson. This incidentally was the fifth major attack by Pakistan-based terror modules, assisted by their army and the ISI in recent times. These attacks include Gurdaspur (Dina Nagar) on July 27, 2015, Pathankot IAF Base on January 2, 2016, Pampore attack on June 25, 2016, Poonch attack on September 11, 2016, and Uri attack on September 18, 2016.
The casualties suffered by the Army were so heavy that it caught the attention of the entire Indian nation and an atmosphere got created for a savage response to teach our perverse and recalcitrant neighbour a lesson
After the Uri attack the assertion by Prime Minister Narendra Modi that those behind the terror attack in Uri in Kashmir "will not go unpunished" was followed by the his speech at Kozhikode on September 24, 2016, the venue of a three-day National Council Meeting of the BJP, where he said that Indians would never forget the gruesome act of killing 18 soldiers in Uri. Thus a general feeling seemed to be created that the nation was veering towards a possible military action.
Surgical Strikes by Indian Army
On the night of September 28/29 India's Special Forces (SF), generally known as Para Commandoes, carried out a fourhour-long operation against the terrorists who had concentrated across the LC in PoK. Their aim was to obviously infiltrate into Jammu and Kashmir and into the hinterland of the country to carry out terrorist activities.
Lt General Ranbir Singh, the Director General Military Operations (DGMO), in a news conference on September 29, after the strikes said: "Based on very credible and specific information which we received yesterday that some terrorist teams had positioned themselves at launch pads along the LoC with an aim to carry out infiltration and terrorist strikes in Jammu & Kashmir and in various other metros in our country, the Indian Army conducted surgical strikes last night at these launch pads," The External Affairs Ministry spokesman Vikas Swarup was also present.
The actual operation was carried out by teams of 4 and 9 Para SF (Special Forces), who are under Headquarters Northern Command. The operation was possibly conducted in both 15 and 16 Core Zones, across a frontage of about 200 km at five different locations. The operation was carried out along the LoC which meant that the penetration across the LoC was not more than 1 to 3 km in order to destroy/neutralise the terrorists who were waiting at the launch pads for infiltration across the LoC to the Indian side. "Surprise", a cardinal principle in such operations was fully achieved. This is evident from the fact that while one soldier had serious injury due to a mine explosion, all SF personnel returned to base. Thus also proving the skill, professionalism, training and motivation of our junior leaders and soldiers of SF. About 40 terrorists were neutralised.
UA Vs and other intelligence and surveillance means were employed which gave specific and credible inputs about the presence of terrorists at the launch pads which were kept under constant surveillance for few days prior to the actual operation. The Para SF teams were directed to commence the move after last light on September 28. It seems that a total of about 200 personnel of the SF were employed. They were probably tasked to infiltrate from our army localities/posts along the LoC, through known gaps based on good information about the terrain and Pakistan Army deployment.
Key planning parameters were:
Full surprise; swift and surgical conduct.
Nil or minimum casualty to own troops.
No troops or casualty, if any, to be left behind.
Maximum attrition.
The parameters were achieved fully.
Pakistan – A State in Constant Denial
Pakistan, however, dismissed India's claim as "fabrication of truth". They said that it is a "quest" by India to create media hype by rebranding cross-border fire as surgical strike. Pakistan is a state in constant denial because this status of denial has been witnessed after every major terrorist attack against India. After 2008 Mumbai attacks which killed 164 civilians and injured 308, Pakistan disowned any connection to the operation. However Ajmal Kasab, one of the ten terrorists who was captured alive, disclosed that the attackers were members of Lashkar-e-Toiba, among others. The Government of India said that the attackers came from Pakistan, and their controllers were in Pakistan. On January 7, 2009, Pakistan confirmed the sole surviving perpetrator of the attacks was a Pakistani citizen. On April 9, 2015, the foremost ringleader of the attacks, Zakiur Rehman Lakhvi, was granted bail against surety bond of Rs. 2,00,000 ($2,000) in Pakistan.
After Action Political Response
The military action, now being called counter-terrorist action, came against the background of the mounting pressure on the Modi Government to walk its "tough-onterror" talk. The public uproar for retaliation was visible in the entire country. Hence the BJP and the government have reasons to celebrate. The response won the approval and appreciation of the entire political class, with even opponents who accused Modi Government for being 'hawkish' applauding the feat of Army and pledging support: a development which could lead to setting of a new benchmark for response to Pakistanbacked terrorism.
As of April 2016, Prime Minister Narendra Modi has made 40 foreign trips. These excursions include state visits and summits on five continents, including the visits to the United States to attend the UN General Assembly, following his Neighbourhood First and Act East policies.
During the year 2015 saw Prime Minister Narendra Modi undertook a whirlwind tour of 26 countries. In 2016, Modi completed the three-nation tour of Belgium, United States and Saudi Arabia that began March 30 and concluded on April 3, 2016. On May 22-23, 2016, Modi visited Tehran.
The Prime Minister was criticised by opposition political parties within the country for spending more time abroad, however the positive impact of such visits is only ascertained during crisis and the surgical strikes was one such crisis which saw the world powers including the Islamic world supporting India.
Our diplomatic success can be summed up in the words of Ambassador G. Parthasarthy, a former Ambassador to Pakistan, who says: "The attack destroyed staging areas for terrorists preparing to cross the LoC and eliminated some of their Pakistan Army backers. This military action came after a high-voltage diplomatic offensive led personally by Prime Minister Modi in forums like G-20 and ASEAN, focusing on growing anger in India at unrelenting Pakistani support for terrorist violence. External Affairs Minister Sushma Swaraj reinforced the Prime Minister's efforts speaking out at the UN General Assembly. All this led to open expressions of support for India from major world powers like Russia, US, UK, France, and Germany. Even China was cautious in its response, urging 'restraint'. But, what has shaken Pakistan is the support for India from Saudi Arabia, UAE , Qatar and Bahrain—countries Islamabad regarded as 'natural allies'."
Pakistan's Likely Response
It would be prudent to expect a military response to the surgical strikes from Pakistan due to the nature of Pakistani state in which they have built up an image of themselves as 'the big macho tough guy' with in the country, despite the fact that they have lost every war they have fought against India. Moreover General Raheel Sharif, who has built a formidable reputation for himself within Pakistan, is retiring in about six weeks time and there is talk of him being promoted to the rank of a Field Marshal. Thus he cannot be seen to be lower than the best. Hence he may consider an equivalent military response necessary to restore his image.
Another offensive option is not to employ the Pakistani military but instead use jihadi groups along with the sleeper cells already available in India to carry out major strikes in the hinterland of India to show their reach and the level of violence they can unleash.
What Should be our Future Course of Action
Gurmeet Kanwal, the military analyst, suggests that if they continue their terrorist activity, all options which can inflict maximum punishment on the Pakistan military should be planned for, such as artillery strikes, use of artillery guns in direct firing role to destroy Pakistani bunkers, and forward posts, use of precision guided munitions to ensure least amount of collateral damage, raids by Special Forces and Border Action Teams (BAT s).
In the hinterland we should get our intelligence machinery integrated through the concept of National Counter Terrorism Centre (NCTC ) and establish the national intelligence grid at the earliest. General public and infrastructure constitutes the easiest and most vulnerable targets for terrorists and hence we have to put our act together in the hinterland. Military is capable of looking after itself.
Mere neutralisation of the terrorists will not suffice because the perpetrator of the crime is presently going scot-free and that is the Pakistan Army and hence their army needs to be targeted.
We should examine how covert operations can be conducted and how financial and military assistance can be provided to the Baluchis, and to the Pakhtoons. Let Pakistan face three to four adversaries simultaneously. Let them get a taste of their own home-grown menace used against us. Our concerned external intelligence agency must be tasked to achieve this at the earliest with strict time lines. We must increase the costs for Pakistan or else we will continue to be at the receiving end as indeed we have been suffering for the past nearly three decades. Pakistan's strategy of making India "bleed through a thousand cuts" must turned on its head to make them suffer the consequences of the adversary employing the same strategy in their vulnerable regions.
In the meanwhile my recommendations are that we should increase the funding to the defence establishment in the country, and hasten our modernisation process. Our Defence Minister should modify the scheme of 'Make in India' and procure the latest proven small arms from friendly foreign countries such as the United States, Russia or Israel. We do not need to wait for a modern assault rifle. Buy a hundred thousand from one of these countries and ask them to set up manufacturing plants in India. I am sure that they would be glad to do it. Similarly we need to hasten the procurement of artillery howitzers and replace the obsolete, 40 years old, helicopters of the army. Let the Apache attack helicopters come to the army so that surgical strikes can be done more meaningfully by the army with its own assets and against deeper targets in the future. Necessary air effort for deeper strikes will be provided by the IAF. The Defence Minister and his team of advisors need to put their act into place and speed up the modernisation of the army, which today is the least modernised out of the three services and is likely to be the most operationally employed service in the future due to the asymmetric and hybrid wars that are more likely in the future on the western as well as on the eastern front.