Over a period of time Regiment of Artillery has become a highly effective fighting machine which delivers fire power wherever and whenever required and assists in shaping the battlefield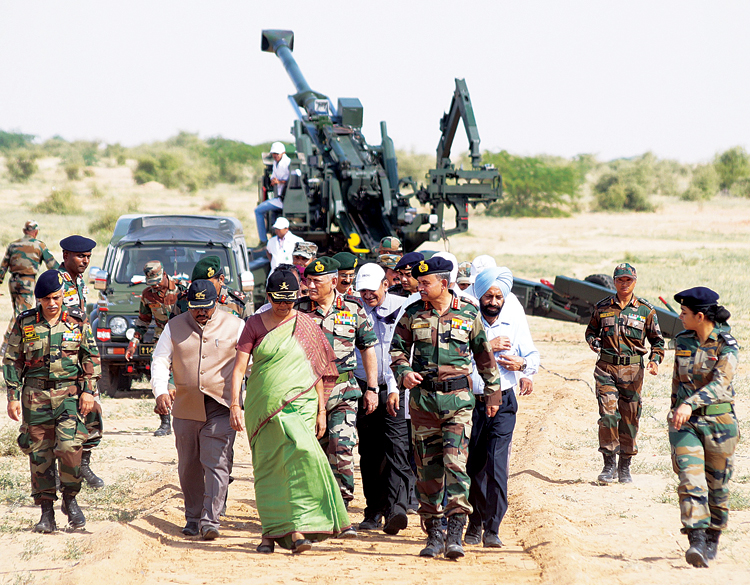 Defence Minister Nirmala Sitharaman with General Bipin Rawat, COAS and Lt General P.K. Srivastava, DG Artillery
Historically Artillery was first employed by the Roman legions at Syracuse in 399 BC but until the introduction of gunpowder, artillery was solely dependent on mechanical means of lobbying a large object or a huge stone towards the enemy. The Roman army was very successful in employing artillery weapons like the ballistae which was more or less a giant catapult. Gunpowder was invented in China during the late Tang dynasty in 9th century but the earliest record of a written formula appeared in the Song dynasty during the 11th century. Since then the progress of artillery as a battle winning factor was relentless and inventive. Artillery became the most lethal land based armament and caused the majority of the combat casualties during World War I and II. In 1944, Joseph Stalin called artillery "the God of War".
Artillery in India
Bofors Gun helped the Indian Army to win the Kargil War against Pakistan in 1999
Guns were first used on the Indian sub continent guns by Babur during the Battle of Paniput in 1526. However, there are records to show that guns were employed in battle earlier. The East India Company raised the first regular company of Artillery in 1748, with a small percentage of Indian Gunners called Gun Lashkars, Tindals and Serangs. Bombay Artillery was raised on September 28,1827 and was later on renamed 5 Bombay Mountain Battery. Thus September 28 is celebrated as the 'Gunners Day'. The first Indian War of Independence started at Meerut on May 10, 1857 which resulted in total ban by the British on the Indian artillery units except mountain artillery batteries. A few Indian Mountain Batteries were raised in the 19th century and formed part of the Royal Artillery. These batteries were officered by the British. During the late 19th century, the Indian Gunners saw action in Abyssinia (Ethiopia), Afghanistan, Aden, Burma, Somaliland (Somalia), Tibet, Persia (Iran) and the erstwhile North West Frontier Province. The advent of the First World War gave Indian Artillery an opportunity to show their real mettle. The Indian Mountain Batteries served with rare courage and enterprise on the battlefields of Mesopotamia (Iraq), East Africa, Gallipoli, Persia, Egypt and Palestine. The British Government reviewed their order of the banning native artillery, and thus on January 15, 1935, 'A' Field Brigade, comprising four batteries of horse-drawn guns, was raised at Bangalore. 'A' Field Brigade was the first Artillery unit to be officered by Indians. 2 Lt (later Lt General) P.S. Gyani was the first Indian officer to be commissioned into an Artillery unit. In 1937 the mountain batteries were transferred to the Indian Artillery, which later became 1st Indian Field Regiment. The generic title the Regiment of Indian Artillery was conferred upon the new Arm. B Field Brigade and the first unit of the anti-tank, anti-aircraft and coastal artillery were also raised.
World War II saw Indian Gunners in action in East and North Africa, Middle East and displayed valour and dedication. By the end of Second World War Indian gunners had won one Victoria Cross, One George Medal, 15 Military Crosses, two IOMs, 22 IDSMs, 18 Military Medals, five OBEs, One MBE, three British Empire Medals, 13 Burma Gallantry Medals and 467 "Jangi Inams". During 1947 Indian Artillery was allotted eighteen and half of all types of artillery regiments while Pakistan was allotted the remaining nine and half units.
Jammu and Kashmir Operations
During the Jammu and Kashmir operations of 1947-48, 1 SIKH Battalion was transported to Srinagar by air and personnel of 2 Field Regiment (SP) and 13 Field Regiment were employed in infantry role under Capt R.L. Chauhan of 13 Field Regiment until the first week of November 1947 when four 3.7 inch howitzer reached the area. The artillery units then helped in driving out the infiltrators, successfully defended Srinagar airfield and subsequent rout of Pakistani tribesmen in Jammu region and Kashmir Valley. Artillery played a dominant role in recapture of Poonch, Rajauri, Thangdar, Tithwal, Dras and Kargil.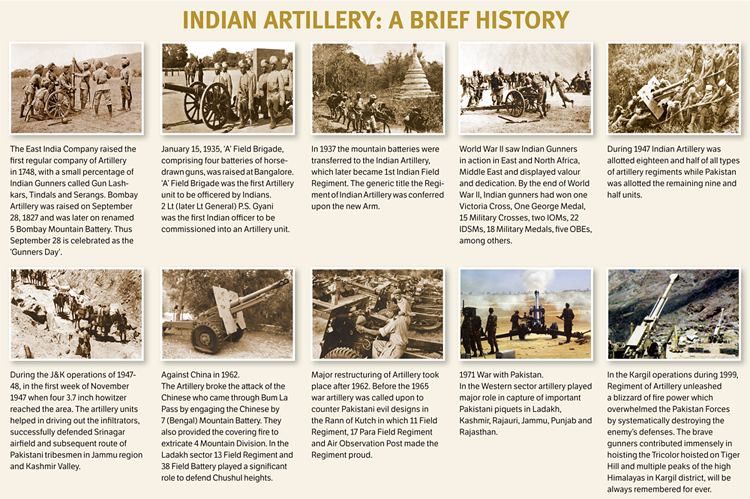 Against China in 1962
Chinese Army attacked Indian positions on October 10, 1962 in general area of Tawang in Kameng Frontier Division. On October 23 Chinese came through Bum La Pass and attacked 1 SIKH position. They were immediately engaged by the guns of 7 (Bengal) Mountain Battery directed by Capt Gosal which broke the attack. Artillery kept supporting the infantry till Tawang was abandoned. Subsequently guns of 116 Mortar Battery, 34 Heavy Mortar Battery, 5 Field Regiment, 22 Mountain Regiment and 6 Field Regiment provided covering fire to the infantry units of 4 Mountain Division to extricate themselves and launch counterattacks. Similar support were provided by guns of 17 Para Field Regiment and 71 Heavy Mortar Battery in Walong sector. In Ladakh Sector too artillery of 13 Field Regiment and 38 Field Battery played significant role to hold the enemy and defend Chushul heights.
1965 War with Pakistan
Major restructuring of Artillery took place after 1962. Before the 1965 war artillery was called upon to counter Pakistani evil designs in the Rann of Kutch in which 11 Field Regiment, 17 Para Field Regiment and Air Observation Post made the Regiment proud. The strategic Haji Pir Pass in Kashmir was captured after heavy fighting with the support of 164 Field Regiment, battery ex 7 Field Regiment, a medium and a mountain battery.
1971 War with Pakistan
The 1971 Indo-Pakistan War was more challenging as the war was being fought on two fronts. During these operations 49 Para Field Battery took part in para drop with 2 Para Battalion to capture Pongli bridge on Lohaganj river near Tangail which expedited surrender by Pakistani Army in East Pakistan. 2 Para was first to enter Dacca around 11.30 AM on 16 December16, 1971, followed by 851 Light Battery. Soon 563 Mountain Battery also entered Dacca. With this a new nation was born. In the Western sector artillery played major role in capture of important Pakistani piquets in Ladakh, Kashmir, Rajauri, Jammu, Punjab and Rajasthan.
Post 1971 – Kargil Conflict
The Regiment of Artillery has been performing effectively in Siachen – the highest battlefield in the world. The guns for the sector were initially dismantled and air dropped in 1983-84. Medium and field guns are providing close support to infantry in Siachen while artillery observation post officers are manning the piquet along with infantry.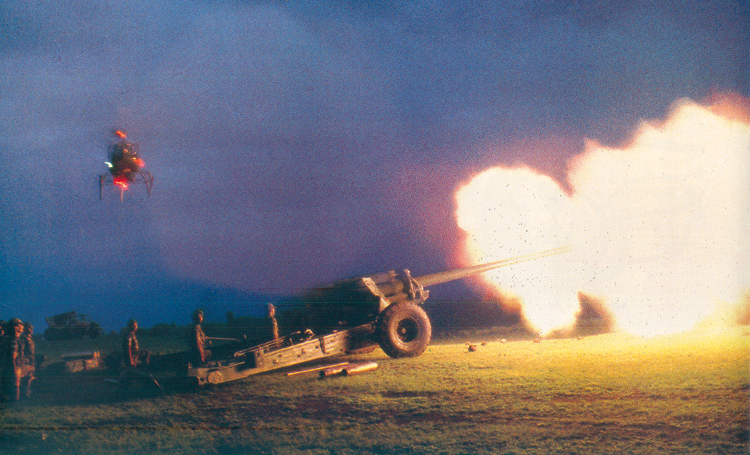 130mm gun firing, with Cheetah helicopter delivering messages at gun point
In the Kargil operations during 1999, Regiment of Artillery unleashed a blizzard of fire power which overwhelmed the Pakistan Forces by systematically destroying the enemy's defenses and, ultimately, it broke his will to fight. It was not the first time that the Gunners had met a challenge head-on. The brave gunners contributed immensely in hoisting the Tricolor hoisted on Tiger Hill and multiple peaks of the high Himalayas in Kargil district, will be always remembered for ever.
In its peace time duties the Regiment is undertaking infantry tasks in Jammu and Kashmir and in the North Eastern States of Assam, Manipur and Nagaland.
Streamlining of Regiment of Artillery
In 1964 Coastal Artillery was handed over to Indian Navy. Air Observation Post was separated on 1986 and became a separate corps named Army Aviation Corps. Similarly Air Defence branch bifurcated from Artillery in 1994 and formed new arm of Indian Army named Army Air Defence. This has resulted in the Regiment of Artillery to become a keen, mean and lean fighting machine which delivers fire power wherever and whenever required.
Accolades
The Regiment of Artillery has the honour of having its officers nominated/selected as Governors/Lt Governors and Chiefs of the Army Staff (COAS).
Governors/Lt Governors
Late General O.P. Malhotra, PVSM - Punjab (1990-1991)
Late Lt General J.F.R. Jacob, PVSM, VSM - Goa (1998 to 1999) and Punjab (1999 to 2003)
Lt General K.M. Seth, PVSM, AVSM - Tripura (2002-2003), Chattisgarh (2003-2007) and Madhya Pradesh (2004)
General S.F. Rodrigues, PVSM, VSM - Punjab (2004-2009)
Captain Shekhar Dutt, SM, IAS - Chattisgarh
Lt General M.M. Lakhera, PVSM, AVSM, VSM - Governor of Mizoram & Lt Governor of Puducherry and Andaman & Nicobar Islands.
COAS
General P.P. Kumaramangalam DSO, MBE - June 8, 1966 - June 7, 1969
General O.P. Malhotra, PVSM - June 1, 1978 - May 31, 1981
General S.F. Rodrigues, PVSM, VSM - July 1, 1990 - June 30, 1993
General S. Padmanabhan, PVSM, AVSM, VSM - October 1, 2000 - December 31, 2002
General Deepak Kapoor, PVSM, AVSM, SM, VSM - October 1, 2007 - March 31, 2010
Gallantry Awards-All ranks
Ashok Chakra - 01
Mahavir Chakra - 07
Kirti Chakra - 08
Vir Chakra - 92
Yudh Sewa Medal - 03
Shaurya Chakra - 56
Sena Medal (Gallantry) - 441
Honour Titles
The Regiment has been awarded Forty Honour Titles.