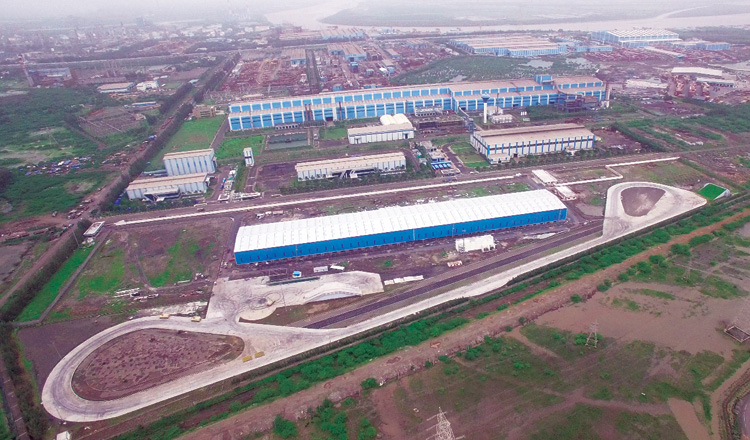 Armoured Systems Complex
The Armoured Corps is an indispensable arm for any Army, with an ability to penetrate defensive lines through the use of armoured equipment and tactics. Backed by support from other arms such as Infantry, Mechanized Infantry and Artillery, the Armoured Corps is able to combat the enemy's defences, successfully enter and occupy enemy ground, while protecting the dismounting troops. The Armoured Corps also acts as a defensive barrier on ground, preventing the enemy from advancing onto home ground.
Larsen & Toubro (L&T) has partnered the Indian Army and DRDO in order to develop key technologies for Armoured Systems and Mechanized Infantry. As a matter of fact, L&T made its foray into the Defence Business in the late 1980s, with the successful development of the Nag Missile Carrier or NAMICA, based on a tracked platform. Some notable achievements of L&T are its contribution to the family of NAMICA and AACAR systems, the development of the an Electronically Controlled Power Pack (ECPP) for a Tele-operated BMP-II vehicle, and development of Thermal Imaging & Fire Control System (TIFCS) for the T-72 MBTs.
Recently, L&T has also begun to venture in the international market. In June 2015, L&T signed a contract with the Armed Forces of a South East Asian country for the Firepower upgrade of their Armoured Personnel Carriers. The vehicles were successfully commissioned and handed over to the Customer in February 2017, and the upgraded vehicles successfully played a crucial role in combating the local militia during operations.
In order to demonstrate its unconditional commitment and support to the Indian Army, L&T has constructed a state of the art Armoured Systems Complex (ASC) in its Hazira plant in Surat. The ASC has been designed to cater to development, testing and production of wheeled & tracked Armoured Vehicles such as MBTs, IFVs and APCs. The Complex has modern, automated facilities such as robotic welding stations and dual axis machining centres among others. The facility also has an in-house test track to test the mobility of various platforms. At present, this facility is being employed in order to manufacture the 50-ton class K9 Vajra-T Tracked SP Artillery Gun for the Indian Army.
L&T is also investing in the development of future technologies such as light weight composite armour, hybrid electric drivetrain and advanced situational awareness for armoured platforms. These technologies are in different stages of development and shall replace existing conventional technologies in the near future.
With over three decades of experience in the Defence Industry, L&T looks forward to a continued partnership with the Indian Armed Forces, and more opportunities to serve the Nation.

Contributed by L&T