The Doctrine mentions deployment and application of Integrated Battle Groups (IBGs), which is also planned in the restructuring of the Army.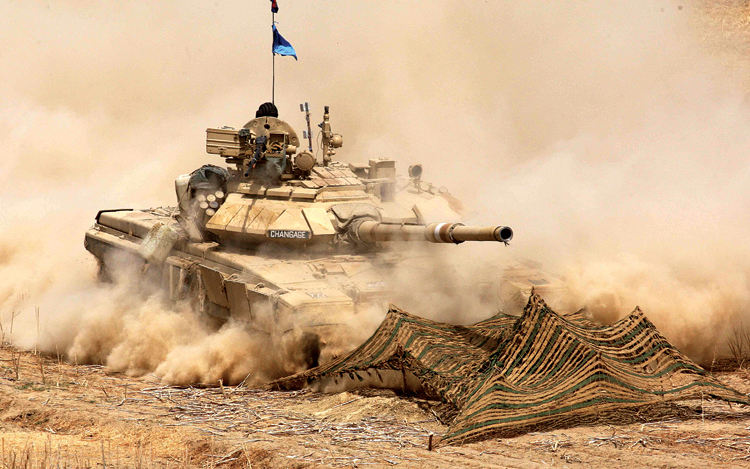 Indian armed forces participating in an exercise in Rajasthan
Indian Army Land Warfare Doctrine 2018 is required to read in conjunction 'Joint Doctrine of India Armed Forces – 2017', as stipulated on the Indian Army website. The 2018 Doctrine covers: the geostrategic environment – environmental realities and future security challenges; spectrum of conflict and force application - current dynamics of no war, no peace, conflict scenarios, noncombat and hybrid warfare, military operations other than war (MOOTW), enhancing defence capability, military diplomacy; capacity development – focus areas, multifront capability, ISR and precision strike, theatreisation of critical assets, information warfare (IW), techno-centric warfare, space warfare, special forces capability, force projection capability, operational readiness, nuclear environment and training. This doctrine is to "lay the foundation for formulation of strategies for the Northern and Western Fronts and Operational Directives".
Considerable space has been given in describing the no war, no peace scenario and it is mentioned that while "conventional war will remain central in the construct of the spectrum of operations, the Indian Army will continue to prosecute effective counter-insurgency/counter-terrorism operations to ensure deterrence through punitive responses, against state sponsored proxy war". Though there is mention of "grey-zone warfare", the fact that sub-conventional warfare is central to 'no-war, no peace' appears missed out. Army's Doctrine for Sub Conventional Operations published in 2006 is a purely 'defensive exercise' aimed at operations 'own side' of the border; talking of application of combat power to enhance 'civil control' in affected area rather than cause 'destruction', that generally is motive in conventional war. Though it mentioned that sub conventional war will likely to remain a major responsibility of Army in foreseeable future, it did not go beyond issues like 'iron fist in velvet glove' in Jammu and Kashmir (J&K).
Not only should our doctrine for sub-conventional operations be 'pro-active', it should be part and parcel of Army's Land Warfare Doctrine – this being the major engagement in no war, no peace. There is need to reorient to a pro-active mentality from the defensive, even as the political hierarchy is quite content with a one-time surgical strike which itself was a 'reaction' to the Pakistan-sponsored terror attack at Uri. Killing 240 or more terrorists in a year doesn't matter to Pakistan, which has endless supply, nor do fire-plans on enemy headquarters, which she reciprocates similarly. Arguably, special operations at the strategic level are forte of the political hierarchy, but what stops the Army undertaking special operations up the reach of its Strike Corps?
The 2018 Doctrine mentions that "during conventional war, the Indian Army will synergise employment of all Central Armed Police Forces (CAPFs) as per operational plans. Their integration, training and operational procedures to assist in their assimilation into the war fighting effort, so as to ensure smooth and seamless transition during conventional war is essential". But war may not be officially declared at all, hence, CAPF integrating under Army may not happen. Did this happen during Op 'Parakaram'? Why is it that even in critical areas of Ladakh, the CAPF are not under command the Army despite repeated PLA intrusions? What is mentioned in the doctrine may not go beyond semantics given state of our higher defence set up and political hierarchy.
The Doctrine mentions deployment and application of Integrated Battle Groups (IBGs), which is also planned in the restructuring of the Army. Will IBGs be across the board along our northern and western borders, even as the Army Chief had mentioned IBGs would have different configurations? Further, the Doctrine says, "The Indian Army shall be prepared to address collusive threats in all". This brings us to the question how do we mesh the response to collusive threat with the exercise of reducing Army's manpower by 1,00,000-1,50,000? Are we going purely by finances or doing an exercise in capacity building 'without' a threat-based appreciation? Can we afford to generalise a doctrine simply with capacity without a detailed threat analysis, especially where we admit it is collusive?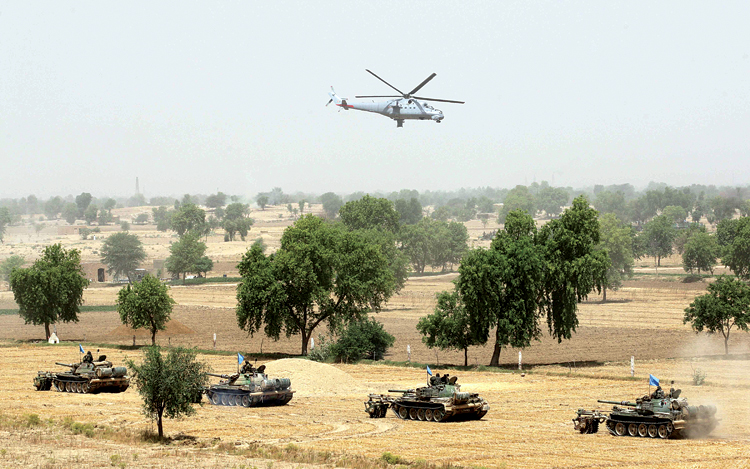 Indian armed forces participating in an exercise in Rajasthan
There has been discussion about the 'Cold Start' Doctrine in the past. Factually, every war commences from 'cold start' and preparation time for deployment of troops. It is not simply about a parachute company or a battalion under the Parachute Brigade that can be launched in two and six hours respectively. Even the launch of 'Mukti Bahini' in East Pakistan as prelude to India's invasion required gestation period. That is the reason, then Defence Minister Jaswant Singh had denied existence of a 'cold war' doctrine. In the India-Pakistan context, not only are Pakistani forces closer to the border, there are enough means on both sides and Pakistani human sources within India, including close to the border, to detect mobilisation. We could have done well to 'practice' cold start, not brag about it – and same goes for the one-time surgical strike – all raids being surgical'.
The chances of 'all out' conventional war are minimal though not completely ruled out. However, the contention that we will strike at the place of our choosing needs to be taken with a pinch of salt, with respect to conflict with China. For example, sitting kilometers behind the Line of Actual Control (LAC) in say Arunachal Pradesh, PLA intrusions on extended front will force us to fight there, even as our possible strike through Chumbi Valley will be contested by Chinese presence in Doklam, while Pakistan will continue contributing to the 'collusive threat'. Yes, we are inducting big-ticket weapon systems, but unless the cutting edge and the frontline soldier are addressed, we are hardly in a position to strike China at the place of our choosing, the asymmetry in military technology being another factor.
Effective integration of soldiers, artificial intelligence and Robotics into warfighting systems that exploit existing capabilities for success in battle finds mention in the Doctrine. All this looks good on paper but development of information systems within the Army are either stagnating or have been foreclosed – like the Battlefield Management System. So, how do we expect the troops and commanders to optimize technology? Similarly, issues like quick mobilisation, inter-theatre reserves with interoperable equipment/assets can hardly be effective in areas where border infrastructure continues to be woefully inadequate – especially in the northeast.
Theaterisation of inter and intra Service critical assets has been mentioned. At the same time, it is observed that while Army has adequate numbers of Special Forces (SF) battalions, elements of SF battalions from our northeast are deployed in J&K despite enough opportunities within the eastern sector to sharpen operational experiences. Apparently, connect between theatreisation and 'theatre specialisation' is missing, especially where SF need time to develop own sources.
Finally, the doctrine states that the Army shall be the primary instrument of the overall deterrence capability of the Nation. In this context it is reiterated that India continues with a strategic asymmetry vis-à-vis China and Pakistan in terms of sub-conventional warfare, which needs to be addressed. Conventional response cannot adequately address sub-conventional threats. There is urgent need for India to develop publicised overt capabilities and deniable covert capabilities as deterrence against irregular war thrust upon us and we must have the will to selectively demonstrate such capability to ensure its credibility.
Overall, plenty of effort has gone into defining the Indian Army Land Warfare Doctrine 2018, however, elaborating on the issues above, would provide more clarity. Appropriate application of tri-service force is also mentioned but the missing synergy between the three services is a well documented fact. In addition, the Army's quest for capacity building for network centric warfare is in state of semi rigor mortis due to various factors including poor defence budget allocations. In contrast, the reorganisation of China's armed forces is progressing rapidly. The politico-bureaucratic hierarchy appears unconcerned about the asymmetry, which would cost us dearly in conflict. Defence budget allocations need to be enhanced. The combined market capitalisation of India's Public Sector Undertakings (PSUs) had reached $337.6 billion since January 2011 according to data compiled by Bloomberg on June 9, 2014, with crass underperformance, guzzling public money year after year. If these PSUs can give a return of 30 to 50 per cent which should be in the realm of possibility, how fast and where will India move up? This is just one example where large amounts of money can be tapped.