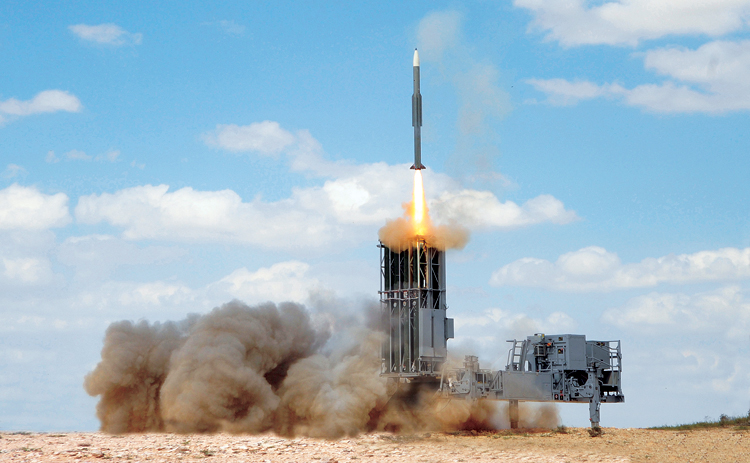 Barak-8 missile
The Medium Range Surface-to-Air Missile System (MRSAM) began in the mid-2000s as an air defence system defending against all types of threats, manned and unmanned aircraft, sea skimming missiles, and guided weapons. The programme was officially launched in 2006 as a cooperative development between Israel and India led by Israel Aerospace Industries (IAI) and DRDO. In 2017 the system, became the de-facto standard for Indian air defences, selected by all three Indian military services – the Navy, Air Force and Army.
The largest operator is the Indian Navy, where MRSAM was selected for installation on 15 first line surface combatants. Three P15A (Kolkata Class) destroyers are already operationally protected by the system. Deliveries of MRSAM for four P15B as well as seven P17A destroyers is under progress, along with a system destined to protect the first indigenous aircraft carrier - the Vikrant. Last year another contract was signed, for the supply of MRSAM systems for seven P17A frigates. In addition, the system was also selected to protect the first line vessels of the Israeli Navy - the four new SAAR 6 Magen class vessels.
The Indian Air Force is also committed to field 18 air defence batteries while the Indian Army has acquired a first group of the land-based MRSAM, along with the infrastructure of command, control, training and support facilities to support additional four groups in the future.
2017 was a milestone for the programme, moving to full scale production. Embracing the government's 'Make in India' policy, India's Bharat Electronics (BEL) was nominated as the prime contractor and lead integrator position for the production and delivery of the systems to the Navy, Army and Air Force. IAI stepped down to the lead sub-contractor position and continues to supply systems and components to BEL.
Despite the change, the further growth is expected to maintain the momentum. IAI regards the program as one of its primary growth engines, as Barak 8 has gained contractual commitments surpassing $6 billion in sales world-wide.
As other large-scale programs, MRSAM relies on local production and participation. To meet these obligations IAI has transferred to India large work share to enable Indian companies to join the program as sub-contractors. Over 40 Indian suppliers are already involved in the program. Sub-systems and components are developed and manufactured in India and delivered to assembly lines at IAI and BEL.
IAI also leads the vision to establish centralised national MRSAM infrastructure that will provide Indian services incountry, self-reliance for maintenance and repair for the next decades. This tri-service center will ensure the Indian independence in MRSAM through a joint venture with a local Indian company.