For those large number of personnel from military and law enforcement agencies who carry out protection duties, Trijicon offers a vast range of proven sighting systems which can be used for varying degree of security threats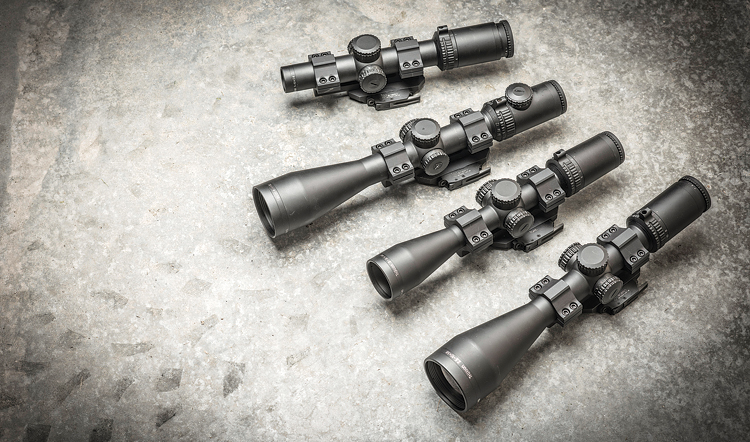 Trijicon AccuPower
Trijicon ofers optics that are designed to help individuals and security personnel to defend people and property they are tasked to protect. They can carry out this role quickly and efficiently if they can first defend themselves. For those large number of personnel from military and law enforcement agencies who carry out protection duties; Trijicon offers optical and iron sights which are reliable under the toughest conditions. They are also designed to be easy to handle by civilians, giving everyday citizens the confidence they need when confronted with a life-threatening situation.
Model Options
Trijicon offers a large variety of models which suit multiple threat scenarios and budgets. In the Magnified Optics, it offers Advanced Combat Optical Gunsight (ACOG), AccuPoint and AccuPower. In the reflex sights there are four models to choose from i.e. MRO, Reflex, RMR and SRS. In the Iron Sights there are- Bright and Tough Night Sight, HD Night Sight, HD XR Night Sight and Trigidot. All these sights are very versatile and can be used with a variety of hand held weapons.
Details of some models-one from each type are given below:
Trijicon AccuPower®
The Trijicon AccuPower is a versatile, variable powered riflescope with an electronic illuminated reticle. Featuring a high quality lens system with full multi-layer coatings, the AccuPower provides an incredibly clear sight picture. Due to multi-coating on the lenses they provide superior clarity and lightgathering capability with zero distortion. The First Focal Plane (FFP) Reticle is 1-8x28 and 4.5-30x56 FFP and the reticle subtensions and used for ranging and wind, and will remain constant at any magnification, allowing the user to rapidly apply the correct hold. 1-8 is the magnification range and 28 is the diameter of the objective (front) lens in millimeters. The same definition is applicable to all such specifications. Second focal plane (SFP) reticle size remains constant as magnification increases, which provides a more exact aiming point at higher magnifications. The reticle illumination is powered by a single CR2032 lithium battery and has an easy-to-operate brightness adjustment dial with eleven brightness settings and an "off" feature between each setting. The Accu-Power features a hard anodized aluminum body that protects against corrosion and is waterproof to ten feet (3m). It is also has an all-weather rugged construction which protects the sight from adverse weather conditions. Dry nitrogen is filled to prevent fogging. With a generous adjustment range for windage and elevation, precise adjustment increments, and a re-settable zero, the AccuPower riflescope delivers the precision required for pinpoint accuracy. Electronics carries a warranty for 5 years from date of original manufacture. They have seven models ranging from 1-4x24 to 5-50 x56. Parallax Adjustment Range for 10/20 yards to infinity is available only in the last three larger models. Parallax problems result from the image from the objective not being coplanar with the reticle. The weight of the smallest model is 16.2oz (459gms) and the largest model is 36.0oz (1020.6gms).
With a generous adjustment range for windage and elevation, precise adjustment increments, and a re-settable zero, the AccuPower riflescope delivers pinpoint accuracy
Trijicon MRO®
The Trijicon MRO® (Miniature Rifle Optic) and the MRO® patrol is a sealed miniature reflex sight intended for use on rifles, carbines and shotguns to provide fast target acquisition. The large aperture and tapered light path maximizes the viewing area and allows for better situational awareness and fast target engagement – especially from non-standard shooting positions. Combining all these features with the ambidextrous brightness controls, sub-flush adjusters, advanced lens coatings and the fully sealed, waterproof, hard anodized forged 7075-T6 housing ends up as the ultimate mini reflex sight on the market. There are three models of MRO® i.e. MRO®(Red Dot), MRO®(Green Dot) and MRO®(Patrol(Red Dot). The MRO® Patrol adds lens covers for both the ocular and objective lenses, along with an Anti-Reflection Device KillFlash® that protects you from unwanted detection or in bright conditions while eliminating glare. The front lens on the MRO, and MRO Patrol is installed at a precise angle in order to properly reflect the red dot back to the user's eye. This angled objective lens is common to all reflex style optics. It may be more noticeable on the MRO than some other optics due to the increased size of the lens. The earlier models did have a very slight magnification of 1.05x which is within the range of competitive reflex-style sight. Responding to customer feedback Trijicon later on adjusted the magnification in MROs to have a magnification of 1.00x or no magnification. Like all reflex-style optics, the Trijicon MRO is parallax-free when the dot and target are reasonably well centered in the optic's field-of-view, but when the reticle and target are substantially off-axis, there will be some parallax. The off-axis parallax performance of the MRO meets or exceeds that of other reflex sights of similar size. The large viewing area allows faster target acquisition and engagement with reduced "tube effect." The brightness control dial is equally usable by left or right-handed operators without having to remove hand from fire control. Eight brightness settings, including two night vision-compatible settings with a mid-position "off" feature. Adjusters provide positive-click reticle movement in ½-MOA increments and require no special tools for operation. Sights on a target rifle are adjustable in units of measurement called minutes of angle (MOA). Multi-coated lenses provide superior clarity and light-gathering capabilities with zero distortion and provide for a crisp dot reticle. Dry nitrogen-filled to prevent fogging. MRO Red Dot: 5 years of continuous use at day setting "3" (setting 5 of 8) at 70°F; MRO Green Dot: 1 year of continuous use at day setting "3" (setting 5 of 8) at 70°F. Electronics are warranted for 5 years from date of original manufacture. The Trijicon MRO® was specifically engineered with a slightly canted objective lens, allowing for a shorter optic while minimising reflections. MRO Patrol Lens caps protect glass from damage and help reduce glare and reflection.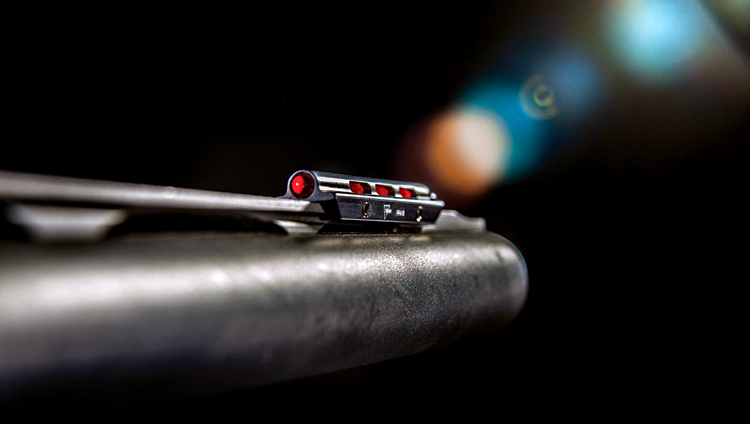 TrijiDot
Trijicon HD XR™ Night Sights
Trijicon offers six sights in the Iron Sights range i.e. Bright & Tough Night Sights; Bright & Tough Suppressor Night Sights; HD Night Sights; HD XR Night Sights; Trijicon ® Fiber Sights and TrijiDot® Fiber Optic Shotgun Sights. HD XR Night Sight meets the future challenges of the security forces and law enforcement agencies. Building on the features of the current HD™ Night Sight, the Trijicon HD XR™ night sight are for the next level of advanced target identification and engagement at increased distances. A thinner front sight post allows shooters to have a larger field of view which further enhances the ability to identify targets, expedite engagements and see location of hits on target at longer distances. Pistol shooters that need the advantage of a more precise engagement in any light can rely on the Trijicon HD XR™ Night Sights. Thin front post promotes a larger field of view for fast target identification and engagement at longer distances. Glow-in-the-dark, photo-luminescent-painted front outline combines with a "U" notch rear and black-painted rear outlines to quickly draw your eye to the front post in all lighting conditions. Steeply hooked front surface is meant for an emergency for one-handed slide manipulation. Tritium phosphor-filled glass lamp illuminates sights for high visibility in all lighting conditions. Tritium gas lamps are contained within protective aluminum cylinders and have additional silicone rubber cushioning. Each Trijicon®tritium lamp is capped with a sapphire jewel that helps evenly distribute the light and also acts as an additional layer of protection from puncture and cleaning solvents. Tritium lamp is warranted to illuminate for 12 years from date of original manufacture. Standard-Height models fit Beretta, FN® America, Glock®, H&K®, Sig Sauer®, Smith & Wesson and ®Springfield Armor.
Trijicon offers a vast range of proven sighting systems which can be used for varying degree of security threats. Army's installations, which are away from the border, like unit/brigade/ base camps, logistic bases and ammunition depots are always under constant threat in the northern and eastern sector. At present they are guarded with basic rifles/machine guns with normal iron sights. So is the case of Naval and Air Force installations thus providing better quality of sights will by it self upgrade their protection capability manifold.