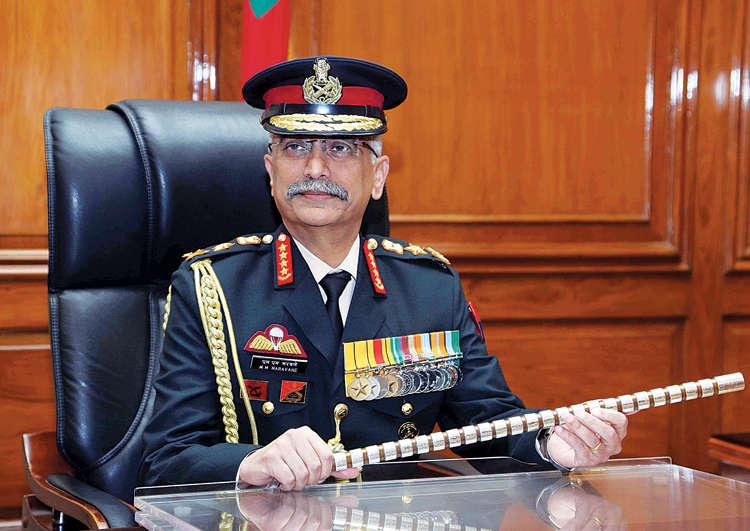 The newly appointed Chief of the Army Staff General Manoj Mukund Naravane after taking over as the 28th COAS, at the South Block, New Delhi
SP's Land Forces (SP's): What is the fallout of Pulwama incident and subsequent air strikes on Balakot, on the security environment of the sub-continent?
Chief of the Army Staff (COAS): The major fallout of the Pulwama incident and the Balakot air strikes is that the Proxy War design of Pak has received a severe setback. Both were messages to the adversary. Pakistan has realised that it cannot hold India to a nuclear blackmail and that adequate options are available with us to ensure that we remain steps ahead in the escalation ladder without breaching the nuclear overhang. As a result, Pak has ratcheted up violence on the line of control (LC) using ceasefire violations to keep the issue on simmer. These are being retaliated for effect. There have been inputs of reactivation of terror camps and launch pads and renewed infiltration attempts. Pak is unlikely to shed its proxy war agenda and continues with infiltration of terrorists and carrying out atrocities against innocent civilians. We are geared up for these challenges and a robust counter insurgency/counter terrorism grid is in place.
SP's: Is there room for an enhanced air element in India's counter-insurgency posture? What are your views on this?
COAS: The proliferation of terrorism and the designs of non-state actors along with their ability to target the soft underbelly of democratic nations have created an asymmetry. In such a scenario, it is important to review the roles, missions and capabilities of air power to tackle sub-conventional threats from insurgents, terrorists and extremists who threaten national security. The Balakot operation provided an opportunity for subsequent intelligence driven punitive operations that exploit the reach, flexibility and precision offered by offensive air power. These operations will, however, have to be carefully calibrated and executed with restraint.
SP's: What is the current status of the threat level on the border with Pakistan?
COAS: Exact nature of threat level cannot be disclosed. However, it is suffice to say that on our Western front, we dominate our adversary completely across all spectrums of operations.
SP's: Does the ISIS terror strike in Sri Lanka have implications for India? How do you perceive Sri Lankan claims that the bombers received training in Kashmir?
COAS: The Indian Army is always ready to respond to any kinds of provocation by terrorist and extremist groups. The ISIS terror strike underlines the fact that pathways to radicalisation and indoctrination do exist, even in the Valley and we are taking all possible steps, kinetic and otherwise, to ensure a conducive environment for a constructive state building process. The Sri Lankan claims may be verified by the National Investigation Agency which is currently investigating the case.
SP's: How do you view the post-Doklam situation on the China front? What is the progress on measures to enhance Indian preparedness to the required levels?
COAS: Situation along the Line of Actual Control (LAC) has improved significantly after the Doklam incident. Post Wuhan Summit, both nations have issued Strategic Guidance to their respective Defence Forces. The aim of such a directive is to maintain peace and tranquillity along the borders, locally resolve differences and not to allow difference to turn into disputes.
The guidance has manifested on the Line of Actual Control (LAC) and conduct of troops from both sides has been cordial despite some prevailing differences and some friction in sensitive areas.
SP's Land Forces Publisher and Editor-in-Chief Jayant Baranwal with Chief of the Army Staff General M.M. Naravane
SP's: Are there any changes in the Indian position regarding the Mountain Strike Corps?
COAS: Conceptually all Strike Corps are capable of operating in both plains and mountains with the exception of mechanised elements which have limited avenues of employment in mountains. The Mountain Strike Corps like any other Corps will continue to remain relevant, albeit with a variation in the structure and operational configuration of subordinate formations, which will be based on IBGs rather than standard Divisions.
SP's: How do you view the process of Chinese acknowledgement on the UN designation of Masood Azhar as a global terrorist? Are there lessons for India in dealing with terrorist groups enjoying state patronage for the future?
COAS: We view the UN designation of Masood Azhar as a global terrorist as the culmination of years of hard-nosed and consistent diplomatic efforts by our political establishment, complemented by our emissaries abroad. The designation was also made possible due to the understanding between us and China especially after the Doklam incident and Wuhan summit.
SP's: What are the Indian Army's biggest procurement priorities at this moment?
COAS: The Indian Army modernisation plans are aligned to cater for the current and emerging threats and towards achieving desired capabilities in the long term. The 13th Army Plan, currently in vogue from 2017-22, is based on our immediate and emerging security needs.
As far as Infantry is concerned, the Army is looking at enhancing the overall combat capability by replacing the integral weapon of soldiers, improving his night fighting capability and providing high quality body armour. For Mechanised Forces, in addition to fleet upgradation and induction of new equipment, night fighting capability needs are being addressed through Capital Procurement Schemes. For Artillery, focus is on 'medium' isation of guns, precision munitions, long range strike and surveillance capability.
"On our western front, we dominate our adversary completely across all spectrums of operations"
In Army Air Defence, steps have been taken to replace the old weapon system and automate the control and reporting system. The Aviation fleet is being enhanced with focus on replacing old ageing fleet and building combat aviation capability. The Army is laying emphasis on niche and futuristic technology infusion in the fields of artificial intelligence (AI), communication, cyber, precision weapon system, EW and DEWs. The overall focus is to developing a capable and responsive force empowered to fulfilling the mandate as laid down by the government.
SP's: What is the progress with regard to the small arms procurement of the Army?
COAS: To ensure the cutting edge of Infantry, due emphasis has been given to all facets of its capability development. Following are the significant milestones achieved in the recent few years with refer to capability development of Infantry:
Assault Rifles. Contract for 72,400 Assault Rifles (7.62x51mm) has been signed with M/s Sig Sauer in February 19. First lot of 10,000 Assault Rifles has been received. The rifles are being inducted for the frontline troops.
AK-203. The Inter governmental agreement for production of AK Series Small Arms by joint venture (JV) of ROE/ Kalashnikov Concern and OFB was signed in February 19 with Russian Federation. The JV will pave the way for manufacture of world class weapons in Indian Army.
CQB Carbine & LMG. The procurement of 5.56 x 45 mm Carbine and 7.62 x 51mm LMG for the operational essential quantity for frontline troops is also in the final stages & should materialise soon.
SP's: What is the progress on 'Strategic Partnership (SP)' and 'Make in India' model for development and manufacture of defence platforms?
COAS: SP Model is a promising long term initiative aimed at building self reliance in combat platforms/system. Towards expanding the indigenous defence and aerospace sector, I would say that it is the most wholesome initiative as it addresses the entire ecosystem from large scale integrators, Tier-I, II and III vendors to life cycle sustenance issues, logistics.
However, I must admit that initiatives of such scale and impact require collective and concerted efforts on part of all stakeholders. Indian Army has one segment i.e FRCV under this model and we are making substantial progress. We are having detailed discussions with some very important players and are hopeful of obtaining Government sanction for the project soon.