Drones provide an opportunity to getting close to the target and bring an "unmanned" weapons platform from which force can be launched via remote control. Drones also provide maneuverability of the platform, in close vicinity to the target, allowing more precise targeting. In this age of technology, Drones were bound to happen and are here to stay.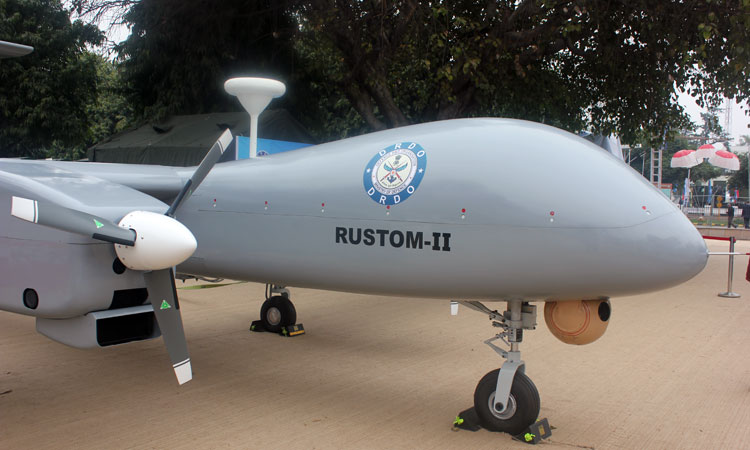 DRDO's Rustom–II
The combat swarm drone demo on Army Day 2021 with drones engaging multiple targets brought home the realities of new age warfare to most Indians. However, this was just a glimpse of the complexities of future employment of large-scale unmanned platforms in conflict by opposing forces, particularly for a country like India with vast borders and inimical neighbours.
Background
Some historians trace employment of drones back to the mid 1800's when balloons were used by European armies albeit others cite Chinese using bamboo-drones as far back as 202 BC. The US developed drone weapons in 1917 during the WW I but these were not deployed prior to the end of the war in 1918. In WW II, drones were deployed as surveillance craft. Post WW II, the Cold War witnessed extensive use of drones for spying and surveillance by both the US and USSR.
In late 1970s and 80s, Israel developed the 'Scout' and 'Pioneer' drones – leading to a shift towards glider-type drones in use today. During the Yom Kippur War in 1973, Israel deployed target drones (Ryan Firebee) fooling Egypt into firing all the anti-aircraft missiles thus enabling Israel to exploit depleted Egyptian defences. In late 1980s, Iran deployed a drone armed with six RPG-7 rockets during the Iran-Iraq War.
In 1982, Israel Air Force integrated drones as weapons, reconnaissance tool and decoys into the battlefield during the Lebanon War. Exploiting drones for surveillance, electronic warfare, and decoys under Operation 'Mole Cricket 19', Israel completely neutralised the Syrian air defence with not a single pilot casualty to Israel; depicting highly successful Suppression of Enemy Air Defence (SEAD) campaign.
Above innovative tactics by Israel led to other countries investing heavily in drone research and development. US gradually added systems, weapons, and sophisticated precision controls to its drone arsenal culminating in the Predator MQ-10 drone system. Today, drone systems have emerged as a favored way of delivering precision strike autonomously or with some human control at the point of contact. Drones have proven effective and reliable across a wide range of climates, terrain, and battlefield environments. Technological advances have led a continuous line of military, civilian and commercial applications.
Types and Tasks
Drones can be multi rotor, fixed wing, single rotor helicopter of fixed wing hybrid vertical takeoff and landing (VTOL ). Multi-rotor drones are the easiest to manufacture and cheapest available commercially. Multirotor drones can be Tricopter, Quadcopter, Hexacopter or Octocopter. In the fixed wing drone category many countries have converted military and civil use planes to drones – like China converting Russian AN-2 to drones. Hybrid VTOL 's are a play of automation and manual gliding. Gyros and accelerometers work in automated mode (autopilot concept) to keep the drone stabilised in the air. Remote based (or even programmed) manual control is used to guide the drone on the desired course.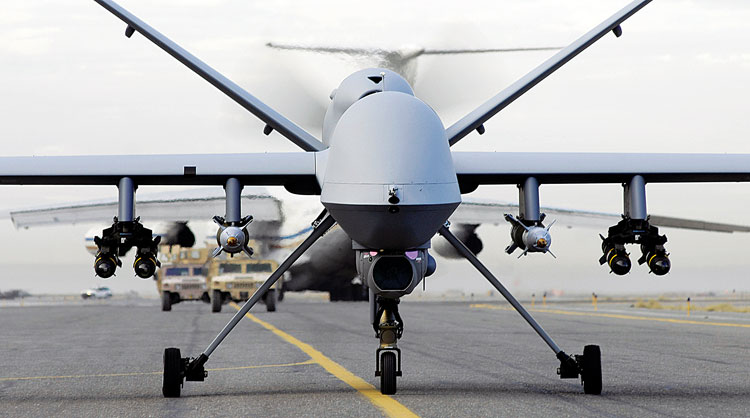 General Atomics MQ-9 Reaper
A combat drone can be used for intelligence operations; reconnaissance, target acquisition and precision strikes using a variety of ordnance like missiles, anti-tank guided missile (ATGM) or bombs/mines in hard points. These drones are usually under real-time human control, with varying levels of autonomy. Without onboard human pilot and associated equipment, these drones can be smaller than a manned aircraft though not always necessary. Militaries are operating unarmed and armed drones; as small as 16 gram Black Hornet Nano with a two kilometre range to the 40 feet Wingspan Global Hawk bigger than most commercial airliners. Drones, especially smaller varieties, can also be tasked for cyber attacks, assassinations with onboard facial recognition capability, delivering chemical, biological and radiological leads, as well as logistics support in the battlefield.
Post 2000 Employment
The US used drones against the Al Qaeda in Afghanistan. Coalition forces have used drones for bombing operations in the Middle East, Afghanistan and Pakistan, as well as targeting terrorist leaders. The ISIS used commercial drones for monitoring movement and inflicting casualties on Iraqi and coalition forces' troops, deployed in ISIS controlled territory. In January 2018, Russia's airbase and naval base in Syria was struck by terrorists using drone swarms. Hezbollah too has been using drones frequently. The Yemen-based Houthis launched multiple drone strikes on two Aramco oil facilities in Saudi Arabia causing extensive damage. On January 3, 2020, a US drone strike killed General Qasem Soleimani, Commander of Iran's Quds Force, outside the Baghdad International Airport along with some Iraqi officials.
Above are just few examples, but the Azerbaijan-Armenia conflict over Nagorno-Karabakh in 2020 brought to fore how drones can be effectively uses to destroy enemy troops, tanks, and artillery and air defence systems. In the instant case, Azerbaijan had a clear advantage. Videos of destruction being caused became a daily affair on social media while the conflict was on. Azerbaijan also had the benefit of Turkish-Pakistani intervention by way of mercenaries and regular troops in covert mode fighting on its side. The maximum casualties Azerbaijan inflicted on Armenia was through drones; Israeli Harop loitering munitions 'Kamikaze Drones' and Turkish Bayraktar TB2 armed drones. Azerbaijan also innovatively deployed a decoy dronebiplane causing Armenian military to activate their radars and missile batteries disclosing their positions before unleashing the main armed drones' assault.
A news report from Moscow in November 2020 read: Drone strikes — targeting Armenian and Nagorno-Karabakh soldiers and destroying tanks, artillery and air defence systems — provided a huge advantage for Azerbaijan in the 44-day war and offered the clearest evidence yet of how battlefields are being transformed by unmanned attack drones rolling off assembly lines around the world. The expanding array of relatively low-cost drones can offer countries air power at a fraction of the cost of maintaining a traditional air force. The situation in Nagorno-Karabakh also underscored how drones can suddenly shift a long-standing conflict and leave ground forces highly exposed.
China-Pakistan
China's PLA operates both medium altitude long endurance (MALE) and high altitude long endurance (HALE) drones. The MALE drone fleet consists of three main types; BZK-005, GJ-1 and GJ-2 drones. GJ-1 and GJ-2 are the domestic in-service variants of the original export oriented Wing Loong I and Wing Loong II systems. Both are equipped with electro-optical (EO) turrets and can launch air-to-ground missiles - KD-9/10 laser guided ATGMs. GJ-2 is able to carry a larger payload and is equipped with synthetic aperture radar for target acquisition. GJ-1 and GJ-2 are considered to be PLA equivalents of America's MQ-1 Predator and MQ-9 Reaper drones respectively.
PLAs HALE drone fleet consists of the WZ-7, WZ-8 and GJ-11. WZ-7 is primarily for reconnaissance but there is speculation it will be fitted with sensors suitable for designating naval vessels for targeting by antiship ballistic missiles and cruise missiles. The WZ-7 was deployed during the Doklam Standoff with India in 2017. Since 2018, WZ-7 with supporting infrastructure have been reported at bases - Shigatse Airbase in Tibet Autonomous Region (TAR), Lingshui Airbase on Hainan Island and Yishuntun Airbase near the China-North Korea border. The GJ-11 stealth drone and WZ-8 supersonic reconnaissance drone were both unveiled at the 2019 National Day parade. The GJ-11 internal weapons carriage capacity could accommodate two 500 kg guided bombs or eight 100 kg guided bombs.
On January 12, 2021, China tested its jet-powered 'WJ-700' HALE drone that can fire missiles. The WJ-700 was first unveiled at China's main airshow at Zhuhai in November 2018. The turbo-jet powered WJ-700 with maximum take-off weight (MTOW ) of 3,500 kg and endurance up to 20 hours has two 'hard points' under its wings to enable carriage of missiles to hit ground and sea targets.
In May 2018, China demonstrated a swarm drone of 1,374 quadcopter flying together which was a world record. During PLA exercises in 2020, the new Aoshi XC25 electric attack drone was observed, which can fly for two hours up to 75 kilometers without recharging batteries. China's unmanned helicopter AR-500C for plateau operations was successfully flown which can be used for reconnaissance and communications relay with optional functions including electronic disruption, target indication, fire strikes, cargo delivery, and nuclear radiation and chemical contamination reconnaissance. PLA conducted series of utilisation training with an integrated drone swarm-armoured vehicle combat system. China has demonstrated launch of over 200 swarm drones from a 48-tube launcher and from a helicopter.
The NESCOM Burraq is Pakistan's primary drone which carries multiple imagery and motion sensors, and is equipped with the laser guided air to surface missile 'Barq'. In October 2018, China's state media reported China will sell 48 x Wing Loong II high-end reconnaissance, precision strike and multi-role long-endurance drones to Pakistan and that these will also be jointly manufactured by the two countries. Wing Loong II has a range of 4,000 km with top speed of 280 km/h and is equipped with satellite link. This was repeated recently by Chinese media. There has also been news past two years about Pakistan buying China's Cai Hong-4 (CH-4) MALE-class drones. With deepening Pakistan-Turkey relations, Pakistan also has access to Turkish drones and counter-drone systems though not without payment.
Threat Envelope
With increasing influx of drones, technology empowering drones more and developments in India's neighbourhood, the drone threat envelopes India's internal and external security; given the China-Pakistan dual threat and insurgencies-terrorism fanned and supported externally. At the top of this template is the drone swarm threat. Swarms of small drones in future would be able to carry electronic warfare jammers, emitters that mimic the signals of larger aircraft, equipment capable of conducting cyber attacks, or other systems to confuse or overwhelm an opponent's defence ahead of or during a more complex operation. US, Russia and China are leaders in drone swarm technology. America's Offensive Swarm Enabled Tactics (OFFSET) programme and Low-Cost UAV Swarming Technology (LOCUST) can fly autonomously but can also be controlled manually.
Swarm drones can be launched not only from air or from ground by an operator but also through systems like China's drone swarm-armoured vehicle combat system. By releasing an interconnected drone swarm, the armoured vehicle on the ground can understand the battlefield situation much faster than using only a single drone, not to mention lowering the risk of casualties compared with sending troops. Drones can also be armed or launch suicide attacks, which will give the commanding vehicle a deadly way to attack; swarm means there would be many coordinated drones at their disposal, and it would be very difficult to intercept all of them.
Indian Scene
Indian Military has been using Israeli Heron drones which may be armed with lasers in the future. SeaGuardian drones have been inducted in the Navy on lease recently. 75 indigenous drones that can also be used for combat missions to target enemy positions have been inducted into the Indian Army in phases since August 2020 to boost Army's surveillance capabilities and undertake targeted strikes to assist troops on the ground. The Indian Army is in the process of signing a 140 crore deal for SWITCH drones with indigenous firm IdeaForge and the Army Chief has stated that Army is working with the Defence Research and Development (DRDO) to meet Army's drone requirements. In October 2020, DRDO tested the Rustom 2 surveillance drone. News reports of January 11, 2021 indicate progress in the DRDO's drone programme 'SWiFT' which is stealth test-bed technology demonstrator. SWiFT UAV is a scaled-down version of 'Ghatak' drone.
In 2017, Hindustan Aeronautics Limited (HAL) began developing the Combat Air Teaming System (CATS) in conjunction NewSpace Research and Technologies. Armed with stealth and artificial intelligence (AI), CATS is designed to fly nearly 100 km ahead of conventional fighters to engage enemy. One Sukhoi Su-30 can carry 30 to 40 of these kamikaze-type drones. Three types of drones are being developed including a glide bomb and an air-launched swarm drone system named 'Alpha-S' - a metre-long drone carrying 1.5-tonnes of explosives, designed to be air-launched from fighter aircraft. The drones fly in formation at speeds of 100 kmp/h scouting targets of opportunity including missile sites to attack them. The Indian Air Force (IAF) has done preliminary testing of CATS in Pokhran but its fielding was estimated to take another two-three years. In December 2018, news reports indicated that the Adani Group and Israel-based Elbit Systems had established a joint facility in Hyderabad for manufacturing Hermes 900 and Hermes 480 medium altitude long-endurance UAVs for the Indian and global market.
Countering the Drone Threat
An indigenous Anti-Drone System developed by the DRDO was successfully tested on February 21, 2020 in destroying a drone. The system is equipped to instantaneously detect, identify and destroy hostile drones. The test was done ahead of the visit of US President Donald Trump to India. The system was deployed during Trump's 22 km long road show accompanied by Prime Minister Narendra Modi from Ahmedabad airport to Motera stadium to attend the 'Namaste Trump' event. The Navy is procuring Israeli Smash 2000 Plus rifles as anti-drone equipment to protect against attacking drones.
India obviously is looking to procure/develop other anti-drone systems including lasers and the like in addition to the military's existing air defence systems. In doing so, the focus should include destroying every drone in the enemy swarm drone, not just the capability to launch as big or bigger swarms than the enemy. Partial destruction of a large enemy swarm drone could still leave the advantage with the enemy. Therefore the need is to also have drones that kill drones. Russia is developing a helicopter drone to assist anti-aircraft weapon systems in their counter-drone missions. The project has been accelerated after commencement of the conflict between Armenia and Azerbaijan began in mid-2020. This new drone helicopter will track down small and lowspeed enemy drones at low and extremely low altitudes, thus filling a void in Russia's military capabilities. India definitely needs drone-killer drones. While seeking advanced counter-drone technologies, it would be prudent to visualise that most futuristic drones, big and small, may be based on stealth and moving at much faster speeds than today if not all hypersonic.
Issues for Policy Makers
Indian policy makers need to seriously reflect on the following:
India has the best of brains but drone technologies of countries like Iran and Turkey are far ahead despite these countries under sanctions – why is this so?
Is our total reliance on the DRDO that has kept us behind, lack of policy directive or both which is responsible for our current state?
Why have we woken up only because of the 2020 Chinese aggression in Ladakh despite the deployment of drones, past so many years around the world?
Isn't it high time the private sector is fully integrated in equipping our defence forces?
In addition to indigenous drones and counter-drones technology for destroying enemy swarm drones completely, we should also be looking at technologies for: capturing live enemy drones electronically; identifying decoys to conserve own effort; destroying enemy drones through electromagnetic pulse (EMP) attacks individually and in swarms.
Large influx of drones would merit review of the command and control set up in the military, to include procedures not requiring to look over the shoulder in emergencies like sudden swarm drone attacks at high speeds.
Mere mention of AI and robotics sends our armchair strategists screaming for reducing strength of the Army. Let us not be naïve and learn from the Divisions being rushed to plug gaps along the Line of Actual Control (LAC) while the dual-front threat continues. We can 'right-size' the Army after AI and robotics have been fully fielded.
Conclusion
With their cost effectiveness and proven lethality in operations, drones will form a definite part of militaries. Swarm drones with inbuilt redundancies should undoubtedly a cause for worry. India has just begun taking elementary steps for countering the vast drone threat. Future drones are going to be much more lethal and agile. However, with sustained focus and deliberate efforts, we must aim to build requisite capacity in the shortest possible time-frame.