In the NCW environment, artillery is required to shape the battlefield, degrade the enemy's war-waging capability, destroy enemy's field defences, communication sites and logistics echelons, thereby paralysing the enemy to accomplishing own mission.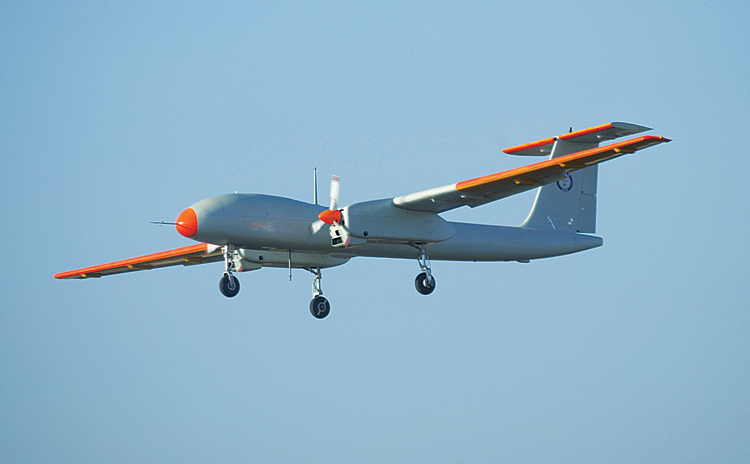 'Rustom' MALE UAV from Defence Research and Development Organisation (DRDO). The Surveillance and Target Acquisition (SATA) regiments of the Indian Artillery are equipped with four types of Unmanned Aerial Vehicles (UAVs).
The average annual growth of artillery systems world-wide has been forecast at 6.8 per cent up to the year 2023, as per the Artillery System Market Competitive Review. This proves that artillery will continue to remain vital in the modern battlespace. The report states that the global artillery systems market is driven by enhanced requirements for advanced military equipment in the developed countries around the world as well as growing demand in the emerging or rather developing countries. This includes surveillance equipment and platforms. Further, there is a considerable demand for automation of these systems to be effective in a networkcentric environment.
Although the study has segmented artillery based on region, type, range and components, it notes that the market in Asia-Pacific is expected to grow at the fastest rate during the period up to 2023 because of increasing number of territorial disputes and the need for modernisation military forces of countries in this region. The study segments artillery mortars, howitzers, rocket artillery and other equipment and highlights the following:
Mortars are in great demand globally, primarily for their small size.
The howitzer system is expected to grow at the fastest pace during the period up to 2023.
Howitzers have a greater range and comprise a better system than mortars, particularly for inter-state conflicts.
Medium range artillery accounts for the largest share of global systems - for the study, medium range artillery considered the range from 26 to 50 km.
Up to the year 2023, the long range segment is projected to grow at the highest rate. This is attributable to the increasing unresolved borders as a greater portion of the target is covered by long distances.
As for components, the study has divided artillery systems into gun, fire control system, ammunition, auxiliary system and others. The fire control systems accounted for the biggest share of the global market. It is pertinent to note that the projected growth would be the highest in the precision ammunition system. This is due to increased accuracy of target detection and firing with the use of Global Positioning System (GPS) fire control systems, onboard navigation, ammunition handling system and digital processing.
China's Advanced Howitzer
In April 2020, China's vehicle mounted howitzer 'PCL-181', termed most advanced in Chinese media, entered service in the People's Liberation Army (PLA). The 155mm wheeled vehicle-mounted howitzer weighs only 25 tonnes, making it much lighter and faster with longer endurance than PLA's earlier howitzer which use crawler tracks and weighs more than 40 tonnes. The new howitzer can also hit targets at longer ranges with increased firepower. This means that the PCL-181 not only has higher mobility but also can be transported by large transport aircraft like the Y-20 which has a cargo capacity of more than 60 tonnes. One Y-20 can carry 2 x PCL-181 or combination of one PCL-181 and one 30-tonne class Type 15 lightweight main battle tank (MBT).
The vehicle on which the PCL-181 is mounted on has a large driver's cabin that can accommodate all six artillery squad members, protecting them with bulletproof glass that enhances survivability of the crew. The digitised controls allow the deployment with the press of a button, automatic gun collaboration and semiautomated ammunition loading, all of which shortens preparation time to shoot, giving the artillery stronger combat capabilities. The PC-181 was first seen during the National Day military parade in Beijing on October 1, 2019. Later, the PCL-181 was also spotted in a round of PLA exercises during early 2020 (possible trials) in high-elevation plateau region of southwestern Tibet Autonomous Region (TAR).
Cannon-Firing Drones
On August 31, 2021, the IA ordered over 100 tactical 'SkyStriker' loitering munition from Bengaluru-based Alpha Design Technologies Private Limited having joint venture with Israel's Elbit Systems Limited. Alpha Design Technologies, now part of the Adani Group, is already producing SkyStriker munitions and will meet IA's requirements within one year. SkyStriker, launched through an automatic pneumatic launch platform, can reach a distance of 20 km in less than 10 minutes. The total range for the system is around 100 km. Designed for longrange precision strike; SkyStriker can pursue a target for up to two hours with a 5-kg warhead or up to one hour with a 10-kg warhead at maximum speed of 100 knots.
The Indian Army intends to use these drones for developing swarming concept of operations and to help design future swarming systems
Concurrently, the IA has also ordered 100 units of 'swarm drones' from the startup Newspace Research and Technologies Private Limited costing $15 million. The IA intends to use these drones for developing swarming concept of operations and to help design future swarming systems. All this is a good beginning though we have awakened to the requirement only after the Chinese aggression in Eastern Ladakh during May-June 2020.
News reports of January 2015 revealed that China's Chengdu Aviation Corporation famous for designing some of China's largest UAVs, has begun offering something far smaller, but just as deadly - deployed from a 155mm shell (PLZ-04 howitzer) or 300mm rocket (A-100 rocket launcher). When nearing deployment, the shell deploys a drag parachute to slow down. At the slower speed, the shell splits open so the drone can safely deploy. Despite the drone's small size, its sensors are capable enough of detecting specific targets like tanks.
This little drone can also be fired from large artillery, such as a 155mm cannon or a rocket launcher, to quickly scout for and light up enemy armored vehicles with its laser designator. Once enemy vehicles have been targeted, the parent artillery battery can fire off laser guided shells and artillery to accurately destroy the enemy. The drone is lodged inside a specially designed warhead inside a rocket or artillery shell. At the appropriate attitude, the warhead deploys a parachute in order to slow down and release the drone. The drone then uses its four wings to stay aloft, while it scans for enemy vehicles. An operator back at the artillery battery designates the drone to use its laser (as well as any another sensors) to lock onto enemy vehicles by marking their rooftops, just like the laser designator on a Reaper drone or Apache attack helicopter.
The artillery launched drone has six sections, including guidance fins, wings for gliding, communications link, and the sensor/laser targeting payload. It offers an advantages over small traditional UAVs and larger reconnaissance UAVs. Artillery launch provides the drone with speed and mobility advantages over small hand launched UAVs like the Raven. Its small size also makes it cheaper and harder to detect, compared to a larger UAV like the ScanEagle. This drone represents not only the growing innovation in Chinese unmanned system, but also advancements in Chinese defence networking and battlefield situational awareness.
Indian Scene
The focus in the modern battle-space must be on the Network-Centric Warfare (NCW) capability; provision of surveillance and reconnaissance resulting in target acquisition leading to engagement, which needs to be monitored to undertake post-strike damage assessment and ensure that the target is destroyed. The core functions of artillery being suppression of enemy fire, striking high-value targets, breaking up enemy force concentrations and providing fire support for assaulting troops and manoeuvre warfare implies that in the NCW environment, artillery is required to shape the battlefield, degrade the enemy's war-waging capability, destroy enemy's field defences, communication sites and logistics echelons, thereby paralysing the enemy to accomplishing own mission.
The Surveillance and Target Acquisition (SATA) regiments of the Artillery are equipped with four types of Unmanned Aerial Vehicles (UAVs); Medium Altitude Long Endurance (MALE), Heron UAVs and Short Range UAVs Searcher MK I, Searcher Mk II as also the indigenously built Nishant. The numbers held however are minimal and need to be upgraded. The Defence Research and Development Organisation (DRDO) have been developing the MALE UAV 'Rustom' for the past few years.
In January 2021, the Indian Army signed a $20 million (approximately 140 crores) contract with ideaForge Technology Private Limited for procuring undisclosed quantities of a high altitude variant of SWITCH unarmed aerial vehicle (UAV); an indigenous system used for surveillance operations.
The SATA units are currently equipped with Medium Range Battlefield Surveillance Radars (MBFSR) and Weapon Locating Radars (WLR). Further, SATA units are equipped with the Long Range Reconnaissance and Observation System (LORROS). This equipment has excellent day and night surveillance capability and has proved its effectiveness in operational areas. The SATA units also have a passive weapon locating system known as sound ranging. Bharat Electronics in conjunction with DRDO has developed a WLR which has undergone evaluation trials and is being inducted.
Conclusion
Modernisation of the Indian Artillery is taking place albeit the pace has somewhat slowed down in recent months due to snags and slower acquisitions. This needs to be addressed. But as important is the need to catch up with China in terms of surveillance, monitoring, target acquisition, NCW capabilities and drone warfare. Aside from cannon-launched drones to take on enemy targets, ground launcher to launch drones to engage enemy drones are already on the scene. We need to synergise the national effort to accelerate the pace of technological development and innovations.