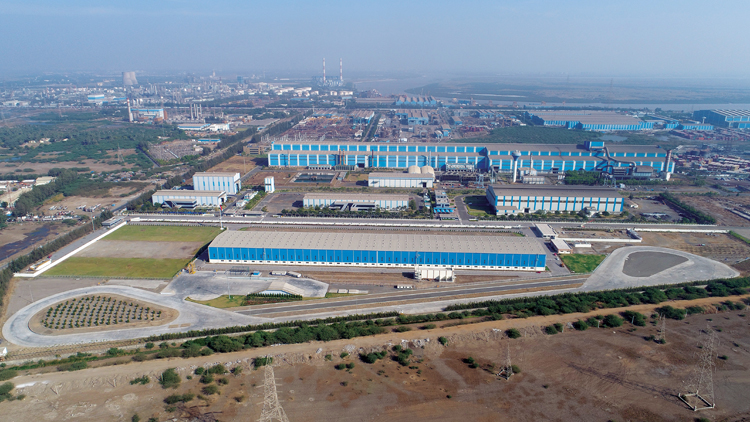 L&T's Armoured Systems Complex, Hazira, Gujarat
Larsen & Toubro (L&T) has been a partner to the DRDO and the Indian Armed Forces for over three decades. L&T is the Indian artillery's biggest private-sector partner for equipment supply.
During the last decade, L&T has inducted multiple regiments of Pinaka MRLS with command posts, upgraded the in-service GRAD BM-21 MBRLs, and delivered all the 155mm / 52 cal K9 VAJRA-T tracked selfpropelled guns ahead of schedule.
L&T has been at the forefront of development, integration and testing of artillery gun systems with the successful development of the K9 VAJRA-T along with Hanwha, Korea and the 155mm / 52 cal towed gun system TRAJAN® along with Nexter, France. Through this journey, L&T has developed niche capabilities, such as artillery fire control systems, including ballistic modules, ammunition-handling systems and towed-gun mobility systems through in-house R&D.
All this has been possible by L&T's continuous commitment to India's security, which has been affirmed by the company's establishment of seven centres of excellence dedicated to creating world-class indigenised weapons solutions along with multiple dedicated defence R&D centres.
The latest addition to these is state-of-the-art Armoured Systems Complex (ASC) at Hazira, Gujarat. The greenfield ASC is spread over a 50-acre area within L&T's Hazira Manufacturing Complex (around 900 acres), which is rated amongst the world's top five manufacturing facilities. The ASC has state-of-the-art facilities for robotic armoured hull and turret welding, CNC machining, system assembly and integration, as well as test tracks to conduct mobility tests on the artillery and armoured systems.
L&T Centres of Excellence are ably supported by a carefully cultivated eco-system, i.e. a dedicated local manufacturing supply chain of over 1000 industrial partners, mostly MSMEs, backed by L&T's engineering and production facilities spread across India. Supported by a vibrant R&D set-up and robust engineering expertise, these centres enable L&T to play a vital role in giving India's artillery forces the decisive edge.