Most of the major countries have been spending significantly on the procurement of smart munitions and precision guided weapons, which in turn has driven the demand for associated ammunition over the past few years. This trend is expected to continue in the next decade.

Precision Guided Munitions: (Left to Right) M982 Excalibur 155mm; APKWS laser-guided rocket.
The army uses small calibre ammunition for small arms; medium calibre ammunition for army air defence & mechanised infantry & large calibre ammunition for artillery & tanks. Apart from ammunition there are various types of grenades, explosives & mines. Ammunition technology is developing rapidly to improve the accuracy & lethality to achieve a bigger bang for the buck. As usual US has set the trend with Precision Guided Munitions (PGMs) & hit to kill technology which is applied to Air Defence missiles like Patriot. Another technology is to provide hyper velocity to the munitions which will drastically reduce the time to target & will be more destructive due to the hyper velocity.
Precision Guided Munitions (PGMs)
A PGM can be artillery shell, bomb or a missile which has a terminal guidance system based on electronics that guides it in the last phase of the trajectory. The terminal guidance unit is designed to receive emitted or reflected electromagnetic radiation, from the target, within its field of view to home onto to the target. PGMs are precise, lethal, reduce collateral damage & are cost effective due to reduced requirement of acquiring the target as well as lesser number of rounds required to destroy the target. During the First Gulf War, guided munitions accounted for only nine per cent of weapons fired, but accounted for 75 per cent of all successful hits. PGMs are difficult to jam & can defeat swarm targets. PGM require sophisticated target acquisition systems using the electronic spectrum like radar, TV guidance, forward-looking IR sensor display, laser guidance & satellite. PGMS are used by the Army, Navy & the Air Force.
PGMs shot into prominence in Operation Desert Storm in 1991 when Lockheed Martin's Guided Multiple Launch Rocket System (GMLRS) was employed by the US Army. It is a GPS-guided 227mm rocket that was jointly developed by the US, France, Germany, Italy, and the UK. GMLRS is capable of being launched from the M270 multiple launch rocket system (MLRS) and the M142 High Mobility Artillery Rocket System (HIMARS). GMLRS has a 200-pound unitary warhead and a maximum range of 70 km.
Radar, infrared, IR imaging and electrooptical guided weapons were employed for PGMs; an example of which is Raytheon's Maverick heavy anti-tank missile that has various marks guidance systems such as electro-optical (AGM-65A), imaging infra-red (AGM-65D), and laser homing (AGM-65E).
BAE Systems employs leading technologies on PGMs to improve their effectiveness like smaller size, less weight, less power and programmable micro electronics; Semiautonomous electro-optical/infrared (EO/IR) navigation; Multi-function radio frequency arrays; GPS-enabled targeting; Command guidance fire control & Anti-Jamming Capabilities. Future trends could be Modelling and simulation; Adaptive processing and signals intelligence, & Visual guidance (scene/target matching).
Some examples of PGMs are:
APKWS laser-guidance kit: A mid-body guidance section that transforms a standard unguided 2.75-inch (70 mm) rocket into a precision laser-guided rocket.
BONUS: Artillery-launched ammunition containing two sensor-fused sub-munitions for defeating armoured vehicles including self-propelled artillery.
Hypervelocity Projectile (HVP): Capable of executing multiple missions, provides lethality and performance enhancements to land and naval gun systems.
M982 Excalibur is a 155mm extended range guided artillery shell which was developed and/or manufactured by prime contractor Raytheon Missiles & Defense, BAE Systems AB and other sub contractors. It is a GPS and inertial-guided munition capable of being used in close support situations where the friendly troops are 75–150 m from the target. India has acquired this ammunition for M777 Howitzer & later on may take up the challenge of indigenous manufacture.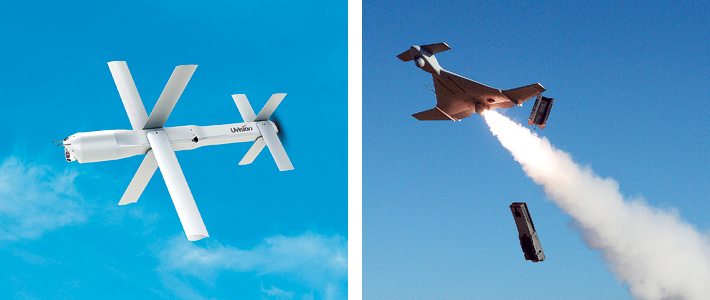 Loitering Munition: (Left to Right) UVision Hero-120; IAI Harop.
Army snipers face the greatest challenge when they are acquiring a moving target in difficult conditions like high winds and dusty terrain with current technology. The Extreme Accuracy Tasked Ordnance (EXACTO) round and optical sighting technology combines a manoeuvrable bullet and a real-time guidance system to track and deliver the projectile to the target, allowing the bullet to change path during flight to compensate for any unexpected factors that may effect its trajectory. An experienced shooter using the technology demonstration system can repeatedly hit moving and evading targets. Precision-guided small arms prototypes have been developed which use a laser designator to guide an electronically actuated bullet to a target. Another system under development uses a laser range finder to trigger an explosive small arms shell in proximity to a target.
DARPA and the US Army have developed Brilliant Anti-Tank Munition (BAT), a terminally guided anti-armour munition with design features like dual seekers to minimize spoofing and a novel acoustic sensor that could cue on the sound of running tank engines. A decade after the programme began, more than 1,100 pre-production and low-production units had been built.
The importance of PGMs is highlighted by their deployment in Ukraine of High Mobility Artillery Rocket System (HIMARS), which have precision-guided munitions and a longer range. President Biden said that, "we will provide the Ukrainians with more advanced rocket systems and munitions that will enable them to more precisely strike key targets on the battlefield in Ukraine."
Loitering Munitions
A loitering munition is an aerial weapon system category in which the munition loiters (waits passively) around the target area for some time and attacks only once a target is located. Loitering munitions fit in the niche between cruise missiles and unmanned combat aerial vehicles (UCA Vs), sharing characteristics with both. They differ from cruise missiles in that they are designed to loiter for a relatively long time around the target area, and from UCA Vs in that a loitering munition is intended to be expended in an attack and has a built-in warhead.
China has a decent number of domestically produced loitering munitions, such as the CH-901, CH-817, as well as the WS-43—which are being evaluated by the Chinese Military. Designs of these have evolved in recent years to feature two sets of wings (front and rear) like the designs of other popular loitering munitions, such as Aerovironment's Switchblade.
China conducted many tests of loitering munitions in 2020 and 2021, building off the back of swarm technology tests in September 2020, which involved 200 loitering munitions being utilised at once. Increasing use of this technology by China vindicates the US decision to increase investment in swarm technology and loitering munitions.
Israeli-made loitering weapon systems were used extensively during the 2020 Nagorno-Karabakh conflict between Azerbaijan and Armenia. The main such system used by Azerbaijan was the Harop, made by Israel Aerospace Industries (IAI). UVision of Israel was recently awarded a contract to supply its Hero-120 loitering weapon systems to the US Marine Corps. The system will be integrated with the LAV-M light vehicle, the Joint Light Tactical Vehicle, and the LRUSV, a future autonomous ship capability.
Indian Perspective
Ministry of Home Affairs revised the Arms Rules 1962 to allow Indian companies to manufacture and proof test of small arms. The Arms act was again amended in 2017 to boost 'Made in India' & eight RFPs were issued to the private sector for 23mm air defence gun ammunition & 125mm FSAPDS for T-90/T-72 tanks.
Few notable private companies have sprung up and several small and mediumsized sector companies have begun investing into this sector with foreign collaboration.
Munitions India Limited is the reformed avatar of Indian Ordnance Factories' Board which have been manufacturing ammunition & allied products for the Armed Forces & the Central Armed Police Forces. Munitions India Limited has twelve production units which have a proven integrated base for production of Small, Medium & High calibre ammunition, Mortars, Rockets, Hand Grenades etc with in-house manufacturing of Initiatory Compositions, Propellants and High Explosives for over 150 years. Some examples are -Small Calibre-Cartridge SA for 9mm, 5.56mm, 7.62mm; Medium Calibre- Cartridge for 14.5mm, 23mm, 30mm and 40mm & Large Calibre-84mm TPT, SHEL 105mm IFG HE, Main Battle Tank Ammunition 120mm FSPADS/HESH, SHEL 155mm ILLUMINA TING MIRA, Pinaka rocket by Munitions India Limited & Economic Explosives Limited & many more. Efforts are on to manufacture ammunition for new inductions like M777 Ultra Light Howitzer, Dhanush, Vajra & BMP-2.
R&D is being carried on since 2006 with the establishment of 13 Ordnance Development Centres (ODCs) supported by academic institutions. R&D projects include product development/upgrade; indigenisation; import substitution; process development. Area which is being given special attention is the development of electronic fuzes.
From March 21 to March 23, 2022, three loitering munitions (two fixed wing variants and one hexacopter) developed by Economic Explosives Ltd in partnership with Bangalore-based start-up Zmotion Autonomous Systems Pvt Ltd were tested successfully in the Nubra Valley of Ladakh at an altitude of over 15,000 feet. The Army Design Bureau rating the performance and safety standards, facilitated the private firm and the start-up for designing and developing the first ever indigenous loitering munitions. Such munitions, are not only much cheaper to produce than armed drones but can cause disproportionate damage to conventional targets like ground-based bunkers, command centres, artillery and armoured formations.
One of the major challenges for the ammunition industry is the development of lightweight ammunition that does not compromise on combat performance and precision. The combined weight of weapons equipment and ammunition prevents personnel from being agile and effective. Hence, law enforcement agencies and defence forces are now focusing on acquiring lightweight ammunition.