There is a broad consensus between both the countries on further strengthening the bilateral strategic relations and have adopted a 'vision statement' which will pave the way for defence cooperation in the future.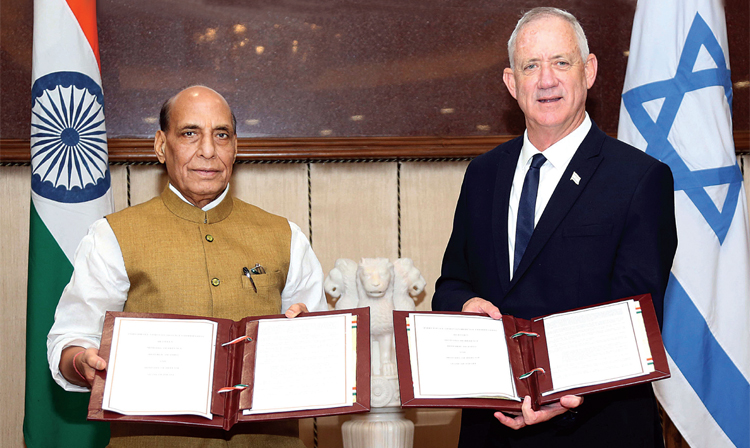 Defence Ministers of India and Israel signed the 'India–Israel Vision on Defence Cooperation' to put together a comprehensive 10-year roadmap to identify new areas of collaboration
Relations between the populations of India and Israel go back to more than two millennia. India is known in Israel as an ancient nation with strong cultural traditions and as an attractive tourist destination. Around 40,000 Israeli tourists visit India annually, many of whom have just finished military service. Approximately 70,000 Israelis live in India and there are dozens of Chabad-operated community centers in India, where many Israelis celebrate holidays and observe religious traditions.
India and Israel signed a Cultural Exchange Programme in August 2020 for the period of 2020-23 to facilitate bilateral cultural exchanges spanning all fields of art and culture, including youth exchanges. Yoga and Ayurveda are popular in Israel and the International Day of Yoga is attended with great enthusiasm in Israel. About 1,200 Indian students are studying in Israel, mostly at the doctoral and postdoctoral levels. Israel offers postdoctoral scholarships to students from India in all fields as well as short-term summer scholarships. India offers ICCR scholarships to Israeli students annually for various courses in Indian institutions.
Bilateral Relations
India and Israel are strategic partners. India announced its recognition of Israel on September 17, 1950. Regular Embassies with full diplomatic relations were established between the two countries in 1992.
Prime Minister Narendra Modi visited Israel from July 4-6, 2017. This was the firstever visit to Israel by an Indian Prime Minister during which the bilateral relationship was upgraded to strategic partnership. During this visit by Prime Minister Modi, a memorandum of understanding (MoU) for establishing India-Israel Industrial R&D and Innovation Fund (i4F) by the Department of Science and Technology, India and the National Authority for Technological Innovation, Israel was signed. This MoU, with a contribution of $20 million from each side over five years is playing an important role in enabling Indian and Israeli enterprises to undertake joint R&D projects and is benefitting eleven projects that have been approved so far under the i4F.
High level political and defence visits from both sides have become a regular feature in bilateral relations between India and Israel. India and Israel have established bilateral consultation mechanisms in all sectors of collaboration including water, agriculture, counter-terrorism and defence. The 16th Foreign Office Consultations were held on December 7, 2020. The first Policy Planning Dialogue was held on October 21, 2020. India and Israel are celebrating 30 years of upgrading of diplomatic relations in 2022.
Indian software companies, notably TCS, Infosys, Tech Mahindra and Wipro are expanding their presence in Israel. During PM Modi's visit in July 2017, the first meeting of the newly established India-Israel CEO Forum took place, while its second meeting took place during PM Netanyahu's visit to India. Israeli companies have invested in India in renewable energy, real estate, water technologies and are also setting up R&D centers and production units in India. Cumulative FDI from India, as of September 2019, was about $118 million. During April 2000 – March 2021, Israel's direct FDI into India was reported at $224.76 million.
Prime Minister Narendra Modi had also met Israeli Prime Minister, at that time, Naftali Bennett on the sidelines of the COP26 Climate Summit in Glasgow on November 2, 2021. Earlier, the annual India-Israel Joint Working Group (JWG) on Defence was held in Israel on October 26-27, 2021.
Defence and Security Relations
Regular exchanges between the Armed Forces of India and Israel have been ongoing. During the deployment of the Indian Peacekeeping Force (IPKF) in Sri Lanka, Israel trained the Indian Navy's Marine Commandos (MARCOS) in destroying flat bottom boats of the LTTE operating in lagoons of the island nation. Personnel from India's National Security Guard (NSG) have also been training for counter-terrorism in Israel. During the Kargil Conflict in 1999, Israel was one of the few countries to provide direct military assistance to India.
Three Indian ships from the Navy's Western Fleet made a port call in Haifa in May 2017 on a goodwill visit. INS 'Tarangini', a naval training ship, made a port call in Haifa in September 2018. In October 2021, the Indian Air Forces (IAF) sent C-130J Super Hercules aircraft along with Garud commandos to participate in the bi-annual multilateral exercise 'Blue Flag' designed to strengthen Israel's cooperation internationally. In November 2021, then Chief of the Army Staff General M.M. Naravane made a five-day visit to Israel to meet the top brass of Israel Military and civilian leadership and discuss avenues for further enhancing Indo-Israel defence relations. The MEA issued a statement saying, "The Army Chief will take forward the excellent bilateral defence cooperation between Israel and India through multiple meetings with senior officials of the security establishment and exchange views on various defence related issues."
Visit by Israeli Defence Minister
Israel's Defence Minister, Benjamin Gantz, visited India in June 2022, during which both countries decided to expand their defence cooperation focusing on the emerging technologies. Marking 30 years of diplomatic ties between the two countries, Gantz and Defence Minister Rajnath Singh signed the 'India–Israel Vision on Defence Cooperation' to put together a comprehensive 10-year roadmap to identify new areas of collaboration. This focus on technological cooperation precedes the robust ties in the defence and security sector, spanning arms sales, military exchanges, and counterterrorism engagement. Both the ministers also exchanged a 'Letter of Intent' to enhance cooperation on futuristic defence technologies.
A statement issued by the Ministry of Defence (MoD) said that the two ministers "discussed partnerships within the government-to-government framework, military training, and technological cooperation with a focus on UAVs (unmanned aerial vehicles) and defensive capabilities." Rajnath tweeted, "Warm and productive meeting with the Defence Minister of Israel, Benjamin Gantz in New Delhi. Discussed key issues pertaining to defence cooperation and global & regional scenarios during the bilateral meeting. We place great value on our Strategic Partnership with Israel. Glad that both the countries adopted a 'vision statement' which will pave the way for defence cooperation in the future. There is a broad consensus between both the countries on further strengthening the bilateral strategic and defence cooperation."
Defence Trade and Technology Cooperation
On October 24, 2018, Israeli defence firm Israel Aerospace Industries (IAI) announced that India had awarded it an additional $770 million contract to supply Barak-8 long-range surface-to-air missile systems (LRSAM), also referred to as Barak LR, to seven surface combatants of the Indian Navy. The contract was concluded with IAI's local partner, Indian state-owned aerospace and defence company Bharat Electronics Limited (BEL), which in turn was awarded a $1.2 billion contract from Indian shipyards Mazagaon Dock Shipbuilder Limited (MDL) and Garden Reach Shipbuilders and Engineers (GRSE) to deliver the seven Barak-8 LR-SAM air and missile systems to the Indian Navy in September 2017. The October 24, 2018, contract was preceded by the conclusion of a $630 million deal, signed in May 2017 between IAI and BEL, for the supply of four Barak-8 LR-SAM systems to the Indian Navy.
In April 2017, IAI and BEL also signed a $2 billion deal for, the medium-range surface-to-air (MRSAM) missile defence systems; the land-based variant of the Barak-8, to the Indian Army. The Barak-8 LR-SAM missile defence system has been jointly developed by IAI and India's state-owned Defence Research and Development Organisation (DRDO) in collaboration with defence contractors in India and Israel, including Rafael Advanced Defense Systems.
The two countries began joint work on the LR-SAM in 2006 with a first successful test firing of the missile system taking place in May 2010. The Barak-8 LR-SAM were to be installed aboard Visakhapatnam-class guided missile destroyers, Kolkata-class destroyers, Kamorta-class anti-submarine warfare corvettes, and Project 17A class of stealth frigates, as well as on the INS 'Vikrant', the first indigenously built aircraft carrier. According to IAI, with the contract signed on September 2018, the sales of the jointly developed Barak-8 over the past few years totaled over $6 billion.
Unmanned Aerial Vehicles (UAVs), missiles, and radar systems have dominated India's purchases from Israel, totaling worth $4.2 billion during the period 2001–2021. In addition is the Project 'Cheetah', under which the Indian Military's Heron drones are also set to be upgraded by Israel under a nearly 5,000 crore deal. Israel will upgrade the Heron's including arming them for offensive operations, giving them the ability to undertake precision strikes against the enemy and enabling the Herons with the capability of satellite navigation and specialised sensors. Under the project, the Medium Altitude Long Endurance (MALE) Israeli Herons, used by all three Services, will be upgraded.
Major Israeli defence equipment purchased by India include - one, missiles – Derby Beyond Visual Range Air to Air Missiles (BVRAM), Heron loitering munition, Python-5 BVRAM, SPICE-2000 guided bombs, Popeye-1 Air to Surface Missile (ASM), SkyStriker loitering munition; two, Unmanned Aerial Vehicles (UAVs) – Heron, Searchers Mk-II, Harop; three, Sensors and Radars - EL/M-2075 Phalcon airborne early warning radar system, EL/M-2248 MF-STAR multi-function radar, EL/M-2084 multi-mission radar system, ELM-2238 naval radar system, EL/M-2052 airborne AESA fire control radar, Litening electrooptical infrared (IR) sensor system; four, Air Defence – Spyder medium-range Surface to Air (SAM) system, Barak SAM system, and five, Negev NG-7 light machine guns.
During the Kargil Conflict in 1999, Israel was one of the few countries to provide direct military assistance to India
In addition to sensors and Heron drones, Israeli hand-held thermal imaging devices and night vision imaging equipment have improved the Indian Army's capabilities in counter infiltration and counter-terrorism operations especially against Pakistan along the Line of Control (LoC) and in counterinsurgency operations in Jammu and Kashmir. In March 2021, the Indian Army leased four Heron drones from the IAI to deploy them on extended surveillance missions on the Line of Actual Control (LAC). The Barak-8 air and missile defence system is an excellent example of India-Israel technology cooperation. The Barak-8 system is available both in land and maritime versions. It can intercept targets like fighter aircraft, drones, ballistic, and cruise missiles up to 150 km.
Building on the success of Barak-8, in September 2020, India and Israel established a bilateral sub-working group on defence industrial cooperation. This group is expected to facilitate further technology transfers to India. In addition to the abovementioned technology cooperation, other India-Israel ventures include the following:
The IAI is collaborating with Hindustan Aeronautics Limited (HAL) to convert used Boeing 767 commercial aircraft into mid-air refueling aircraft for the IAF.
Israel's Elbit Systems and Bharat Forge, called BF Elbit Advanced Systems, supplies artillery guns, guided munitions, and mortar systems to the Indian military.
The IAI, Elbit Systems, and Rafael Advanced Defense Systems have set up joint ventures with Bharat Forge, Tech Mahindra, Adani Group, and Tata Advanced Systems to produce niche subsystems and homeland security systems.
IAI's subsidiary, ELTA Systems, has a joint venture with the Tata Advanced Systems, called Hela Systems, to manufacture communications, electronic warfare, and homeland security systems.
India's Bengaluru-based Tonbo Imaging, specialising in electro-optics technology, has been powering Israel's precision-guided bombs for years.
Space Cooperation
In 2002, India and Israel signed a cooperative agreement promoting space collaboration. In 2003, the Israeli Space Agency (ISA) expressed interest to collaborate with the Indian Space Research Organisation (ISRO) for using satellites to improve management of land and other resources. Israel also expressed interest in participating in ISRO's proposed mission of sending an unmanned craft to the moon. Both countries also signed an agreement outlining the deployment of TA UVEX, an Israeli space telescope array, on India's GSAT-4 navigation and communication satellite.
In 2008, TecSAR, Israel's first synthetic aperture radar imaging satellite was launched by India's Polar Satellite Launch Vehicle (PSLV). In 2009, India successfully launched RISAT-2, a synthetic aperture radar imaging satellite manufactured by the Israeli Aerospace Agency (IAI) in conjunction ISRO, giving India greater earth observation, improved disaster management, and increased surveillance and defence capabilities. The acquisition and subsequent launch of the RISAT-2 satellite was accelerated after the 2008 Mumbai terror attacks to boost India's future surveillance capabilities.
Conclusion
The 'India–Israel Vision on Defence Cooperation' to put together a comprehensive 10-year roadmap to identify new areas of collaboration and the Letter of Intent to enhance cooperation on futuristic defence technologies during the visit of Israel's Defence Minister Benjamin Gantz, visit to India in June 2022, opens up tremendous opportunities to take the Indo-Israel partnership to infinite heights. While Israel would be more than eager for collaboration, our policy makers need to focus on which futuristic defence technologies we need and in what timeframe considering the threats to our national security by China in conjunction Pakistan as well as homeland security necessitated by all those who are willing to destabilise India to further their own national interests.
Indo-Israel Cooperation: A Glimpse

(Left to Right) Barak-8 land based MRSAM; Spyder SAM system.

(Left to Right) Harop loitering munition; Negev LMG.

(Left to Right) Heron TP UAV; Searcher UAV.