Chief of the Army Staff, General Manoj Pande visited Ammo India 2022 for a special session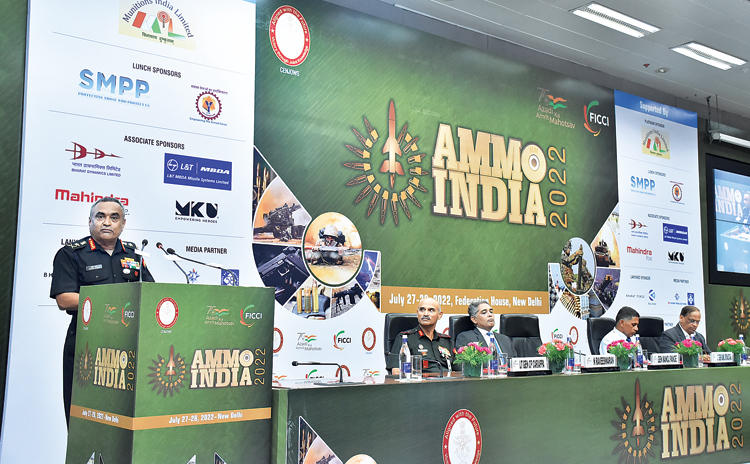 Ammo India 2022: General Manoj Pande, Chief of The Army Staff addressing the gathering
The second day of Ammo India 2022, witnessed the discussions maturing and expanding around a wide spectrum of topics. Chief of the Army Staff (COAS), General Manoj Pande visited the conference for a special session. General Pande stressed that selfsufficiency in critical defence requirements is a strategic imperative now more than ever. "Our external dependence on armaments and ammunitions have been a matter of concern and the reversing of this trend, which we are witnessing, is quite encouraging," he added. As recently released by the Defence Ministry, the expenditure on defence procurement from foreign sources which used to be 46 per cent of the overall expenditure has reduced to 36 per cent in the last four years i.e. 2018-19 to 2021-22.
Addressing a special session, the Chief highlighted the potential for domestic and foreign players in Indian defence production, and stated that Atmanirbharta does not mean isolating from the world, but it is self-sustaining and self-generating to promote efficiency, quality, and resilience. "It has been unequivocally stated that collaboration with foreign Original Equipment Manufacturers (OEM)s is intrinsic to Atmanirbhar Bharat and we have moved from a relationship of buyer-seller to codevelopment and co-production with our foreign partners," he said.
General Pande stated that the ongoing reforms in the defence sector offer an opportunity for the foreign OEMs to partner with the Indian companies and work towards our shared objectives. There is a huge potential for exports which can also contribute to the Prime Minister's vision of a $5 trillion economy. "Therefore, the vision of achieving Atmanirbharta in ammunition requires a synergised approach from all stakeholders. Together, with the need to turn the initiative into another success story and a win-win situation for all," he emphasised.
Defence Industry sector, which was hitherto reserved for the public sector, was opened up to 100 per cent for Indian private sector participation in May 2001. Since the opening up of Defence sector, a total of 584 Industrial Licenses have been issued to 358 companies for manufacturing of various defence items. The initial validity of the Industrial License granted under the Industries (Development & Regulation) Act has also been increased from 3 years to 15 years. An increase in the validity of Industrial Licenses has provided sufficient time and space for companies to start operations and manufacture without hindrance, the Defence Ministry stated in a release.
"It has been unequivocally stated that collaboration with foreign OEMs is intrinsic to Atmanirbhar Bharat and we have moved from a relationship of buyer-seller to a co-development and co-production with our foreign partners," said the Chief
Further, in order to give a push to the domestic defence industry, the Government has taken several policy initiatives in the past few years and brought in reforms to encourage indigenous design, development, and manufacture of defence equipment in the country, thereby expanding the production of indigenous defence equipment to strengthen our armed forces, Ministry's press release highlighted.
The contemporary security environment and changing character of war requires the armed forces to handle a wide spectrum of challenges both in conventional and subconventional domains. "Our interests are best served by being Atmanirbhar, especially in defence production. Self-reliance is among the key factors on which the military capability of any nation rest. A holistic, all-encompassing, well calibrated, multipronged, and futuristic approach in defence production is fundamental to ensure safeguarding our national interest," he added.
GENERAL MANOJ PANDE, CHIEF OF THE ARMY STAFF VISITING THE EXHIBITION AT AMMO INDIA 2022
Chief of the Army Staff also emphasised that Research & development (R&D) along with technological progression are equally fundamental to self-reliance. "Atmanirbharta in defence production does not limit to production but it should also encompass evolving homegrown capabilities and technologies. For a holistic and self-reliance strategy, it is imperative that ammunition life cycle management capabilities are concurrently established," he asserted. A significant investment is also needed in establishing R&D infrastructure, testing, and evaluation capabilities to meet our ammunition needs.
He further stated that a pragmatic and actionable indigenous defence production strategy is needed to ensure a secure and sustained supply of ammunitions and armaments as per our national security needs. There is also a need to share the experiences and technical knowledge of DRDO, OFBs, and other PSU units with the industry to build new capabilities. We need to have a more collaborative and cooperative framework in which all stakeholders work together to reduce import dependence and provide the required impetus to the domestic capabilities, added General Pande.
According to the Ministry of Defence (MOD)'s release, in order to enhance the strategic capabilities and develop advanced technology/products some of the initiatives/policies taken/made by the Government include:
Announcement of 18 major defence platforms for industry-led Design & Development in March 2022.
Launch of innovations for Defence Excellence (iDEX) scheme involving start-ups & Micro, Small, and Medium Enterprises (MSMEs).
Launch of an indigenisation portal namely SRIJAN to facilitate indigenisation by Indian industry including MSMEs.
Opening up of Defence Research & Development (R&D) for industry, startups, and academia with 25 per cent of defence R&D budget earmarked to promote the development of defence technology in the country.
The Government has also taken measures to de-stress and upgrade the capabilities of the soldiers and officers serving in the Army, Navy, and Air Force.
During the special session, N. Raveeswaran, Co-Chair, FICCI Defence & Aerospace Committee & Head- Aerospace & Defence Strategic Business, Mahindra Defence Systems Ltd highlighted the need to create Indian OEMs which can design and create platforms for ammunition systems. "With the government's push for Make in India in recent years, the defence industry understands that the development of both platforms and ammunitions through Indian industry is the way forward," he added.
Ammo India 2022 covered an extensive range of ammunition requirements of the Armed Forces. The conference touched upon ammunition for tanks and armoured fighting vehicles; artillery including fuses; air defence, and aerial munitions; munitions for precision attacks by drones & counterdrone systems; naval munitions and ammunition for small arms; explosives and mines.
Sudhakar Gande, Co-Chair, FICCI Defence & Aerospace Committee & CEOJupiter Capital Pvt Ltd, Co-Chair, and Non-Executive Director-AXISCADES Engineering Technologies Ltd reiterated the need for a good infrastructure for testing and R&D. He also urged for allowing the Ordnance Factory Boards (OFB) infrastructure to be made available to the private sector through well-defined terms and conditions.