The Nation eagerly looks at General Anil Chauhan, the new CDS, for successfully taking forward the initiatives taken up by the Late General Bipin Rawat
| | |
| --- | --- |
| | The Author is a former Army Commander of the South Western, Eastern and Central Army Commands. He retired on September 30, 2019. Post retirement, he was Chief Commissioner WBRTPS Commission. |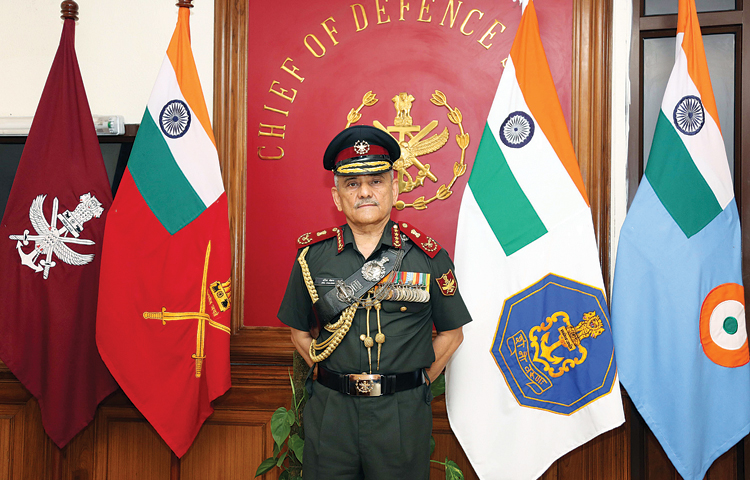 General Anil Chauhan taking over as 2nd Chief of Defence Staff on September 30, 2022. Earlier, he was the General Officer Commanding-in-Chief (GOC-in-C) of the Eastern Command and served in the role until his retirement in May 2021
Appointment of CDS
A historic step was taken by the Government of India (GoI) on January 1, 2020 to appoint the much-awaited Chief of Defence Staff (CDS), post submission of the Shekatkar Committee Report way back in the year 2016. It was a major signal for the commencement of ensuring complete integration of the Indian Armed Forces and providing better direction for higher defence management.
Late General Bipin Rawat, the then CDS, moved at a rapid pace to bring about the muchdesired change under the prevailing working environment and commence the cycle of change. However, the Nation was not destined to reap the benefits of his efforts as General Rawat unfortunately died in a tragic helicopter crash on December 8, 2021. Thereafter, commenced a period of intense speculation in multi domain of thoughts. Some even speculated if India really needed a CDS under the prevailing economic situation and unfolding global security scenario, where we seemed to be totally fixated with the thought of India's compulsion with two-front warfare scenarios.
However, the Government put all kinds of speculation, prevailing since nearly last ten months, to rest by appointing Lieutenant General (Lt Gen) Anil Chauhan as CDS on September 28, 2022. It was a big relief as the relevance of the Department of Military Affairs was now coming under the scanner of few think tanks. Notwithstanding, this being the first instance where a retired three-star General is elevated to the status of a four star General and assigned a post first among equals to all the serving Chiefs, the prevailing ethos and value system of the Armed Forces will take it as a matter of pride.
General Anil Chauhan, the current CDS, has had an outstanding career with immense experience in multi domain and theatres. From Jammu and Kashmir (J&K) to the North East (NE) and Army HQ, he has held several crucial appointments. During the last one year, he also had the opportunity to acquire the critical insight into National Security matters working as Military Advisor with National Security Council Secretariat (NSCS). He is a very well-read officer who is blessed with academic scholar abilities. He is also known as a no-nonsense person who loves to take bold decisions. The Nation therefore, eagerly looks at him for successfully taking forward the initiatives taken up by the Late General Bipin Rawat.
India's Maritime Interests and Challenges
Notwithstanding the above, with the NSA's address on June 30, 2022 at Multi-agency Maritime Security Group meeting, calling for 'seamless coordination among various agencies involved in protecting India's maritime interests in the face of emerging security challenges and increasing rivalries and competitions in the Indian Ocean', it has become evidently clear that India's focus is much larger than two-front war fixations. The newly appointed CDS, therefore, has a vast charter to handle. He needs to focus on protecting the nation's economic and security interests in the Indian Ocean domain by developing maritime domination as a priority mission.
It is now an accepted fact that all major powers have an ambient Naval presence from the Strait of Hormuz to the Strait of Malacca to protect their major trade route. Thus, India needs to grow out of continentalist mindset and expand its reach not only in the Indian Ocean Region, but also close to China's East Coast to be a meaningful counter threat. India, thus, needs to grow beyond the fixation of Western and Northern Land borders threat perception syndrome and instead look to reorganise herself into a Maritime Expeditionary Force as also create few Military bases both in the Indian Ocean Region and the Indo-Pacific Region in collaboration with friendly countries.
Understanding the enormous responsibilities that has been entrusted on the shoulders of our CDS, his focus now is going to be promoting jointness in defence procurement, training and staffing for the services
New War Doctrine
To begin with, keeping in mind the Nation's Strategic goal of becoming a Regional Power, a new War Doctrine needs to be prepared to tackle the emerging threat scenario. The larger roadmap pertaining to unfolding global security challenges, emerging threat scenarios and increasing military footprints in both the Indian Ocean Region and the Indo-Pacific Region should be clearly spelt out in the said doctrine besides the measures required to tackle the threats on both the Western and Northern Borders.
Crucial Areas of National Focus
The nation needs to give a much-awaited impetus to the Strategic Forces, Space and Cyber capability, Command and Control capability, shifting focus from manpower heavy Army to high-tech, modular, responsive ground forces capable of three-dimensional manoeuvre, long-range weapons with precision strike capability duly supported by special operations forces under the command of a combined military leadership ensuring jointness in planning and execution. Integrating the existing Tri-Service Communication system to include Cyber, Space and Electronic Warfare (EW) so as to not only get and share real time intelligence at all levels, but also help coordinate a timely and accurate response. In accordance with their interoperability, the maintenance wherewithal including spares, infrastructure and other connected assets must also be integrated.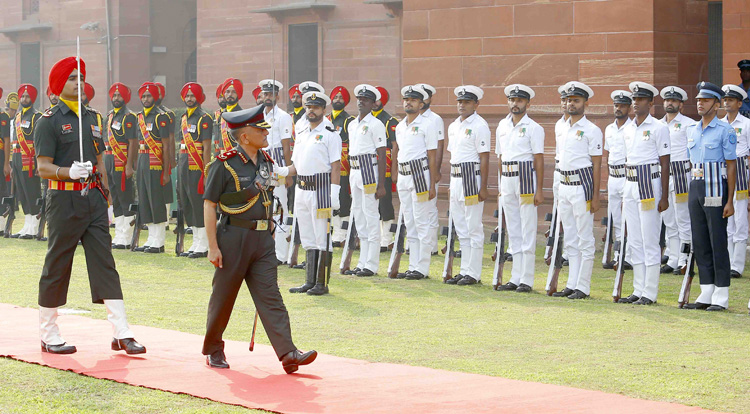 General Anil Chauhan inspecting the Tri-Service Guard of Honour before taking over as 2nd Chief of Defence Staff
Keeping in view our projected involvement in the Indian Ocean Region and the Indo-Pacific Region, building Carrier Battle Groups, acquisition of Maritime Strike Aircraft and raising of Amphibious Divisions must be accorded priority over straight away beginning to create Western Theatre, Northern Theatre, Joint Air Defence, Peninsular and Logistics Commands. Once these tri-service forces become stable and operational, then the process of creating Theatre Commands could commence. This may take almost a decade to achieve.
Growth of the Indian Armed Forces over decades, confined into individual service verticals, has led to a major deficiency in the planning process, duplication of effort and sub-optimal utilisation of resources. Duplication of assets in infrastructure and human resources whether in training or in operational commands, is a huge burden on the defence budget leaving very little for capital acquisition. Immediate priority should be accorded to Tri-Service Integration of existing resources to optimise and reduce wasteful expenditure. This will ensure the commencement of a seamless integration of the three services at various functional levels without destabilising the complete structure. Thereafter, integrate their maintenance wherewithal on a common platform considering the factor of interoperability and ensure that provisioning is done under one budget head.
Challenges and Tasks Before the New CDS
Rising above turf battles and Service-specific trivial considerations, all three Service Chiefs must assist each other and the CDS in streamlining the procurement prioritisation, refining the archaic procurement process leading to over stocking, working out realistic stocking norms graduating from 'Just in Case' to 'Just in Time' and reworking out the current skewed fuel efficiency norms leading to surpluses and misuse.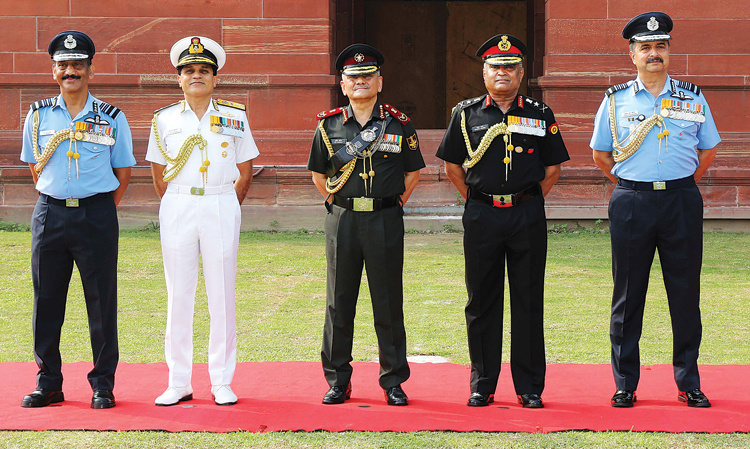 General Anil Chauhan with CAS Air Chief Marshal V.R. Chaudhari, COAS General Manoj Pande, VCNS Vice Admiral S.N. Ghormade & CISC Air Marshal B.R. Krishna
It is also recommended that before embarking on the creation of Western, Northern Theatre, Air Defence, Peninsular and Logistics Commands as was announced post appointment of previous CDS, a study may be carried out to look into the CDS models already being followed by the P5 countries. The US took a decade and Russia took seven years to achieve theaterisation. Before we proceed, we may consider constituting a team to study the existing varying models of countries like the US, Russia, China etc and their functionality. Thereafter, look at what suits India the best. It is always better to learn from first-hand experience of others. The study of the existing five models in the world will help us to identify a structure truly applicable and relevant to us in the backdrop of leveraging India's geographical location advantage vis-a-vis available resources as well as economic and security interests that need to be protected. It will also help in working out a practical timeline keeping the budgetary constraints and other connected limitations in view.
India's economy currently pitched at $3.3 trillion is still to traverse a long distance to get close to $17.7 trillion economy of the nation's main adversary China and $19.48 trillion economy of the United States (US). In view of the committed liabilities from the previous years, the current allocation, therefore, will always fall short to meet the requirements of the Indian Armed Forces. We, therefore, have to set targets to be achieved while harmonising the available resources with realistic timelines.
Hopes and Aspirations of the Nation
Lastly, we must not forget that when the first CDS was appointed, Prime Minister Narendra Modi had said that the post reflected the hopes and aspirations of 130 crore Indians. He further added that the CDS carried the responsibility of modernising the Indian military and newly-created Department of Military Affairs would help the Indian Armed Forces face the ever-changing challenges of modern warfare.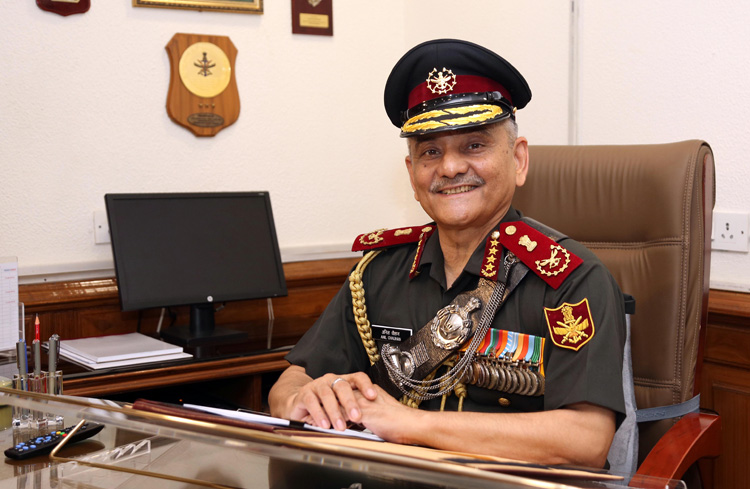 The Nation looks at General Anil Chauhan for successfully taking forward the initiatives taken up by the Late General Bipin Rawat
Thus, to unfold the vision of the Indian Prime Minister into a reality on ground, we need to carefully take well planned firm steps forward and make the Nation see what our Prime Minister had envisioned after the creation of the post of CDS.
To begin with, therefore, looking at the vast experience and the visionary bent of personality of the new CDS, he must be envisaging to give impetus to increase logistic integration and communication compatibility with a view to not only amalgamate or augment the resources but also to provide great relief to the defence exchequer. With acclaimed foresight of the CDS, intensified maritime domination and development along with the advancement in the domain of space and cyber capabilities is what is likely to be addressed on priority. Theatrerisation, thereafter, will ensue as a natural resultant and need not to be pushed for as of now.
With acclaimed foresight of the CDS , intensified advancement in the domain of space and cyber capabilities is what is likely to be addressed on priority
Understanding the enormous responsibilities that has been entrusted on the shoulders of our CDS, his focus now is going to be - promoting jointness in defence procurement, training and staffing for the services through joint planning and integration of their requirements; facilitate restructuring of military commands for optimal utilisation of resources by bringing about synergy in operations; promote use of indigenous equipment by the services to set and achieve our goal to emerge as a regional power; and expand the footprint of our Armed Forces not only in the confines of the Indian Ocean Region but also close to East and South China Sea.
Lastly, for optimum utilisation of the precious time on hands, the CDS may consider while working towards achieving our final goal of theaterisation, that other secondary ranked administrative issues like promotions, postings, redressal of grievances, foreign assignments etc as also other service-related additional subordinate administrative objectives and finance matters are left to the respective Service Chiefs and the MoD to handle.