The country's arms exports have grown by six times since 2014, amounting to 11,607 crore during FY 2021-22 and aims to reach an export target of 36,500 crore by 2025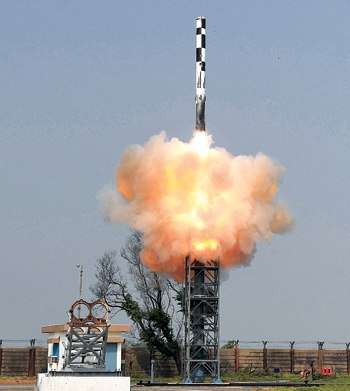 Major Defence Exports: BrahMos Supersonic Cruise Missile
With a loud and clear message to make India a selfreliant defence nation, the Government has been pushing the "Atmanirbharta Abhiyan" extensively. From the Ministry to the DPSUs (Defence Public Sector Units), the long-established manufacturing giants to the start-ups, everyone is on board to "Make in India, Make for the world". It has been reiterated that 'Atmanirbharta' does not mean isolation; it is India's resolve to become self-dependent while fulfilling the needs of other countries. Alongside innovations, the government has also been exploring the avenues of Artificial Intelligence, Quantum communication technology, unmanned systems and other technical advancements for defence manufacturing & export.
According to the data released by the Ministry of Defence (MoD), with Government's increased focus on indigenisation and procurement of defence products from the domestic resources, the expenditure on defence procurement from foreign sources has reduced from 46 per cent to 36 per cent in the last four years. During this time, the Government has also accorded Acceptance of Necessity (AoN) to 162 proposals worth 2,51,130 crore approximately, under various categories of Capital procurement from domestic sources. The value of defence exports during the financial year 2021-22 has been reported as 12,815 crore.
A major reform that the Ministry has undertaken is export promotion. At an event in September, the Defence Minister asserted that the Government is leaving no stone unturned to realise the dream of a 'New India' as titled by the Prime Minister, which is not dependent on any country to fulfill its needs, especially those related to security. Throwing light on the progress achieved, he underlined, "defence exports, which were once 1,900 crore, have now crossed 13,000 crore. I am confident of achieving the target of 1.75 lakh crore of defence production by 2025, which includes export of 35,000 crore."
India witnessed a 21 per cent decline in imports during 2017-21 versus 2012-16 due to the growing emphasis on indigenous design and manufacturing of defence equipment. MoD also stated that the country's arms exports have seen a six-times rise since 2014, amounting to 11,607 crore ($1.5 billion) during FY 2021-22 and the government is ambitious to reach an export target of 36,500 crore ($4.8 billion) by 2025. Defence exports of India has expanded to more than 75 countries in the world. According to Rajnath Singh, India has the potential to supply various types of missile systems, helicopters, multi-purpose light transport aircraft, warships, artillery gun systems, patrol vessels, radars, tanks, armed vehicles, digital warfare systems, etc, to the world.
India's Defence Exports (in crore)
2018-19

2019-20

2020-21

2021-22

2022-23
(till June 2022)

Total Export Value
10746
9116
8435
12815
1387*
*provisional
The value of defence exports during the financial year 2021-22 has been reported as 12,815 crore
The Government has taken several policy initiatives in the past few years and brought in reforms to encourage indigenous design, development and manufacture of defence equipment, thereby promoting self-reliance in defence manufacturing & technology in the country. Some of the important steps, as shared by the Ministry, include:
According priority to procurement of capital items from domestic sources under Defence Acquisition Procedure (DAP)-2020. The announcement of 18 major defence platforms for industry led design & development in March 2022.
Notification of three 'Positive Indigenisation Lists' of total 310 items of Services and two 'Positive Indigenisation Lists' of total 2,958 items of DPSUs for which there would be an embargo on the import beyond the timelines indicated against them.
Simplification of Industrial licensing process with longer validity period.
Liberalisation of Foreign Direct Investment (FDI) policy allowing 74 per cent FDI under automatic route.
Simplification of Make Procedure, launch of iDEX scheme involving startups & micro, small and medium enterprises (MSMEs). Under the iDEX (Innovations of Defence Excellence) route, as of August 2022, 136 start-ups had been engaged and 102 contracts had been signed for prototype development. The Government also approved a central sector scheme for iDEX with budgetary support of 498.78 crore for the five years from 2021-22 to 2025-26.
Implementation of Public Procurement (Preference to Make in India) Order 2017.
Launch of an Indigenisation portal namely SRIJAN to facilitate indigenisation by Indian Industry including MSMEs. As of August 2022, more than 21,000 defence items, which were earlier imported, have been displayed on the portal. 388 private vendors have expressed interest in indigenising more than 4,700 items and so far 410 items have been indigenised.
Reforms in Offset policy with thrust on attracting investment and transfer of Technology for Defence manufacturing by assigning higher multipliers.
Establishment of two Defence Industrial Corridors, one each in Uttar Pradesh and Tamil Nadu.
Opening up of Defence Research & Development (R&D) for industry, startups and academia with 25 per cent of defence R&D budget.
Progressive increase in allocation of Defence budget of Military modernisation for procurement from domestic sources, etc.
The Minister called upon the Indian defence industry to identify and manufacture state-of-the-art cost-effective products/technologies to realise the vision of a 'New India' that not only caters to its own needs, but also fulfills international requirements. "The constantly-evolving global scenario has led to an increase in demand for military equipment across the world, with countries focussing on bolstering their security systems. I urge the industry to take advantage of this current golden period of the Indian defence sector and enhance participation through increased investment in the two defence corridors."
BrahMos Aerospace has signed a contract with the Republic of Philippines in January 2022 for supply of Shore Based Anti-Ship Missile System
Defence Minister underlined that the government has played the role of an incubator, catalyst, consumer and facilitator in the case of private industry. Several steps have been taken by the Ministry under the Government's 'Make in India' and 'Self-reliant India' initiatives to change the old traditions, and create a manufacturing climate, in which the public and private sectors could participate. "The magnitude of all these efforts is beginning to come before us. Today we are not only producing to meet our own defence needs, but also fulfilling the defence needs of many other countries under 'Make for the World'. It is a matter of great happiness that defence exports have increased manifold from what we used to have. We used to be counted as one of the biggest arms importers in the world until now. But today we are one of the top 25 arms exporting countries of the world."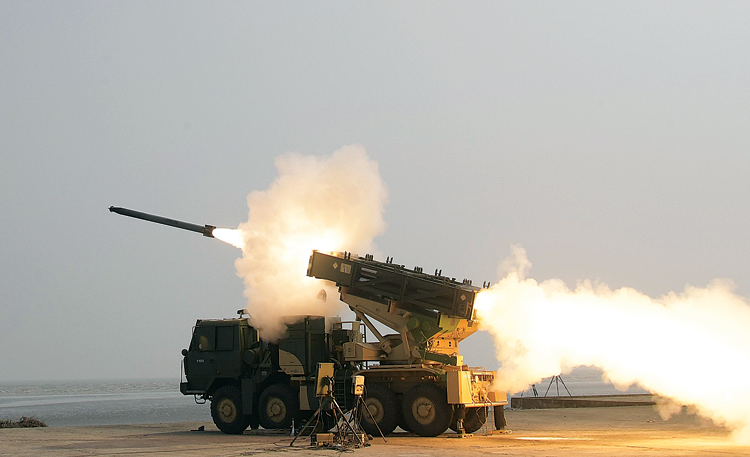 Major Defence Exports: Enhanced PINAKA
As of August 1, 2022, the defence exports in the country stood at 1,381 crore in FY 2022-23. The country is targeting to export military hardware worth 35,000 crore ($5 billion) in the next five years, and seems to be going strong towards that goal since multiple deals have been signed in the recent past and many more seem to be on the way as the government continues to press on "Make in India, Make for World".
"The Indian Defence sector, the second largest armed force, is at the cusp of revolution. Defence exports grew by 334 per cent in the last five years; India is now exporting to over 75 countries due to collaborative efforts," PIB had shared towards the end of September.
In the fiscal year 2021–2022, India's exports of defence and technology products reached a record high of 12,815 crore, up 54.1 per cent over the previous year. It is pertinent to note that exports increased by approximately eight times in the fiscal year 2022 compared to the last financial year. According to the Department of Defence Production, some of the major export destinations for defence products have been Italy, Maldives, Sri Lanka, Russia, France, Nepal, Mauritius, Israel, Egypt, UAE, Bhutan, Ethiopia, Saudi Arabia, Philippines, Poland, Spain and Chile etc. The major defence items being exported are Personal Protective items, Offshore Patrol Vessels, ALH Helicopter, SU Avionics, Bharati Radio, Coastal Surveillance Systems, Kavach MoD II Launcher and FCS, Spares for Radar, Electronic System and Light Engineering Mechanical Parts etc.
Argentine interest in the Made in India TEJAS fighter aircrafts for Argentine Air Force likely to be a deal in the future
Some of the major deals have been listed below:
BrahMos Aerospace Private Limited (BAPL) signed a contract with the Department of National Defence of the Republic of Philippines on January 28, 2022 for supply of Shore Based Anti-Ship Missile System to Philippines. The BAPL is a joint venture company of the Defence Research and Development Organisation (DRDO). The contract is an important step forward for Government of India's policy of promoting responsible defence exports. The crucial export deal is estimated worth $375 million (2,770 crore). This deal is likely to open doors to India's defence exports to various Asian countries such as Indonesia and Vietnam. India is also in talks with some Middle Eastern countries such as the UAE and Saudi Arabia for exporting the Brahmos missile and Akash air defence missiles.
Towards the end of September, in another significant move towards uplifting India's defence export, an export order for missiles, rockets, and ammunition to Armenia was signed. The value of the contracts is estimated to be worth over 2,000 crore. Additionally, a number of contracts for the supply of arms and ammunition to Armenia were also done through the government-to-government route.
In August, India and Argentina also agreed to enhance cooperation in the Defence sector. India's External Affairs Ministry acknowledged Argentine interest in the Made in India TEJAS fighter aircrafts for Argentine Air Force likely to be a deal in the future, alongside exchange of visits between Armed Forces, defence trainings and collaboration for joint production of defence related equipment.
Bharat Dynamics Limited (BDL) shared that Tanzanian delegation's visit along with their Defence Minister will give a fillip to realisation of various export orders for the company. BDL is offering Anti-Tank Guided Missiles, Surface to Air Missiles, Underwater weapons, Counter Measure Dispensing System, Drone delivered bombs and Drone delivered missiles for export to Tanzania and other friendly foreign nations.
Earlier this year in January, Hindustan Aeronautics Limited (HAL) had revealed that it had signed a contract with the Government of Mauritius (GoM) for export of one Advanced Light Helicopter (ALH)-MkIII for Mauritius Police Force. Mauritius already operates an ALH and Dornier Do-228 aircraft built by HAL.
The emphasised focus on self-reliance is not only likely to strengthen India's defence position in the current highly volatile geopolitical scenarios but also enhance its strategic independence as well as boost the economy and global relations. The defence sector promises to play a vital role in making India a $5 trillion economy with defence exports making a significant contribution.