Infantry Mobility Vehicles are designed to supplant lighter, less protected vehicles in patrol and transportation roles. They are designed to counter mines and ambushes including small arms fire, IEDs, anti-tank mines and man portable RPGs

(Left-Right) AJBAN-447A by NIMR; Dagger by ARQUUS; Eagle by GDELS
An infantry mobility vehicle (IMV) was developed bearing in mind the threats of modern warfare, with an emphasis on crew protection and mineresistance. IMVs are typically designed to have much greater protection than other armoured vehicles, with crews able to survive blasts that would be lethal in more conventional armoured personnel carriers.
Designed to Protect
IMVs are typically much heavier than unarmoured vehicles, with weight typically greater than six tonnes, and ranging to as much as thirty. The front and side windshields will be made of ballistic glass. They generally feature a v-hull shaped underbelly with additional crew protection features such as four- point seat belts and seats suspended from the roof or sides of the vehicle. IMVs are resistant to small arms and explosives but aren't designed to defeat heavy machine gun and cannon fire, or shaped charge attack. Infantry Mobility Vehicles carry weapons typical of armoured personnel carriers. Many feature a machine gun on the roof, either on a ring mount or a remote weapon system. Being designed for patrol and transportation rather than direct combat, they are designed to have good on road mobility. They are often capable of road speeds approaching or exceeding 100 km/h, high for an armoured vehicle.
Major Global Developments
AJBAN 4X4
The AJBAN 447A Multi-Role Armoured Vehicles are designed for use in a wide range of specialist military roles. They offer high levels of survivability, mobility, and firepower. The seven-seater 447A features a highly configurable armoured cabin, designed for functions such as Tactical response, Border patrol, Reconnaissance, Counter-insurgency, Special Forces. The vehicles offer a modular design based on a conventional powertrain layout, with scalable levels of ballistic, mine blast, and IED protection.
A highly mobile 4x4 protected vehicle, the AJBAN 440A incorporates the latest technologies in ballistic and blast protection. Designed for the harshest environments, the vehicle offers exceptional off-road capabilities, unparalleled reliability, and high performance. Due to the modular nature of the vehicle, it can be configured to suit a variety of operational roles and catering for various mission systems. This allows user to have a single fleet for a multitude of requirements whilst ensuring common logistic support and thereby lower the lifecycle cost.
Arquus is also developing an unnamed version of Dagger under its robotisation programme
The AJBAN MK2 is a 4x4 ballistic and blast protected light tactical patrol vehicle for a crew of five. This multi-role capacity vehicle is constructed with a V-hull unit structure for effective mine-blast protection and a ballistic-protected rear cargo compartment. Capable of accommodating a roof-mounted self-defence weapon, the vehicle also has full-time four-wheel drive powered by a diesel, water-cooled turbocharged engine. A central tyre inflation system (CTIS) allows tyres to be inflated or deflated to meet terrain conditions.
DAGGER
Designed to meet the mission requirements of armed forces worldwide, Dagger is a 4x4 light armoured vehicle currently operational with the French Army and other armies across Europe, Africa, and South America. It is used for troop transport, liaison, surveillance, and search-and-rescue (SAR) missions. The light-armoured unit is available in four major variants for personnel transport, a liaison or command, a troop carrier, and an internal security vehicle. Arquus is also developing an unnamed version of Dagger under its robotisation programme.
Dagger light armoured vehicle is based on a reinforced tactical vehicle chassis, which integrates a 4×4 wheel drive layout with an all-wheel drive configuration. The vehicle offers superior off-road capability and angle of attack and exit. The hull is fitted with a large windshield at the front, two doors on either side and an exit door at the rear for easy ingress and egress of troops. Its maximum passenger carrying capacity of the troop transport vehicle is six, while the internal security and liaison vehicles can accommodate up to five and four occupants respectively. The light tactical vehicle features a roof-mounted weapon station, which can be armed with a 12.5mm or a 7.62mm machine gun. It features a single roof hatch for the gunner's position. Other armament includes individual teargas grenade launchers and a multi-tube teargas grenade launcher.

(Left-Right) Mbombe from Paramount Group; Milkor 4×4 from Milkor; PATRIOT II from EXCALIBUR ARMY
Dagger 4×4 vehicle offers superior protection to the on-board crew and soldiers, in compliance with the STANAG 4569 standards. It protects the occupants from ballistic threats, bullet firings, shells, splinters, anti-tank mines, and improvised explosive devices (IED). Protection levels can be further improved with the installation of jammers and nuclear, biological and chemical (NBC) protection systems. It is air transportable by C-130 or A400 military transport aircraft and can be easily deployed to the mission locations.
EAGLE
The combat proven EAGLE Family of Vehicles is NATO interoperable and in service with various armed forces. It offers a high payload and a large protected interior in addition to a flexible load space at the rear of the vehicle. Depending on the mission role, 4x4 or 6x6 versions are available. Both versions in the family uses the same chassis and drive train components, offering unmatched payload/gross vehicle weight ratio and a flexible internal layout to support various mission roles like Command & Liaison, Reconnaissance, Police/Special Forces, Patrol, Artillery Forward Observation, EOR/EOD or others to meet customer specifications. Variants include an easy to operate, on-board vehicle diagnostics system. The EAGLE survivability standards provide proven mine, Improvised Explosive Device (IED) and ballistic protection that was previously achieved only in vehicles twice its weight. The vehicle allows for a flexible internal layout to accommodate a large number of staff or mission systems and material.
The modular, upgradeable and exchangeable protection concept is adaptable to various threats, with validated ballistic, antimine, Improvised Explosive Devices (IED) and Rocket Propelled Grenades (RPG) protection. Unique De-Dion suspension with large axle articulation and high wheel travel; Roll stabilizer system allows axle twisting and restricts body rolling; High power-to-weight ratio; High torque CUMMINS diesel engine, with Allison automatic transmission; Safe on-road handling with exceptional performance; Proven in all climate zones.
MBOMBE 4
Drawing on the exceptional heritage of the Mbombe 8x8, now in production following its launch in 2016, and the Mbombe 6x6, which has entered service, the Mbombe 4x4 completes the highly advanced Mbombe family of combat vehicles. Displaying a striking new design, packed with the latest technologies and capabilities required for the modern battlefield and ever-evolving threats, the Mbombe 4 offers outstanding levels of protection, mobility and flexibility.
The Mbombe 4 shares a 'conventional' or 'in-line' automotive driveline configuration, positioning the powerpack at the front of the vehicle and along its centre line. This configuration results in far greater efficiency in terms of the transfer of power from the powerpack to the wheels, as the loss of power associated with a second transfer gearbox necessary for 'unconventional' drivelines, such as with side-engined vehicles, is eliminated. The platform offers very high levels of ballistic and mine protections (e.g. crew compartment STANAG 4569-Level 3, blast protection STANAG 4569-Level 4a & 4b) and protection against a 50 kg TNT side blast or IED/roadside bomb.
MILKOR 4X4 APC
South Africa private defence vehicle manufacturing company Milkor has developed and launched its Milkor 4×4 armoured personnel carrier (APC). The Milkor 4×4 APC is used for troop transportation, casualty evacuation and riot control missions. It can also be deployed by police forces, law enforcement agencies, security forces and militaries across the world. The vehicle is based on a reinforced commercial chassis, integrating a 4×4 wheel drive configuration. The monocoque hull structure of the vehicle offers a high degree of stability, flexibility, and strength required during key missions. It also enhances the reliability and operational efficiency of the vehicle. The maximum speed attained by the vehicle is 110 km/h, while the maximum range is 1,000 km. Its large monobloc windshield enhances the situational awareness of the crew. The vehicle features a single hydraulic ramp at the rear, enabling the entry and exit of troops and crew.
Milkor 4×4 APC is manned by a crew of two including a driver and a chief commander. The spacious cabin offers seating to accommodate eight infantry personnel. Its modular layout enables conversion of the base vehicle to multiple mission configurations such as command, ambulance and police. The vehicle is fitted with a roofmounted remote-controlled weapon station armed with a 12.7mm machine gun. The weapon station can also be mounted with an automatic grenade launcher. The Milkor 4×4 APC also features smoke grenade launchers, and several weapon mounts that can be armed with artillery systems. It offers Level B7 ballistic and mine protection to the on-board crew and infantry troops. It protects the occupants against ballistic threats, small arms, shell splinters, fragmentation warheads, and mine explosives.
PATRIOT II
Patriot II is a medium class armoured combat vehicle for a wide range of missions capable of transporting upto eight soldiers. PATRIOT vehicles have been designed as a mediumclass armoured wheeled combat vehicles with remote controlled weapon station equipped with gun mounts, carrying potentially up to 20mm RCWS, 7.62, 12.7 or 14.5mm calibre machine guns, automatic grenade launchers, and anti-tank weapon systems.
PATRIOT can be produced as a multipurpose tactical vehicle in configurations suitable for artillery support, general military reconnaissance, command and staff, chemical medevac and other. The PATRIOT II is a development of the first generation of PATRIOT vehicle that was produced in 2018. Due to A/C and NBC filtration system there is a high level of comfort and safety for crew. The cabin and the engine are also equipped by fireextinguishing system and self-cooled system.
The weapon and tactical platforms of the vehicle are dedicated to carry troops or squads, which can hold military operations from remote controlled weapons placed on gun mounts, with the crew on board. Basic ballistic and mine protection features together with installed weapons enable non-stop fullrange combat operations during less intense military conflicts. Integrated but detachable weapon systems, which can be used outside of the vehicle, provide high firing power and increase the defence capacities of the crew.
SHERPA LIGHT
The Sherpa Light family of 4x4 tactical and light armoured vehicles from are designed to provide light forces (infantry, paratroopers, marines, internal security, etc) with the best mobility/payload compromise of its category. Sherpa Light is a complete family of tactical vehicles sharing the same 4x4 chassis made specifically for military needs and offering high performance in terms of mobility, protection and payload. The Sherpa is suited for tactical missions such as scouting, patrol, convoy escort and command and liaison. It is able to transport up to four or five soldiers or a total payload of up to 4 tonnes. In addition to its outstanding on and off-road performances, the Sherpa Light is fully air transportable (A400M/C-130), multirole and ready for being up-armoured (ballistic and mine kits). The Sherpa Light has already been adopted by NATO, France and other countries, is already deployed in all theatres of operations and in all configurations, and has been combat-proven on several occasions. More than 1,200 Sherpa Light vehicles have already been ordered and delivered, a major milestone that recognizes the Sherpa Light's design quality, versatility and durability.
Indian Programme
In April this year, the Tata Advanced Systems Limited (TASL) handed over the first of such Infantry Protected Mobility Vehicles (IPMVs) to the then Chief of Army Staff, General M.M. Naravane. These combat vehicles, named Infantry Protected Mobility Vehicles (IPMVs), have been tried and tested in the mountainous terrain of the Ladakh region and have been inducted to boost the capabilities of the troops deployed there. These IPMV include TASL's in-house designed and developed remote-controlled weapon station with thermal sights and external add-on armour protection panels developed by the Defence Metallurgical Research Laboratory of the DRDO. TASL is now the first private sector company in the country to produce such wheeled armoured personnel carriers and has developed the IPMV in collaboration with DRDO.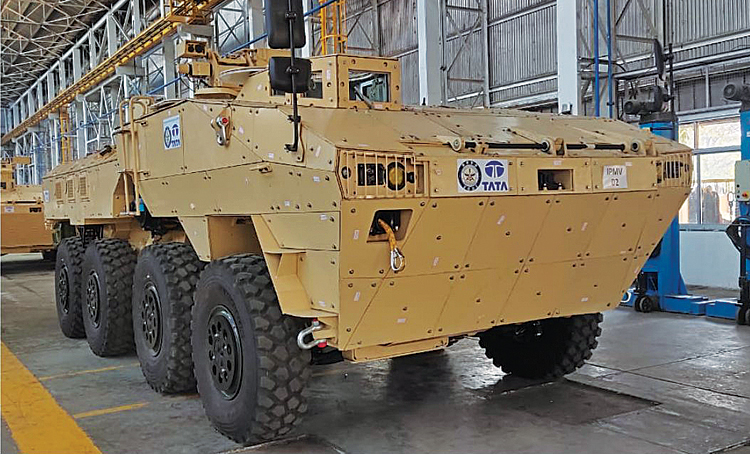 TASL's Infantry Protected Mobility Vehicles (IPMVs), have been tried and tested in the mountainous terrain of the Ladakh region and have been inducted to boost the capabilities of the troops
The Army has now floated a Request for Information (RFI) to purchase Protected Mobility Vehicles (PMV) for high-altitude areas and for deserts and plains. The detailed instructions given by the Army along with the RFI specifies that these vehicles should be wheeled, 4X4 drive mode and should have automatic transmission. These vehicles should be able to carry ten personnel excluding the driver and co-driver with each person carrying a combat load of not less than 30 kg. The PMVs must have ballistic protection and should be able to protect the vehicle from grenade and mine blasts. It should have a maximum speed of 90 km on road and 40 km per hour on cross country terrain. They should be able to operate in temperature range of 40 degree centigrade to minus 15 degree in high-altitude areas. The vehicles are required to have a weapon mount to enable a 7.62mm Light Machine Gun (LMG) to be fitted and a turret with 360 degree rotation for a LMG. It is also required to have 11 firing ports with five each on the starboard and port side of the vehicle and one at the rear. The PMV should be able to ford in water with depth of 1000mm without any special preparation.
After going through the responses of the RFI, the Army is expected to float a Request for Proposal (RFP) in the month of November which will be followed by trials at areas above 17,000 feet and in the plains and deserts. These trials will be held within a period of six to nine months of issuing of the RFP.