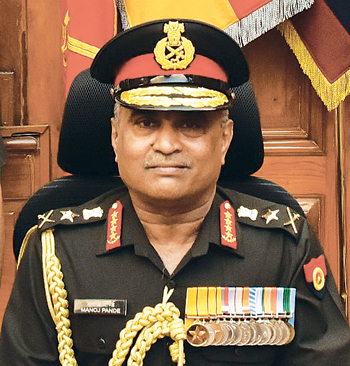 General Manoj Pande is leading the modernisation and technological transformation of the Army with the strategic objective of enhancing its combat capability.
SP's Land Forces (SP's): First of all, heartiest felicitations for the celebrations of 75 years of our country's independence. The environment in our country has been so much heartening and logically unique too. Can you indicate some 5 Top Milestones of our Army since independence?
Chief of the Army Staff (COAS): I think it would be inappropriate to limit the achievements of the Indian Army to just five points. In order to be more contemporary, I will encapsulate what we have done in the past year.
India is perhaps the only country in the world which faces two adversaries along its borders. The unsettled borders extend over varied terrain from vast plains, jungles, deserts, mountainous to heavily glaciated terrain. Hence, the spectrum is vast and offers numerous challenges. Our troops, our organisation, our equipment, our strategy and our tactics, enables us to continuously evolve to the emerging threats and challenges.
Our operational preparedness is primarily focussed on India's desire to ensure stability & dominance along our contested & hostile borders and to effectively counter Proxy War. To retain operational readiness & combat edge, we constantly monitor and review the emerging & future threats to our National security. Our operational requirements continue to guide our procurement of emerging technologies, which act as force multipliers, providing us the muchneeded combat edge over the adversaries.
A new paradigm of recruiting soldiers into the Indian Armed Forces has been initiated with the start of the Agniveer programme. This marks a major milestone for the Indian Army as we intend our organisation to transition from a manpowerintensive to a technologically-enabled and capabilities-oriented one.
To promote gender empowerment and neutrality, we have increased the intake of women by opening up the Sainik Schools, Military Schools, RIMC and NDA for them and expanding their promotion avenues in competitive exams such as DSSC. Indian Army has also started inducting women soldiers into the Corps of Military Police, which continues to be extended in Agnipath scheme. We have forwarded a proposal to the government for expanding the role of women by allowing women officers into the Regiment of Artillery, which is a major combat support arm. As we go forward, we will bring about more proactive changes, to remain aligned with the future requirements.
We have just concluded the selection board for empaneling 108 women officers to tenant command assignments in Colonel rank. Posting orders for these empanelled women officers are also being issued so that they assume these command appointments without any delay.
"Modernisation plans encompass Force Modernisation and the development of critical combat capabilities, besides overcoming obsolescence in core capabilities"
In keeping with India's rising global stature in recent years, there has been considerable increase in Defence Cooperation activities undertaken by the Indian Army. An increasing number of Friendly Foreign Countries have shown keen interest in engaging with the Indian Army. As on date, we are engaged with 110 countries through Defence Cooperation activities to include Joint Exercises, training, visits, structured engagements, professional competitions and medical assistance.
The Government's call of "Atmanirbhar Bharat" has truly galvanised all sections of society. The Army too is on course to create a self-reliant defence ecosystem under the 'Make in India' initiative jointly with the private industry, MSMEs, Academia and the R&D labs across the country. With its extensive range of equipment spanning a vast technological spread, it is a key entity in making the 'Make in India' pursuit a success. Large number of contracts being concluded now are in favour of domestic vendors.
SP's: How do you perceive the activities on the Line of Actual Control (LAC)?
COAS: Overall, the situation along LAC is "stable, in-control, yet unpredictable", wherein forces on both sides continue to remain deployed, with no visible signs of deinduction. People's Liberations Army (PLA) continues to maintain its deployment, opposite Eastern Ladakh, thus affecting the normal border management on the LAC. There has been some increase in deployment opposite the Eastern Sector as well. In response, we have maintained a robust posture to deal with any contingency.
With diplomatic and military efforts, effective disengagement has been achieved in the areas of Pangong Tso and Kailash ranges in February 2021, followed by Gogra in August 2021 and most recently at PP 15 in September 2022.
Towards the same, 17 rounds of Corps Commander Level Meetings and 12 related WMCC Meetings have been held till now. Subsequent talks are being scheduled to discuss disengagement in the balance friction areas in Eastern Ladakh. Similarly, the established border mechanisms are being exercised to maintain peace and tranquility along the LAC in all sectors.
SP's: As per the reports, there is a plan of downsizing of approximately 2 lacs troops. How do you visualise the Indian Army monitoring Line of Actual Control (LAC) and Line of Control (LC) with reduced manpower, particularly in view of Chinese hostile threats and unpredictable behaviour?
COAS: The recommendations of the Committee of Experts (CoE) have been implemented with the strategic objective of enhancing the combat capability by way of modernisation and technological transformation while reducing the revenue defence expenditure.
The aim has been to optimise manpower in the Armed Forces & increase teeth to tail ratio with the purpose of correcting the bias of the defence budget towards revenue expenditure.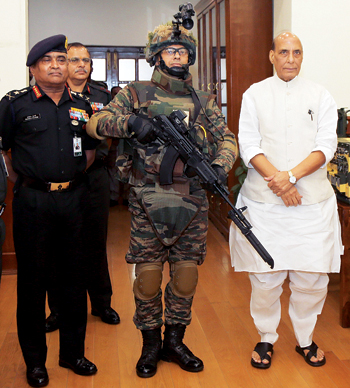 Defence Minister Rajnath Singh handing over indigenously developed Future Infantry Soldier as a System (F-INSAS) to Chief of the Army Staff General Manoj Pande.
We are not "Downsizing" but "Rightsizing" our Army by endeavouring to optimise manpower, which is being substituted by technological infusion and force multiplication achieved by integration of forces.
Finding the right 'teeth to tail' ratio is a focus area, wherein we are surgically diluting/removing such functions and manpower which can be outsourced or optimised by joining logistics functions with sister services.
Optimisation of Legacy establishments like Military farms, Station Workshops etc have already been achieved. More restructuring is underway which is in consonance with meeting the requirements of future battlefield.
Coming on to your pointed reference to our operations in the LC & LAC; I would say that the robust counter infiltration posture along the LC and the surveillance grid along LAC is based on an extensive network of surveillance devices and other niche technologies.
Overall, the impact of 'Rightsizing' of Indian Army on the combat units is limited, and I would like to assure you that it would not impinge on the security architecture along our active borders.
SP's: Can you throw light on some of the key pillars of ongoing modernisation programmes with some status updates?
COAS: Indian Army has continuously been upgrading its capabilities as per existing and emerging operational requirements. We are sufficiently prepared for safeguarding our borders. Technology is being suitably harnessed to augment the boots on ground.
The Indian Army's Modernisation plans are essentially based on developing 'Force Capabilities' as per the enunciated National Security requirements.
The procurement has been deliberately planned to cater for induction of modern technologies & innovations to monitor various gaps during winter posture at Eastern Ladakh. These include procurement & deployment of Drones, RPAs, Radars & satellite imagery. In addition to these measures, monitoring and surveillance of gaps by physical deployment of troops & additional equipment like snow cutters, all terrain and high mobility vehicles have been procured, inducted and deployed.
Modernisation plans encompass Force Modernisation and the development of critical combat capabilities, besides overcoming obsolescence in core capabilities in consonance with the Defence Capability Development Strategy.
The next generation of new platforms, assets & technologies on which the Indian Army is working on, including the following:
Infantry: New Generation Family of small arms, protection gear, Special Forces Capability, night enablement of all weapons and enhanced surveillance capability.
Mechanised Forces: Upgradation of legacy fleet, night enablement, ISR, enhanced lethality, new generation of missiles and ammunition with increase depth of penetration & future ready platforms.
Artillery: Mediumisation, Long range vectors including Missiles, Rockets & Smart munitions, 'Recce, Intelligence, Surveillance, Target Acquisition capability.
Army Air Defence: SR SAM, MR SAM, Upgradation of legacy system, Shift from Guns to Missiles, Better Aerial Targets & Counter Drone Capability, Modern Fire Controller Radars.
Engineers: New family of Mines & bridges, New Generation Plant Equipment.
Signals: New Generation EW equipment, Software Defined Radios, Upgraded Army Static Switched Communication Network (ASCON) & Tactical Communication system.
Vehicles: All class of vehicles- indigenous, including HMVs, GTVs, Light Vehicles etc.
Aviation: Indigenous solution to the recce, surveillance & firepower requirements.
SP's: Would you like to share any plans towards equipping the Soldier (on the ground) with the latest gadgets and also enabling their net-centricity, a necessity in today's warfare?
COAS: To enable the cutting edge of the Army, there has been an enhanced focus on the Infantry soldier.
The capabilities of the Infantry have been enhanced to cater to the present day operational challenges along both Northern and Western Borders. State of art technology is being inducted to further enhance lethality, mobility, survivability and night fighting capability of the fighting soldier.
Subscribing fully to the Government objective of Atmanirbhar Bharat, almost 50 procurement schemes have been initiated and fructified in the last two years with majority being from indigenous defence industry.
"Our operational preparedness is primarily focussed on India's desire to ensure stability & dominance along our contested & hostile borders and to effectively counter Proxy War"
Today frontline Infantry soldiers have been equipped with modern small arms like Sig Sauer, with the balance to be equipped with the indigenously manufactured AK-203. Additionally, each infantry weapon will be equipped with latest sights to increase its accuracy & kill potential.
Other forces multiplier like Drones & Counter Drones equipment are being planned for procurement to enhance the lethality of the Infantry Soldier.
Overall, all aspects contributing to enhancing operational effectiveness of a soldier are being addressed. These encompasses weaponry, situational awareness, communication and protection measures.
SP's: Referring to one of your speeches in one of the seminars, you did say that collaboration with Foreign OEMs is intrinsic towards the journey of our country's self-reliance. Can we request you elaborate on this a little?
COAS: The crux of the speech is that the private Industry must increase resource allocation for setting up testing infra & R&D, form joint ventures with foreign OEMs to induct and develop critical and futuristic technology.
Large firms/DPSUs/OEMs should handhold potential MSMEs/Startups to nurture the budding defence manufacturing ecosystem.
Collaboration with foreign OEMs may result in technological upgradations and competence in a faster timeframe.
SP's: In terms of welfare, what is the motto of our Army today particularly towards maximum possible safety of the lives of Soldiers and the support to their families?
COAS: The men and women of the Indian Army are one of the most professional and selfless in the world and we believe in the motto of Service before Self. Welfare of our personnel is a foremost concern.
Indian Army has always been proactive in providing the welfare measures for the serving personnel, veterans and the dependents. A number of welfare schemes have been launched recently to assist in the provision of second innings for the Veterans, supporting Veer Naris, widows and Next of Kin (NOKs), extending insurance cover to Serving personnel, Veterans and Trainees and providing assistance in education to the wards of retired and serving Army personnel.
We focus on meaningful welfare through empowerment - education, skills and resettlement courses.
I wish to exhort the men and women of this wonderful organisation to continue dedicating themselves to the Nation and that all their aspirations will be fulfilled.