All the proposals for procurement of missile systems are under the Buy (Indian-IDDM) category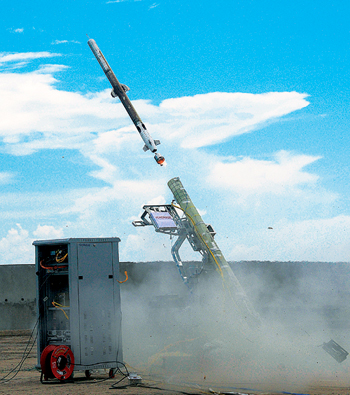 Successful flight tests of Very Short Range Air Defence System (VSHORADS) Missile by DRDO.
On January 10, 2023 the Defence Acquisition Council (DAC) chaired by Defence Minister Rajnath Singh accorded acceptance of necessity (AoN) for procurement programmes worth 4,276 crores for man portable Very Short Range Air Defence (VSHORAD) missile system, HELINA Anti-Tank Guided Missiles (ATGMs), BrahMos missile launchers and Next Generation Missile Vessels (NGMVs).
The Ministry of Defence issued a statement saying:
"In view of the recent developments along the Northern borders there is a need to focus on effective Air Defence (AD) weapon systems which are man portable and can be deployed quickly in rugged terrain and maritime domain. Procurement of VSHORAD, as a robust and quickly deployable system, will strengthen the Air Defence capabilities."
"The DAC accorded AoN for procurement of HELINA Anti-Tank Guided Missiles, launchers and associated support equipment which will be integrated to the Advanced Light Helicopter (ALH). This missile is an essential part of weaponisation of ALH for countering enemy threat. Its induction will strengthen the offensive capability of Indian Army."
"Further, the DAC granted approval for procurement of BrahMos Launcher and Fire Control System (FCS) for the Shivalik class of ships & Next Generation Missile Vessels (NGMVs) for Indian Navy. With their induction, these ships would have enhanced capability of carrying out maritime strike operations, interdicting and destroying enemy's warships and merchant vessels."
All the three proposals - two of the Indian Army and one of the Indian Navy - are under the Buy (Indian-IDDM) category. This is a continuation of the policy emphasis on self-reliance in military hardware and for buying this equipment from Indian companies. 68 per cent of the budgetary allocation for capital procurements for the Armed Forces in the current fiscal is earmarked for 'Make in India' procurement categories of the Defence Acquisition Procedure (DAP).
Next Generation Missile Vessels (NGMVs) are a planned class of antisurface warfare corvettes for the Indian Navy. Under this programme the Indian Navy intends to acquire six advanced missile vessels.
The Indian Army has been using the Igla-M since the 1980s and acquired more Igla-M under emergency procurement as well in recent years. The VSHORAD programme was originally meant to be routed through a foreign supplier. After a longwinded global competition, the Russian bidder was declared the winner. But that programme was aborted and rebooted as 'Make in India' procurement. VSHORADS is designed and developed indigenously by DRDO's Research Centre Imarat (RCI) in collaboration with multiple industry partners.
On September 27, 2022, DRDO conducted two successful test flights of VSHORAD missile from a ground-based portable launcher from the Integrated Test Range (ITR), Chandipur, off the coast of Odisha. The AoN accorded is for the VSHORAD (IR Homing) missile variant. The man portable VSHORDS is designed for anti-aircraft warfare and neutralising low altitude aerial threats at short ranges. It incorporates miniaturised Reaction Control System (RCS) to increase mid-air maneuverability and integrated avionics.
HELINA is an abbreviation for Helicopter launched NAG Air-to-Surface Missile system with extended range. It is launched from twintube stub wing-mounted launchers on board HALs 'Rudra' and Light Combat Helicopters (LCH). It is structurally different from Nag and is guided by an infrared imaging seeker (IIR) operating in a lock-on-before-launch mode for target engagement. On February 19, 2021, the Army variant HELINA and Air Force version 'Dhruvastra' successfully demonstrated their capabilities in a series of multi-mission user trials from HAL's 'Rudra'.

(Left-Right) Anti-Tank Guided Missile Helina; Indian Navy successfully demonstrated the accuracy of an Extended-Range Land Attack BrahMos Supersonic Cruise Missile from the stealth destroyer INS Chennai.
On April 12, 2022, HELINA was test fired from Dhruv Helicopter platform in Pokhran. HELINA has a range of 7 km and the missile weighs only 43 kg which will not cause any burden in limiting conditions of the rarefied atmosphere in high altitude. Themissile can penetrate 800mm thickness of armour which means it can effectively target light and medium weight tanks. The missile is priced at under 1 crore and the Army's initial demand reportedly is 500 missiles and 40 launcher tubes. The weaponisation programme for the indigenous Advanced Light Helicopter (ALH) has received a boost with the approval for the HELINA Anti-Tank Guided Missile procurement.
BrahMos is known to be the fastest antiship cruise missile currently in operation. The land-launched and ship-launched versions are already in service. An air-launched variant of BrahMos appeared in 2012 and entered service in 2019. While the BrahMos supersonic cruise missile system will be retrofitted on the three Shivalik class frigates (the first lot of Indian made stealth warships), it will be incorporated into the build programme for seven under construction Nilgiri class warships which are also known by the official nomenclature of NGMV, the follow-on of the Shivalik class under Project-17A. The BrahMos missile will give precision land attack capability to these warships.
Next Generation Missile Vessels (NGMVs) are a planned class of anti-surface warfare corvettes for the Indian Navy. Under this programme the Indian Navy intends to acquire six advanced missile vessels. Ships in this class will be armed with anti-ship missile or land-attack missile like BrahMos. Ships in this class will feature advanced stealth features like low radar cross section (RCS), infrared (IR), acoustics and magnetic signatures. Following a request for information (RFI) issued by the MoD, Cochin Shipyard won the bid on February 23, 2021 to construct 6 x NGMVs at a cost of 10,000 crore.
According to the RFI each NGMV of about 2,200-2,800 tonnes would have: complement of 11 officers, 2 trainee officers and 80 sailors; minimum range of 2,800 nautical miles (5,200 km) (1,000 nmi, 1,900 km full speed); speed performance of 25 knots (46 km/h) (max speed of 35 knots, 65 km/h); eight surface-to-surface missiles; full-fledged surface-to-air missile (SAM) system with point defence capabilities, 15 km range; MR gun system, and; radar and electro-optically (EO) guided close-in weapon system (CIWS) with 360-degree anti-missile defence.