On Gunners Day, we look at India's Artillery Evolution and Modernisation, paving the path to Strategic Autonomy
Artillery modernisation got a shot in the arm with the induction of M777 Ultra Lightweight Howitzers
Introduction
Two recent conflicts impart many significant military and geopolitical lessons. One is the Nagorno-Karabakh conflict which raged from September to November 2020 and has again flared up in September 2023 pushing over 70,000 Armenians residents in the enclave back into Armenia. The other is the ongoing Russian special operations launched in February 2022 that has largely devastated Ukraine.
Azerbaijan's combination of drones and artillery in its 2020 offensive effectively targeted Armenia's high-value military assets, most notably in attacks on T-72 tanks and S-300 air defences. In particular, strikes on air defence units constrained Armenia's ability to counter Baku's UAVs, amplifying their effectiveness. They illustrate that while individual weapons systems will not revolutionise the nature of warfare, the synchronisation of new weapons like drones, shoot-and-scoot long-range artillery and short-range tactical missiles makes the modern battlefield more lethal.
Lessons from Global Conflicts
It is too early to take away any definitive lessons from the Ukraine war, but it is possible to start identifying and asking some key questions. One is the fallacy of 'short and swift war' that would be forced to a quick closure through international pressure and mediation. The Ukraine war continues through crests and troughs even after 20 months despite being under the most intense international glare and constant push by the west in all kinds of fora like the G7, G20 and the UN apart from periodic optimistic platitudes by the NATO bureaucracy. This has brought to fore a hitherto well-established norm of maintaining robust war reserves which came under the scalpel using the 'short & swift' argument.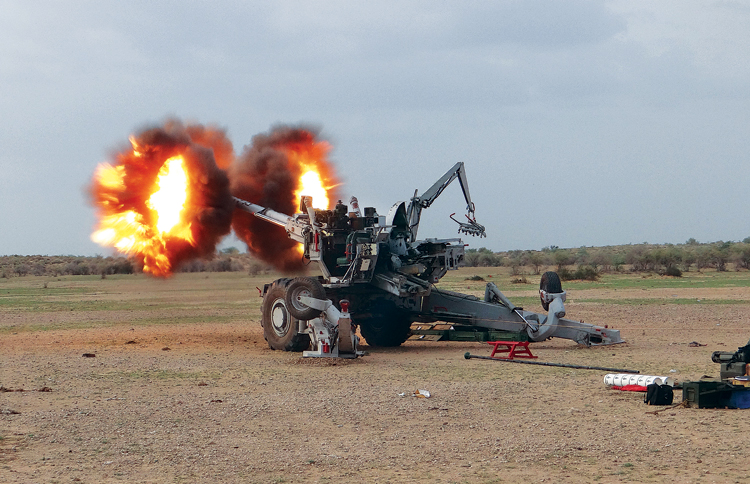 Manufactured by AWEIL, Dhanush is the Indian version of the Bofors Gun.
Ukraine was heavily militarised after 2014 by the NATO allies through variously obfuscating nomenclature programmes to take on Russia. It is therefore understandable that Ukraine continues to be fully dependent on the NATO for its tanks and guns, arms and munitions as well as air assets including F-16s and drones apart from intelligence. Hence the fact that it finds itself terribly short on military hardware and artillery munitions hardly raises an eyebrow. But more significant and surprising is the fact that Russia which initiated the war by launching the 'special operations' to protect its Russian speaking people in the Donbas region as well as the Black Sea Fleet in Crimea is also terribly short on munitions for which it has had to reach out to disparate allies like Iran and North Korea. Fundamentally, the course of the war establishes that indigenous production capabilities and a robust 'war wastage reserves' are non-negotiable notwithstanding the gravitas in the arguments put forth by strategic analysts.
Kargil War – A Watershed Moment
Closer home, this important lesson was decisively delivered in India's first televised war in Kargil (1999). Taken by surprise, the occupation of the frozen heights by Pakistan's army and irregulars threw up a massive challenge as Bharat had focussed on economic recovery after its 1991 financial crisis and had been pursuing a peace agenda under the Vajpayee government. Stocks of ammunition and military hardware were low. The Chief of the Army Staff General V.P. Malik had to publicly accept that 'we will fight with what we have' while replying to a journalist who asked how Indian Army was going to fight in the face of its weapons and equipment shortages. Kargil War remains a watershed moment in India's history.
Initial progress was slow and cumbersome due to the frozen heights and lack of adequate fire power to support. But almost the entire arsenal of Bofors medium guns and ammunition in the country was marshalled to turn the tide. The decision to purchase the Bofors 155mm howitzer was vindicated and its precise, lethal, and devastating firepower, along with that of Indian Air Force (IAF) changed the outcome of the war. Imagine the impact on the entrenched enemy when a hundred guns opened up unleashing their fire and fury on Tololing, Tiger Hill and Pt4150, a frozen lake on top was blown up and hardened bunkers were blown to smithereens. The Indian artillery fired over 2,50,000 shells, bombs and rockets during the Kargil conflict. Approximately 5,000 artillery shells, mortar bombs and rockets were fired daily from 300 guns, mortars and MBRLs while 9,000 shells were fired the day Tiger Hill was regained. During the peak period of assaults, on an average, each artillery battery fired over one round per minute for 17 days continuously. Such high rates of fire over long periods had not been witnessed anywhere in the world since the WW II.
The Kargil conflict once again established beyond doubt that artillery firepower plays a major part in achieving victory on the modern battlefield. Accurate artillery fire reduces the enemy's defences to rubble. Sustained artillery fire gradually wears the enemy's resistance and ultimately breaks their will to fight. By systematically degrading the enemy's fighting potential before a physical assault is launched, the artillery helped to reduce the casualties suffered by assaulting infantrymen.
Major Indian Artillery Gun Systems and Manufacturers
M777: 155mm/39 calibre Ultra Lightweight Howitzers (ULH). Manufacturer BAE Systems has partnered with Mahindra for assembling & testing the guns.
Dhanush: 155mm/45 calibre Howitzer is manufactured by Advanced Weapons and Equipment India Limited (AWEIL), previously a part of Ordnance Factory Board.
K9 Vajra-T: L&T version of Hanwha's K9 Thunder 155mm/52 calibre gun customised for India's Self Propelled Howitzer programme.
ATAGS: 155mm/52 Calibre Advance Towed Artillery Gun System (ATAGS) is India's first indigenous towed gun system developed by DRDO along with Tata Power SED and the Kalyani Group/Bharat Forge.
Sharang: Gun has been upgraded from 130mm to 155mm by The Vehicle Factory Jabalpur (VFJ) and the Gun Carriage Factory, Kanpur.
ATHOS: Elbit Systems and Adani are offering the long range 155mm/52 calibre Autonomous Towed Howitzer Ordnance System (ATHOS).
The Imperatives of Indigenisation
One lesson that emerged from the Kargil war was the need to rationalise the artillery guns to 155mm. Thus, the Field Artillery Rationalisation Programme (FARP) was approved in 1999. It envisaged equipping/standardising 169 Artillery Regiments with 155mm guns by 2027. By 2005, proposals were firmed up for progressing through the newly established Defence Procurement Procedures (DPP) after surveying the global arms marketplace as Bharat sorely lacked any capability to manufacture them at home. Import was the only mantra, for reasons not very difficult to guess. Arms dealers and middlemen ruled the roost, twisting policies and peddling influence in the corridors of power as was evident in the way the DPP was drafted after the Kargil war.
The procurement proposals hit many road-blocks due to some glaring drawbacks. One was that it envisaged importing a single type of 155mm/52 calibre gun system for the entire 169 regiments spread over 15 years starting 2012 by which time it was expected to have gone through the RFP, field trials, selection and cost negotiations stages followed by orders being placed as per the DPP. Taking into account the fact that only established gun systems which are already fielded in various armies could take part in the process, it would have meant technologies developed in the nineties which would have entered production at the turn of the century being fielded for trials. Imagine the last such guns would have been inducted by 2027. As such it gave little room for indigenous development and production. It is another matter that the then ruling dispensation was yet to exorcize the 'Bofors Ghost'. By default, this indecision would later help artillery to embark on a path to develop a home-grown arsenal.
A Paradigm Shift Towards Atmanirbharta
The years and decades of hesitation and vacillations are over. In its quest to emerge as a responsible and restrained power that strives to uphold the ideals of its pioneering leaders, Bharat has often been surprised by adversaries, both at the state and non-state levels. While moral dilemmas have often delayed military responses, developmental dilemmas have resulted in the creation of suboptimal military capabilities. All that has been left behind as Bharat has decided to migrate from diffidence and excessive restraint to a more assertive and proactive response mechanism, evidenced by its robust and muscular response to antinational forces nestling in countries like Canada, the UK, Australia and New Zealand apart from firm and resolute dealings with China and Pakistan.
The change is starker in the field of defence production which languished for the better part of six decades after independence. The mantra now is Atmanirbhar Bharat. There is no substitute for ensuring a reliable, stable, and high-quality domestic supply chain system that can cater to the high demands of war. The Indian Artillery is at the forefront of this aspiration which is a prerequisite for strategic autonomy and can deliver us foreign policy leverage. The Ordnance Factories have been corporatised, the DPSUs revamped with set targets and a high-powered board constituted to reform the DRDO. A concerted action plan has been unleashed to achieve strategic autonomy through selfsufficiency in defence production involving both the public as well as private sector through policy pronunciations such as elaborate negative lists.
After a long hiatus, modernisation of artillery got a shot in the arm with the induction of M777 Ultra Lightweight Howitzers (ULH) and the K9 Vajra tracked self-propelled gun system in 2019. Current plans include the upgrade of 130mm Russian guns to 155mm (Sharang) and upgrade of Bofors to the Dhanush version. The present profile of Artillery comprises guns, rockets (Smerch, Pinaka), and missiles (BrahMos). In line with our efforts to be self-reliant, the profile of Artillery will be further bolstered by the induction of Advanced Towed Artillery Gun System (ATAGS).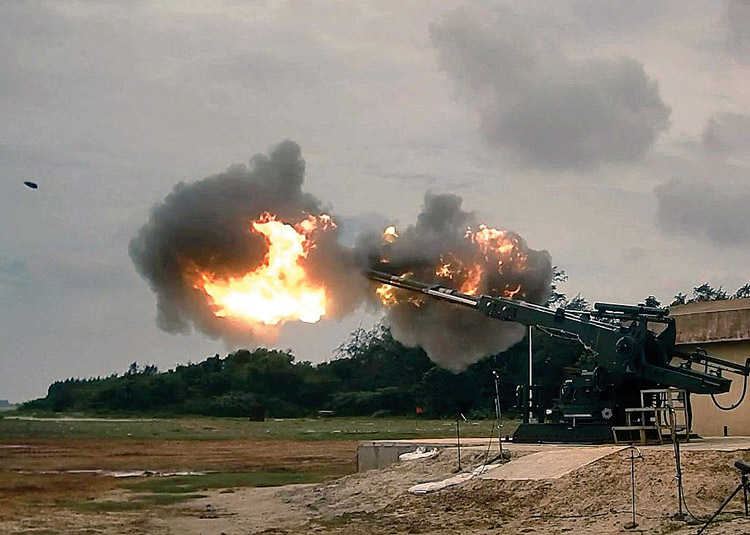 The Advanced Towed Artillery Gun System (ATAGS) is built by the DRDO in partnership with Bharat Forge and Tata Advanced Systems.
The entry of Bharat Forge and Tata into producing ATAGS is a step in the right direction. Capable private entities must be further encouraged and supported to produce our arsenal of guns, rockets, and their ammunition. Bharat Forge has just supplied Mounted Gun System (MGS) to a friendly country and is in process of test firing 155mm/52 calibre guns with soft recoil mounted on 6 x 6 HMVs soon. It has in its stable the IFG mounted on a 4 x 4 vehicle which is actually a Go-Anywhere system suited to our varied terrain profile. The first 50 Mahindra Self-propelled Mortars have been just delivered to the Indian Army. The system consists of Spanish 120mm Alakran Mortar System on a Mahindra 4 x 4 chassis with excellent Shoot-and Scoot capability under 60 seconds with a range of 8 kms. This system is transportable by Mi-17 helicopters.
But it is naïve to expect that the international arms cartels will sit silent and let Bharat go on its own steam. For inexplicable reasons, the Indian Army has issued a fresh Request for Information (RFI) to acquire a 155mm/52 calibre Towed Gun System (TGS) that has opened up a new avenue for induction of an Israeli gun. The gun in question is the Autonomous Towed Howitzer Ordnance System (ATHOS) built by Israeli firm Elbit which has been vying for mega defence contracts with the Indian Army for the past two decades. The RFI sent out in December 2022 states helpfully that the weight of the gun system "be preferably less than 15 tonnes." Given that the ATHOS weighs less than 15 tonnes while the indigenously produced ATAGS weigh well over 18 tonnes, industry sources see the new RFI as an opening tailored for the Israeli weapon system.
Coming back to the Ukraine war, what has emerged definitively is that TGS have become cannon fodder. Reaction time for enemy counter battery (CB) fire has been reduced from 7 minutes to 4 minutes with improvements in target acquisition and engagement by long range vectors especially rocket systems. Towed guns cannot get away in such a short time and are highly vulnerable. Since survivability has become such a dominant factor, the RFI for TGS is perplexing to say the least. Vigilance is the price we must be prepared to pay if the country aspires some degree of strategic autonomy. This is especially true for the Fourth estate.
Conclusion
As we celebrate the 197th Raising Day of the Regiment of Artillery which traces its origins to the Royal Indian Artillery (RIA) of the British Indian Army raised on September 28, 1827 as part of the Bombay Army and later renamed as 5 Bombay Mountain Battery, there is a resolute confidence that its arsenal will boast a range of guns and munitions which are home grown. The country and the Army must stay the course for an Atmanirbhar Bharat to rise majestically.