(Left) BMP-3 IFV was shown at Army-2021 Forum with Berezhok turret; (Right) Khrizantema-S self-propelled anti-tank system shown at Army-2021 Forum.
High Precision Weapons Holding (HPW) was founded in 2009 as a subsidiary of the Rostec State Corporation. According to the Government decision the Holding's goal is "to create advanced weapons, military and special equipment in the field of high-precision weapons based on innovation and technological modernisation of the existing production base". In other words, to make the Russian weapons smarter, up-to-date and cost-efficient.
The Holding unites national leading enterprises such as Tula-based Shipunov KBP Instrument Design Bureau, Kolomna-based KBM Machine-building Design Bureau and Kovrov-based VNII Signal Research Institute being teamed by a number of research and production facilities all over Russia, including Kurgan, Saratov and Volsk. The Holding headquarters is located in Moscow.
The combination of design and production facilities allow HPW to gain the leading position in the field of smart weaponry in Russia and internationally.
HPW is especially strong in the field of development and serial production of the operational-tactical missiles such as Iskander-M and various air defence systems including Pantsir-family SHORADS and Igla/Verbafamily MANPADS. The Holding is also keen in the sphere of anti-tank missile systems and assault armament complexes with the Kornet, Khrizantema, Ataka and Konkurs.
Another strong field of HPW activity covers a range of weaponry for the armoured vehicles to include various combat turrets such as Bereg, Berezhok and Bakhcha, as well as active protection for the armour, namely Arena and Drozd.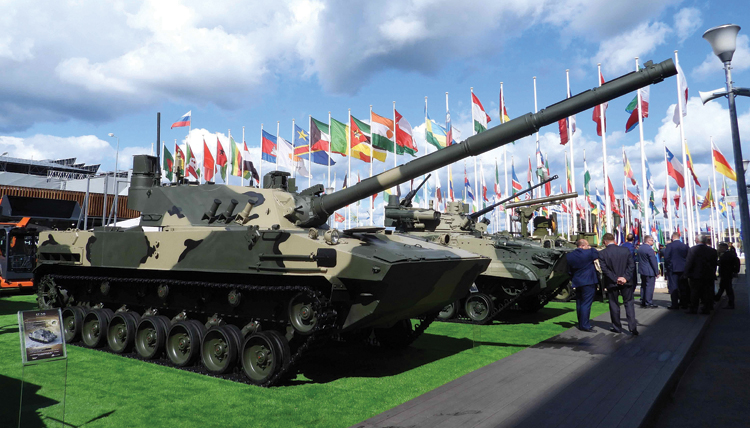 2S25 125-mm self-propelled anti-tank gun posesses the fire-power of MBT
HPW is also responsible for the artillery command-reconnaissance equipment, automatic guns, and a variety of small arms, including those for special troops and law-enforcement units.
The most demanded HPW products at the international market are Kornet-E ATGM and Pantsir-S1E SHORADS so far being delivered to dozens of nations in the Middle East, Asia, Africa and Latin America.
As a legal participant of the Russia's system of the military-technical cooperation with foreign nations, the Holding has been entitled for direct operations on upgrade, maintenance, spare parts supply and personnel training for the military equipment being already provided by the Russian State according to the export contracts.