The Israeli Indian joint ventures can not only meet huge Indian defence requirements but can also find attractive market in European and Latin American countries but also in African and Asian region also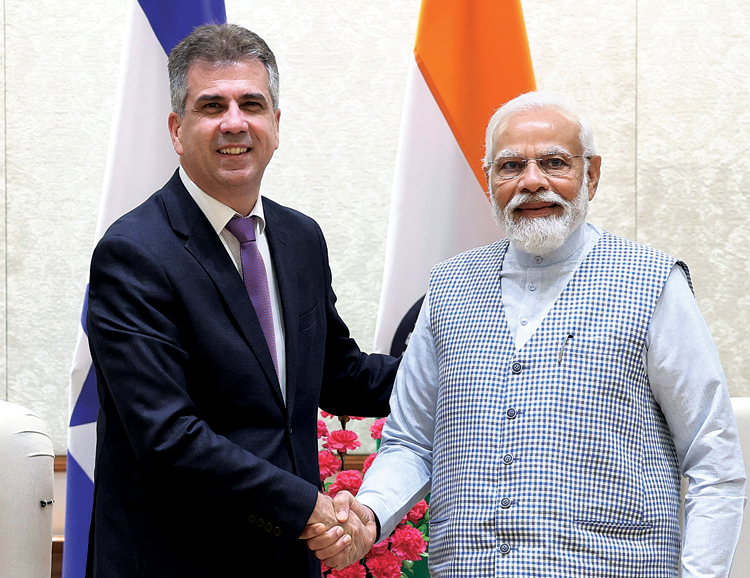 Israeli Foreign Minister Eli Cohen calling on Prime Minister of India Narendra Modi, during his visit to India on May 9, 2023
On the strong pillar of India-Israel defence ties, the two strategic partners are set to play a bigger role in the Arab World. Buoyed by becoming a part of four nation West Asian alliance I2U2 (India, Israel, USA, United Arab Emirates), the Israeli Foreign Minister Eli Cohen made a fruitful day long trip to India on May 9, 2023. With Israel getting recognition from the Arab kingdoms, the Jewish country is set to mark its presence in the area. As India has already made deep inroads in the Arab world, the two countries can join hands not only for promoting mutual interests, but for the benefit of Arab world also. These were one of the issues that Israeli Foreign Minister Cohen discussed with Indian External Affairs Minister Dr S. Jaishankar and NSA Ajit Doval. Besides, Eli Cohen also met the Defence Minister Rajnath Singh, during which Rajnath Singh asked Eli Cohen to look India as an investment destination in the defence industry and set up joint ventures in the defence sector with Indian companies and sell the product not only to Indian Armed Forces but in the world arms market also.
During these interactions, the Israeli Foreign Minister indicated that his country would be willing to set up defence weapon systems companies in India in joint venture with Indian firms. India, Israel defence ties, which was till now simply having a buyer seller relations, would now develop into a more deeper alliance, with Israeli firms being encouraged by the Israeli government to set up joint ventures with Indian private or public sector companies. This will give a huge boost to Indian and Israeli defence cooperation and prove the point that Israel is India's true defence partner, a relationship which is based on mutual trust. The relations will touch newer heights and pose a challenge to other rival nations having own defence production facilities. Israeli defence companies are already assisting India in the area of cutting edge technologies like Falcon Radar for the Indian anti-missile systems, AWACS development programme, Barak naval missiles, combat drones etc. This new dimension to bilateral defence relations will give an economic relevance to bilateral strategic ties with private and public sector companies collaborating together for setting up Israeli production facilities in India.

Foreign Minister Eli Cohen had productive and wide-ranging discussions with Foreign Minister S. Jaishankar (Left) and Defence Minister Rajnath Singh (Right)
After extensive discussions with Indian External Affairs Minister Dr S. Jaishankar, Defence Minister Rajnath Singh and NSA Ajit Doval on bilateral, regional and international issues, besides a courtesy call to Prime Minister Narendra Modi by the Israeli Foreign Minister, Indian external ministry talked in glowing terms about the evolving India Israel defence and strategic partnerships. A MEA statement said, "Israeli Foreign Minister Eli Cohen's India visit provided further impetus to the bilateral cooperation that has remained on a qualitatively higher trajectory since the historic visit of Prime Minister Narendra Modi to Israel in 2017."
India and Israel, which till a few years ago, kept the relations behind the curtains, now have matured to the level that both now openly talk of their deepening relations, irrespective of sensitivities in the Arab world and the minority community in the country.
Post Covid and post Russia Ukraine conflict, the geopolitical alignments will drastically change and will lead to a new wave of militarisation, which offers a golden opportunity to a very unique India Israel strategic and defence partnership for fulfilling the needs of military systems of various friendly countries. From Europe to Africa to Asia, countries are now gearing up to modernise their military systems. This will raise the worldwide demand for new defence hardware. Keeping this in mind, the Indian Defence Minister Rajnath Singh discussed the issue with the Israeli Foreign Minister, Eliyahu Cohen, and acknowledged the cooperation being extended by Israeli companies.
In response to Rajnath Singh's suggestion, the Israeli Minister affirmed continued cooperation of Israel in India's endeavour for indigenisation and conveyed the willingness to cooperate & partner in advanced technologies. During the meeting the defence minister Rajnath Singh acknowledged the completion of 30 years of diplomatic relationship between the two countries and looked forward to further strengthening the bilateral ties. Without any reference to changing international dynamics, the Indian defence minister Rajnath Singh asked Israeli Foreign Minister Cohen for coproduction of weapon systems in tune with the 'Make in India' policy to promote defence industry in India. This is a relevant proposal as Israeli technology and Indian human resources together can do wonders. An Israeli branded defence product can find easy access in world's arms market. The Israeli Indian joint ventures can not only meet huge Indian defence requirements but can also find attractive market in European and Latin American countries but also in African and Asian region also.
Besides US, Russia and France, Israel has not only been a major supplier of defence equipment but also transferred some of the most critical defence technologies, which helped India gain self-dependence in many defence systems, which would have either been denied to India or sold at a huge price. India Israel relations which deepened and expanded on the strong pillar of defence, has now been extended to agriculture, economic and trade, education and water conservation etc.
During the visit, both the countries signed a very significant mobility agreement, which will allow 42,000 Indian workers to work in the Jewish state in the fields of construction and nursing. While meeting Indian External Affairs Minister Dr S. Jaishankar, Cohen touched upon various aspects of bilateral cooperation, including connectivity, mobility, academic and scientific research, fintech, agriculture, water, trade, etc, and agreed to further diversify the basket of collaboration. They also discussed regional and international issues of mutual interest, including cooperation under the framework of I2U2, the ongoing conflict in Sudan, developments in West Asia, the Russia-Ukraine conflict, etc.