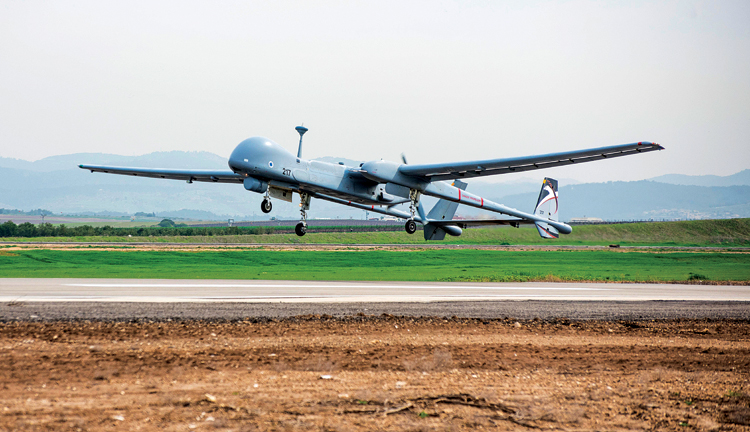 HERON TP UAV
30 years after establishing official diplomatic relations between Israel and India, the two countries are situated amid an upward trend that has been achieving great accomplishments for both sides. IAI and India's defense forces have been through a lot together, and we see ourselves as true friends and partners now and for generations to come.
The growth has been dramatic for IAI, particularly in the past five years, as major programs are reaching maturity and bearing fruit for IAI and its Indian partners. Through the years, IAI has pursued a flexible and adaptive business policy to comply with local policies that require major primes such as IAI to 'blend in,' becoming a selfsufficient Indian entity. Today, this strategy is fully aligned with India's policy shift, particularly under PM Modi's 'Self-Reliance' and 'Make to the World' visions.
IAI has established a new company to focus on domestic operations and address these changes. The new executive team is adapting the business infrastructure and operating procedures to support ongoing and new activities within the new realities of the Indian market. The company is pursuing JVs with leading public and private sector companies in India, leveraging programs IAI has been involved in for the past 30 years. These include Medium Range Surface-to-Air Missiles (MRSAM) air defense systems and Unmanned Aerial Systems (UAS) for all services, helicopter avionics integration, radar technologies, and other major systems, where IAI and its local partners have invested great effort and funding in research, development, production, and customer support. Some have already turned into active Joint Ventures (JV).
The new IAI India Group, an Indian holding company, is set to become the center of IAI's local activities. If and when the authorities commit to their rules, allowing foreign enterprises to join with local partners, IAI would be delighted to participate and will surely become a prominent player in India's defense and aerospace market. One of the key benefits of the new regulation is allowing a local subsidiary of a foreign enterprise to enter JVs with Indian companies with up to 75 percent ownership. This formation facilitates the rapid indigenization of products and systems, enabling the company to become part of the local industrial ecosystem. As a local company, it will be able to establish joint ventures (JVs) with Indian prime contractors and partners from the public and private sectors or establish fully owned local companies to pursue specific opportunities in the Indian Aerospace, Defense, and Homeland Security market.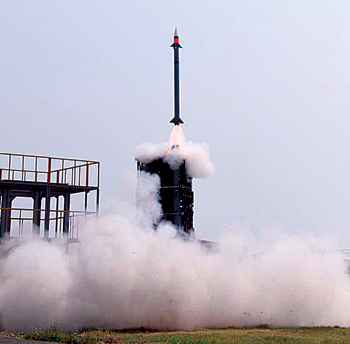 MRSAM trial in India
Examples of agreements that have already been signed include HAL and IAI JV for converting passenger aircrafts into aerial tankers, the current MRSAM program - one of India's largest air defense programs, where IAI is a subcontractor for Bharat
Electronics (BEL), and Bharat Dynamics (BDL), the manufacturer of the system's interceptor missiles. IAI has already begun working with several partners to establish such JVs, pursuing manufacturing radar components, electronic warfare, electrooptics, aircraft, helicopters, UAV modernization, and more.
IAI is also pursuing different forms of JVs with medium size companies that previously joined as subcontractors and supply chain partners. The company will maintain a majority stake in those JVs, to enable the secure transfer of sensitive intellectual property (IP) to the local partnership. This procedure is necessary to address the Indian requirement for technology transfer allowing for local development, manufacturing, and self-reliance. Service and support are becoming another field of activity for the company, assuring Indian customers have access to ongoing support and an uninterrupted supply of spare parts even in times of crisis. These activities open thousands of employment opportunities for the local workforce, providing customer support to existing and new programs.
Throughout the years, Israel's defense companies were the first to adapt to new regulations. IAI was among the first to comply with India's offset requirements fully. It developed a supply chain of over 70 suppliers to meet and exceed its offset obligations within the large-scale programs IAI provided to the Indian military.
While the new regulations pose significant challenges for foreign participants, they also offer great opportunities for those willing to change and adapt. IAI India leverages the experience and reputation its parent company has won through +30 years of activity in India to offer the Indian military the most advanced technologies and establish a business ecosystem engaging local companies across the subcontinent as subcontractors and suppliers. Many companies that have entered this supply chain will now be evaluated to join as IAI's JV partners, sharing IAI's ambition to grow and expand in the Indian market. Today, this experience serves IAI well in its move to address India's strive for Self-Reliance.