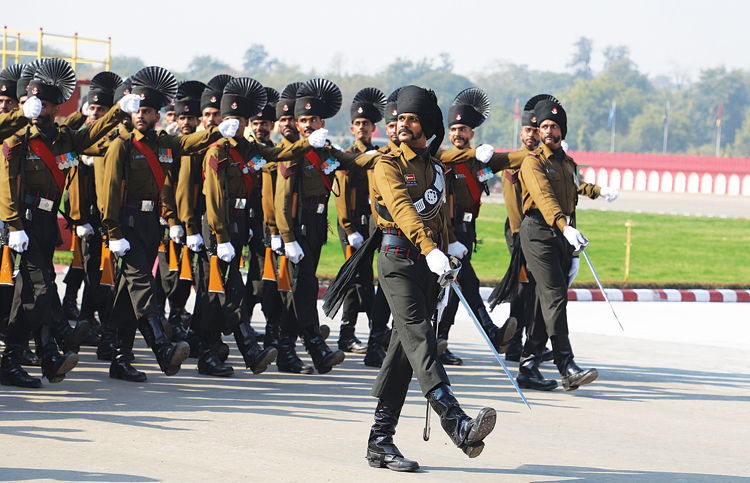 Modernisation preserves the Army's core capability to deter and defeat adversaries through combat overmatch, for the present and future conflicts.
In the over seven decades since Independence, there have been transformational changes in the evolving geo-economic, geo-political and geostrategic canvas creating strategic uncertainty impacting the regional cum global security. India's recent trajectory in world arena has given rise to strategic aspirations and belief of being a regional economic and net security anchor. This belief stems from its geo-political, geo-economic and geo-strategic potential as a nation, based on the foundation of its hard power, soft power and demonstrated capabilities. Thus, our national interests, strategic security framework and unresolved border disputes remain the overarching driver of our military modernisation plans. Finally, the economic resilience and financial support envelope charters the realisation of our modernisation plans. Ironically the rising Indian economic landscape has lacked the will of translating economic prowess into military power. While the present government has taken several policy initiatives to foster indigenous military capabilities, the execution has been poor and outcomes disappointing. Thus, while the threats and challenges to our national security have magnified and manifested manifold, our response remains archival. This trend if not addressed can translate to ability of defence forces to defend the country but not guarantee security to the nation.
The Modernisation Cauldron
Modernisation preserves the Army's core capability to deter and defeat adversaries through combat overmatch, for the present and future conflicts. Future force modernisation thus build on the principles of retaining the capacity and readiness to accomplish combat superiority, expand new capabilities to cope up with the emerging threats, harnessing joint force capabilities and optimising force mix through a combined arms force application. To build and maintain these fundamental capabilities, we must make affordable, sustainable, and cost-effective decisions which provide versatile and tailorable capabilities. Thus, the Army Modernisation Cauldron must address the operational, technological and fiscal realities to achieve the stated objectives as elucidated below:
Operational Environment. The greatest danger to our Nation continues to be external aggression with collusive threat from adversaries as well as internal instability due to state/non-state sponsored proxy war, thus imposing multi front challenges in various dimensions, ranging from warfare in the non-contact domain, to an all-out full spectrum war. The security challenges of tomorrow can be met, to a great extent, with the capabilities that we sustain, upgrade, develop, replace and modernise today. This is the window for hard decisions and prioritisation if we have to realise the military objectives of punitive deterrence on the Western Front, credible deterrence on the Northern Front and stability on the internal security front.
Fiscal Environment. The increasing mismatch between budgetary requirement versus availability and uncertainty of assured financial support has led to an adverse situation. The reality is that the defence budget is limited, and will remain so, due to resources being deviated towards dealing with the national priorities of development and poverty alleviation. Thus, it becomes essential to utilise the limited resources optimally. The challenge lies in either an 'Army sized to Budget' or a 'Budget sized to the Army'. Given the Indian environment a pragmatic approach would be a mean of both and the need to fine balance the trio of 3 M's – 'Money-Manpower-Modernisation'. Within the budgetary allocation we need to a improve the skewed revenue to capital ratio to 60:40, along with a pragmatic approach to balancing the sustenance and modernisation needs.
Technological Environment. Technological superiority always offers militaries a warfighting advantage as also a deterrent value. The weak Indian defence R&D and inadequate indigenous military technology base have led to import of technologies further aggravated with poor absorption capabilities in terms of skill and time. The acquisition of high-tech platforms, equipment, and even ammunition illustrates the point that India has still a long way to go before it becomes self-reliant in some critical defence technologies. The Technology Perspective and Capability Road Map (TPCR) 2018 is a step in the right direction but needs greater elaboration and interaction to translate into focusses execution. Further investments in R&D must be encouraged in the Private Sector on a "Risk Sharing Gain Sharing" formulation.
Indian Army of the future must be equipped and ready to fight and win India's wars through indigenous solutions, jointly over the entire spectrum of conflict
Inadequacies in the Present Approach to Modernisation
Although modernisation is an ongoing process however, there are inadequacies and infirmities in the present, which are listed under:
The present approach is personality-oriented approach and not an institutionalised approach, resulting in frequent cancellations/review even of cases, sometimes at advance stage resulting in waste of time and man hours retarding capabilities. Further, frequent turnovers and lack of an institutionalised mechanism results in often reinventing the wheel or missing the wood for the trees.
In the present dispensation, budget seems to be driving modernisation and not vice versa or a balance between these conflicting requirements. Resultantly schemes which may have manifested to a contract stage after years of effort are not progressed/diluted due to insufficient budget.
Modernisation endeavours and QRs (Qualitative Requirements) are predominantly driven by acquisition of state-of-the-art capabilities which are either unrealistic or cost prohibitive. Lack of pragmatism and quest for 'top of the line' capability often result in denial of even available mature technologies. More often than not the procurement and kitting cycle is longer than the technological cycle due to sluggish processes and time insensitivity.
While there is a scaling committee in place, but the quest for uniform scaling a large military is cost exorbitant and often at the cost of another capability. Further, we build capabilities for individual entities and not organisational capabilities, thus when a combined armed force is applied in battle often disjointed and noncomplementary capabilities retard their optimal effect in battle.
The hard disk memory of defence equipment scams of the past has given way for a risk averse culture in the processing and decision-making chain, especially of high value procurements which merit either a MoF or CCS approval. Thus, while there is accountability for decisions there is no accountability for indecisiveness and time e.g. FICV case.
Modernisation, expansion and sustenance are not balanced within the meagre budgetary allocation. Expansion and modernisation cannot go hand in hand. Further, modernisation and sustenance are two sides of the same coin. This balance needs to be addressed to obviate voids and foster prioritised modernisation needs.
Aligning Ends, Ways and Means
Resource availability cannot dictate the ends required for the Army, but its calibration defines both the ways and means to achieve those ends. The ends are defined as the capacity to accomplish combat overmatch across the entire spectrum of conflict, in an essentially tri-service synergised combined arms battle space. The ways are to balance needs with limited resources so as to align to the operational environment and emerging technologies, innovate for operational payoffs and priorities resources based on value, risk and vulnerability. The means are through a tiered spiral modernisation to improve existing systems, develop new capabilities, bridge technology gaps and balance modernisation with sustenance needs.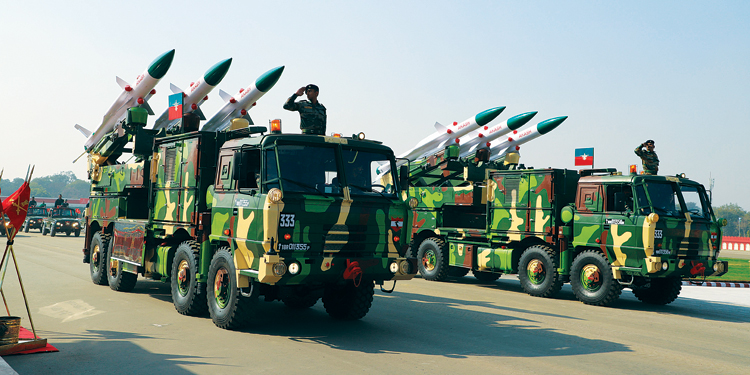 Akash medium-range mobile surface-to-air missile defence system
In addition, our procedures and processes for procurement also need to be innovative, outcome oriented and with greater accountability to ensure timely modernisation and capability enhancement.
A Calibrated Modernisation Strategy Model
The art of the calibrated modernisation will be to balance capability, sustainability, and readiness within the allocated resources to achieve the desired ends. This requires us to build our equipping priorities based on value, vulnerability and risks in temporal terms. The contours of such a strategy will entail:
Tiered Modernisation. This approach prioritises in terms of progressive capabilities and tiered modernisation while mitigating the risks of low funding reality. It prioritises a smaller, high readiness status for operationally critical formations to the fullest extent possible while ensuring sufficient modernisation for the balance to be upgraded once funds availability improves. Capabilities desired must be classified as Operationally Critical (P1), Operationally Necessary (P2) and Operationally Desirable (P3). Similarly scaling or provisioning must be tiered as Modernisation Level 1 (state of art) of a smaller force which is at high risk, high payoffs and high readiness priority, while ensuring Modernisation Level 2 (current/modern) of the majority of the balance force to upgrade when funds become available. The Army must place first priority on formations most operationally critical to be equipped with the best, that is, those facing the greatest risk and providing the maximum payoffs when employed in battle.
Spiral Approach to Technology Induction. Enhanced functional capabilities and increased weapon effectiveness index contributing to combat overmatch must dictate the desired technologies. The pragmatic effort must be to bridge technology gaps and shorten acquisition timelines with induction of modern in-service technologies earliest, by way of product improvements in the short term. Simultaneously develop R&D for state of art technologies for future time critical technology infusion in the midterm. In the long term invest into Science and Technology projects for generation after next disruptive technologies in the long term. This spiral and progressive approach based on indigenous solutions needs to be institutionalised. The need is to encourage indigenous solutions and integrate mature technologies with incremental improvements, while investing in future disruptive technologies.
Risk - Vulnerability Analysis. Risk is a function of the values of threat, consequence, and vulnerability. The objective of risk management is to create a level of protection that mitigates vulnerabilities to threats and the potential consequences, thereby reducing risk to an acceptable level. Calibrated modernisation relates to prioritised modernisation based on acquisitions adding maximum value to combat effectiveness, mitigating critical vulnerabilities and accepting certain risks in temporal terms. Risk must be assessed in temporal terms and accepted in certain areas to ensure that the more critical areas are added value while mitigating vulnerabilities.
Cost Informed Decisions. Modernisation decisions must be both affordable and cost effective within the overall budget to include life cycle costs. The opportunity cost of "over-spending" to close a specific high cost gap is that we will not be able to afford closing several other gaps; thus, we must make cost informed decisions to manage 'best bang for the buck'.
Balance Modernisation and Sustenance. Modernisation and sustenance cannot be progressed in compartmentalised mindsets. The fiscal requirements for modernisation must be carefully balanced against the fiscal requirements necessary for sustaining the force at hand in its life cycle. Thus, standardisation and commonality of a family of platforms and interoperable technologies will reduce sustenance cost with better inventory management.
Indigenous Solutions to Indian Warfighting. Indigenous capability is a critical contributory factor of strategic autonomy. Thus, modernisation must be based on indigenous capabilities even if marginally lower, and where insufficient then based on a joint collaboration with an Indian firm, ensuring levers in our hand. Our Defence Industrial Base and Defence R&D need to be boosted to make this a reality. The new categorization of Buy IDDM (Indigenously Designed Developed and Manufactured) categorisation/Make I or II/Strategic Partnership model must be optimised. However, where time and operational critical equipment are not available indigenously, we must not shy away and dilute our operational readiness for want of indigenous solutions.
Organisation and Sector Based Integrated Capability Equipping. Formation and unit specific equipping with sector specific force multipliers as sector stores, will produce greater effects rather than diluting equipping and distributing limited assets across the board without major payoffs. A 'one size fit all' procurement may not be adaptable to all our varied operational terrains and thus merits review.
Joint Force Capability Focus. In an era of effect based joint operations, interoperable and synergised modernisation strategy for joint force capabilities is not only financially wise but operationally prudent. The need is to transit from intra service and inter service compartmentalised disjointed growth to interoperability and interdependency. The newly formed DPC would do well to holistically review the joint force capability building and synergised modernisation through an integrated approach.
Conclusion
Indian Army of the future must be equipped and ready to fight and win India's wars through indigenous solutions, jointly over the entire spectrum of conflict. This mandates a review of Indian Army's Modernisation Strategy from a scheme based and procedure oriented to a capability based and outcome oriented approach, in tune with fiscal realities and organisational spending capacity. The suggested calibrated modernisation strategy model is an attempt based on the need to find the sweet spot of desirability, availability and reality for combat overmatch in future conflicts.