'Ultima Ratio Regum' meaning 'The Final Argument of Kings'. Louis XIV of France had this phrase engraved on his army's cannons.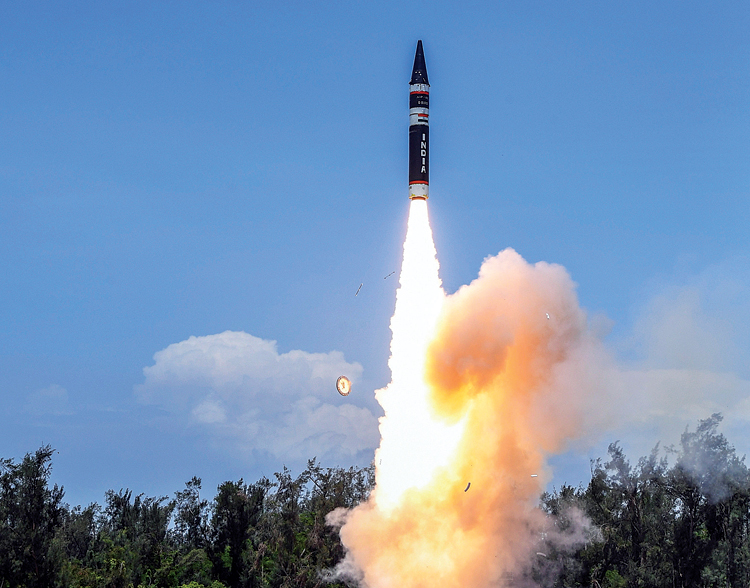 Agni missile being test fired. The new age artillery in hybrid warfare will revolve around drones, missiles and long-range shoot and scoot guns and rocket systems
Accurate, relentles and unforgiving, the guns had blazed day and night in the summer of 1999, reducing the formidable bunkers on the lofty heights of Kargil to rubble. Established clandestinely by Pakistani intruders led by the Northern Light Infantry (NLI) during the deep winters the previous year when the posts are traditionally vacated, the Indian Army had been taken by surprise. The Indian Artillery fired over 2,50,000 rounds of all types from 300 different types of guns and MBRL including 9,000 on the day the 'Tiger Hill' was recaptured. Such ferocity of shelling only happened previously during the WW II, when Joseph Stalin had famously said 'Artillery is the God of War'. The Kargil war gave us a graphic account of what Stalin meant.
Bofors was the star of the show. The importance of light weight, agile, medium range gun systems as the bulwark in the mountains along the LC and LoC was proven beyond doubt. Yet it took another 17 long years before the deal for 155mm M777 Ultra-Light Howitzers was signed in 2017. After more than 30 years, the Bofors ghost has ultimately been exorcised from the psyche of officials in the procurement loop. Operationally, the M777 Ultra-light Howitzer is a major force multiplier. Its light weight of about 4,000 kg gives it strategic mobility in mountains. It is the only gun of its class which can be heli-lifted or air-ported, either under-slung or strapped within. With other inductions like the 155mm 45 calibre Dhanush gun and 155mm 52 calibre self-propelled tracked K9 Vajra gun there is a new lethal dimension shaping our Artillery to prosecute the future wars.
Before we proceed further, it is necessary to broadly capture the shape of future wars. The chaotic US withdrawal and the swift fall of Kabul to the Taliban in Afghanistan indicates that there is a discernible shift from the conventional warfare of the last century to hybrid wars and the emphatic emergence of non-state actors who have demonstrated resilience and potency to unhinge traditional combat power of the first order. The mighty war machinery of the US doesn't look as formidable as they appeared to be before this event of August 15, 2021. Nor does the reliability of military coalitions hold promise as assuredly as before, considering that President Biden has taken the decision for a swift pull-out unilaterally without consulting his NATO allies whose troops and civilians were left fending for themselves. Two vital lessons emerge. One, force structuring of which artillery is an indispensable cog must squarely respond to the challenges of technology enabled hybrid warfare. Two, it is imperative that we achieve a degree of military self-reliance as a first principle of security doctrine.
The new age artillery in hybrid warfare will revolve around drones, missiles and long-range shoot and scoot guns and rocket systems. Drone warfare capabilities provide game-changing potential on realworld battlefields. A trend towards AI-based autonomous systems and swarming will bring masses of drones into the battlespace. Drones integrate sensor technology with precision strike effectors and communications. The 44-day war over the disputed region of Nagorno-Karabakh (2020) provides a foretaste of the decisive impact that these capabilities are able to exert on the outcome of a war. In this case, Azerbaijan was able to reconquer lost territories from Armenia/Artsakh by military means even after a long period of time and against an entrenched and militarily well-prepared opponent. Drone warfare capabilities, provided to Azerbaijan primarily by Turkey, proved to be the decisive offensive gamechanger for Azerbaijan. Experiences from hybrid warfare battlefields in Ukraine, Syria, Libya and Yemen underline the growing importance and effectiveness of these systems, particularly for hybrid warfare actors.
The current stand-off with China in eastern Ladakh has brought to light India's dire need for indigenous drone systems against a country that has become one of the world's largest exporters of armed UAVs. Important strides have been made in this field by India. A swarm of drones had covered the parade ground during the Army Day parade on January 15 this year showcasing its new unmanned warfare tactics for the first time. Referred to as 'swarm drones', the tactic of unleashing a number of UAVs at the same time can wreak havoc, since jammers and radars fail to detect multiple drones and see the 'swarm' as just one big object. Also, in January this year, an order for indigenous Switch UAVs meant for day and night surveillance of high-altitude areas has been placed with ideaForge. This UAV weighs 6.5 kg and has a range of 15 km with a flight time of up to two hours. This Fixed Wing VTOL (Vertical Take-off and Landing) UAV can be deployed at high altitude and harsh environments for day and night surveillance in Intelligence, Surveillance and Reconnaissance (ISR) missions.
Missiles will continue to occupy a prime space in deterrence is amply clear from the trepidation with which China has reacted to another test firing of our nuclear capable 5,000 kms range Agni V
The Jammu drone attack has also revealed that detecting and neutralising drones is a massive challenge. The Indian Navy has already opted for Israeli anti-drone Smash 2000 system fitted on a rifle and can be used to bring down drones. The system recognises, tracks and engages targets in the air with precision. The Indian Army has recently developed its own anti-drone capabilities without depending on other manufacturers. With these systems and other anti-drone capabilities like jammers manufactured by the Indian Army to detect and bring down quad copters, preparations are on for artificial intelligencebased warfare. The enhanced quadcopter jamming system has a range of 3.5 km and has already been deployed at various locations along the Line of Control (LoC).
That missiles will continue to occupy a prime space in deterrence is amply clear from the trepidation with which China has reacted to another test firing of our nuclear capable 5,000 kms range Agni V. India has in its armoury the Agni missile series - Agni-1 with a range of 700 km, Agni-2 with a range of 2,000 km, Agni-3 and Agni-4 with 2,500 km to more than 3,500 km range. On June 24, 2021 we conducted the 8th trial firing of the Indigenous Technology Cruise Missile (ITCM) Nirbhay, which has a range of 800-1,000 km. A series of military tests and trials are planned, including that of the Ballistic Missile Defence (BMD) shield, an Air-Independent Propulsion (AIP) system for submarines, and drones. The maiden trial of the much delayed 800-km range BrahMos supersonic cruise missile, meanwhile, is scheduled for later part of 2021. The 400-km variant of this missile was successfully tested earlier this year. These tests are to be carried out when the BrahMos land-attack missile is already deployed against China in Ladakh and Arunachal Pradesh.
A word on force structuring. The challenges of hybrid warfare waged without defined borders and frontiers are being slowly but surely being comprehended. This is evident from the activities in the spheres of gun systems, missiles, drone warfare, and missile and drone defence systems. However, the shape of an integrated force structure which can effectively deploy these systems in a real time seamless manner is yet to emerge despite very clear-cut mandate given to the Chief of defence Staff (CDS) due to a variety of institutional roadblocks. The PLA has its integrated theatre commands for over a decade now, constantly rehearsing their command, control and communications systems and tweaking their combat array. The Second Artillery Corps continues to occupy its prime place alongside a resurgent PLA Navy. Time has come to give urgency to shaping our force structure which can effectively fight the hybrid warfare being constantly waged without defined timelines or identifiable trigger events.
On the self-reliance front, the effort in establishment of Defence Corridors or investment conclaves like the Aligarh node of the Uttar Pradesh Defence Industrial Corridor visited by the Prime Minister on September 15, 2021 is a good start point in incentivisation. Start-ups need to be encouraged and incubated to grow. A week earlier, on September 8, 2021 the Cabinet Committee on Security approved the procurement of 56 C295 medium transport aircraft for the Indian Air Force to replace its ageing Avro planes. 16 aircraft will be delivered in a flyaway condition by the Airbus Defence and Space of Spain while the remaining 40 planes will be manufactured in India by a consortium of the Airbus Defence and Space and Tata Advanced Systems Limited (TASL), for the first time veering away from the problem ridden DPSU HAL. Along with maintenance of Rafale aircrafts and production of guns and other weapons and ordnance, the right kind of push for greater participation of the private sector is critical to achieving self-reliance.
The Sino-Indian borders is ideal terrain for hybridised asymmetric war. India has to reimagine its security architecture to meet these challenges squarely on its own. Indian strategists need to get their act together to achieve self-sufficiency in conventional weapon technologies and harness the potential of disruptive technologies. We have a proud ancestry in the field of warfare. Perhaps the Kurukshetra war had witnessed a lot of ancient weaponry which was far more advanced and futuristic than what we possess today. The concept of Astra (Missile) and Dhanush (Launchers) emerged from there. Some Astras returns to the person who launches it, for instance, Krishna's Sudharsana Chakra. This may be similar to the reusable missiles which the Indian Space Research Organisation (ISRO) is working on. A 'Home-grown New Age Artillery' is a critical and dominant component of 'Atmanirbhar Bharat'.

The Author is former Chief of Staff of a frontline Corps in the North East and a former helicopter pilot. The author earlier headed the China & neighbourhood desk at the Defence Intelligence Agency and served as the Chief Humanitarian Officer of UN Mission in Lebanon.