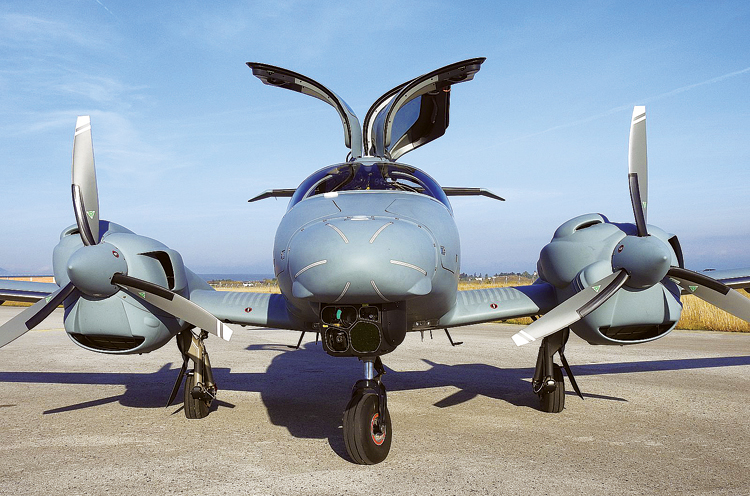 Diamond DA62 MPP (Multi-Purpose Platform)
Teledyne FLIR Thermal Core: Boson +
Kasstech Aerospace, a DPIIT registered company, has been actively involved in providing technical solutions to the aerospace industry since 2019. It offers unique integrations to solve some of the pressing problems of the industry and also undertakes maintenance and repairs of aircrafts and large UAVs.
Kasstech has a CAR-145 certified MRO at Narnaul, Haryana, through which they provide maintenance services including repair of aircraft and engine overhaul. Kasstech's team of trained engineer not only repair and maintain airframe and engines, but also provide maintenance support to large UAVs.
Recently the company has also collaborated with Dynamic Solution Systems (DS micro) as the distributors & service providers of dynamic microvib propeller balancer systems and is also the calibration centre for the same for all types of propellors of fixed wing aircraft as well as rotors on helicopters.
Kasstech Aerospace has a tie-up with FLIR — a US-based company manufacturing thermal imaging sensors, similar to cameralike devices that can pick up temperature differences by sensing heat emitted by objects. By providing a visual depiction of the temperature differences, these systems can act like our sixth sense. The company's R&D division has developed India-specific applications as well. The sensors range from large 'gimbals' which form part of aircraft avionics systems to small thermal cores which form the heart of various thermal imaging instruments being designed and manufactured in India by different large system integrators.
In India, several major system integrators use the FLIR-provided cameras for their weapon sights and drone systems as well as final products for the defence sector as part of the government's push to 'Make in India' and 'Atma Nirbhar Bharat' initiatives. Kasstech is also developing industry specific solutions based on this technology.
Austro Engine GmBH, whose products are distributed and maintained by Kasstech, are the world leading engines in their class with the best power to weight ratio and extremely cost efficient with the lowest costs of operation in its class. There are austro engine variants developed for UAV application which are in operation with DRDO. With a redundant EECU system, these engines are failsafe.
Diamond is the leading global manufacturer of single and twin-engine aircraft in General Aviation. The DA62 MPP (Multi-Purpose Platform) is a new special mission Diamond aircraft i.e highly innovative and efficient twin-engine plane, configured for coastal surveillance, border surveillance, land Geo survey mapping, disaster management, infrastructure and environmental monitoring missions. The DA62 MPP is also offered with special turnkey solutions. In the surveillance configuration the DA62 MPP can be configured with a high performance electro-optical system as well as maritime RADAR or SAR depending on whether the application is maritime surveillance or border surveillance. As a geo survey configuration, it collects laser-scanning and photogrammetry data together during the same flight. The aircraft can be configured to carry various LIDAR sensors as well as medium format camera payloads, all mounted in the dedicated nose pod using the German IGI Flight Management System. The MPP aircraft are provided in India with the support of Kasstech as their sales representative.