The 61st Cavalry Regiment in the Indian Army still celebrate the battle of Haifa every year on September 23 as 'Haifa Day', in the memory of soldiers who laid their lives to liberate Haifa during World War I
IAI and HAL have reached agreement to produce UAVs in India
The Hannukah lamp sitting on the mantelpiece in my study floods my memory with many indelible visits to Haifa in 2002 from our UNIFIL HQ at Naqoura at the southern tip of Lebanon. The most beautiful and cosmopolitan city of Israel, Haifa stretches from the shores of the Mediterranean to the peak of Mount Carmel and is a confluence of many cultures as the Jews migrated from Poland and other European kingdoms and principalities in the run up to the World War II escaping the holocaust. As the aroma of a steaming cup of green tea poured over a pod of holy basil wafted through the cool sea-side breeze at a Haifa curio-shop, I had wondered about our deep civilisational ties that date back to more than two millennia. India has welcomed Jews for several centuries and their contribution, in turn, has enriched Indian culture. India is known in Israel as an ancient nation with strong cultural traditions and as an attractive tourist destination.
It was in Haifa that a significant battle was fought on September 23, 1918, where the elements comprising mainly of Indian troops of the British Army engaged and defeated the forces of the Ottoman Empire and their German allies. The battle was one of many fought during the Sinai and Palestine Campaign of World War I. The Jodhpur and Mysore Lancers that took part are now represented by the 61st Cavalry Regiment in the Indian Army and still celebrate the battle day every year on September 23 as 'Haifa Day', a memorial service held in the memory of soldiers who laid their lives to liberate Haifa following a dashing cavalry action by the 15th Imperial Service Cavalry Brigade. The Regiment also sent a contingent to Israel in 2018 to participate in the centenary celebrations and the Israel Post had issued a commemorative stamp in appreciation of Indian soldiers' role in liberating the city.
Captain Aman Singh Bahadur and Dafadar Jor Singh were awarded the Indian Order of Merit (IOM) and Captain Anop Singh and Second Lieutenant Sagat Singh were awarded the Military Cross (MC) as recognition for their bravery in this battle. Major Dalpat Singh, widely popular as the Hero of Haifa, was awarded a Military Cross for his bravery. About 900 Indian soldiers are interred in cemeteries across Israel in Jerusalem, Ramle and Haifa. History textbooks in Haifa teach about the story of liberation of Haifa by Indian soldiers. The modern-day relations between the two ancient civilisations were cemented by the valour of these Indian soldiers.
Today, there are approximately 85,000 Jews of Indian-origin in Israel, who are Israeli passport holders. The main waves of immigration into Israel from India took place in the 1950s and 1960s. The majority are from Maharashtra (Bene Israelis) and relatively smaller numbers are from Kerala (Cochini Jews) and Kolkata (Baghdadi Jews). In recent years, some Indian Jews from the North-Eastern states of India (Bnei Menashe) have been immigrating to Israel. While the older generation still maintains its cultural links with India, the younger generation is increasingly assimilated into Israeli society.
Formation of the Relationship
Israel helped India when both the countries did not even have diplomatic ties. India had curiously voted against Israel's creation in 1948 but announced its recognition of Israel on September 17, 1950. But even when Israel was facing an arms shortage, the former Prime Minister Golda Meir decided to divert arms meant for Iran to India during the 1971 war. She even sent a note addressed to then Prime Minister Indira Gandhi asking for diplomatic ties in return for arms, a book by scholar Srinath Raghavan revealed. However, India under Indira Gandhi, held very close ties with Israel's bete noire, the PLO and its charismatic leader Yasar Arafat. So, it had to wait for another 20 years before regular Embassies were opened in 1992 when full diplomatic relations were established between the two countries.
During Kargil conflagration of 1999, Israel was forced by United States of America and other countries to delay delivery of shipment of arms that were ordered before the intrusion. Israel, however, delivered the order quickly for laser-guided missiles for IAF Mirage 2000H fighters. The precision bombing material then limited the advantage of the Pakistani soldiers based on high position and helped India without violating the orders to not cross LoC.


Prime Minister Narendra Modi undertook a historic first ever visit to Israel by an Indian Prime Minister on July 4-6, 2017 during which the relationship was upgraded to a strategic partnership. The then Prime Minister of Israel Benjamin Netanyahu, who has again returned to power after a brief interregnum made a return visit to India on January 14-19, 2018. India and Israel have established bilateral consultation mechanisms in all sectors of collaboration, including water, agriculture, counter-terrorism, and defence. In 2020, India and Israel also signed an agreement to expand cooperation in cyber-security. Over the past five years, both countries have conducted joint military drills and hosted police and army training and exchange visits. In recent years, the Israeli government has placed great importance on the Indian arms market as its largest and possibly most dependable customer of military hardware.
Israeli Defence Exports to India
According to weapons monitors, India is the largest purchaser of Israeli-made arms. Though military deals only proliferated once diplomatic ties were established, the countries did have clandestine relations before 1992. Israel provided India with weapons in 1962 and then in 1965 in the wars against China and Pakistan. By the early 1970s, the Indian military establishment was impressed by and enamoured with Israeli technology. Following several interactions between military leaders in the early 1990s, India agreed to assign a Defence Attache to Tel Aviv in 1995.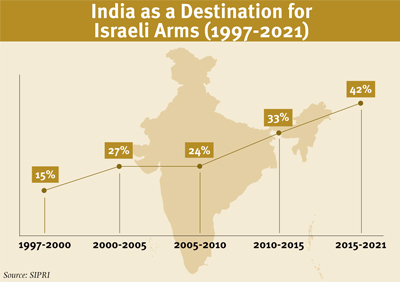 Between 1997 and 2000, 15 per cent of all Israeli arms exports travelled to India. By the mid-2000s, this had increased to 27 per cent, with India broadening its range of purchases, such as surveillance equipment, drones and surface-to-air-missiles. Between 2000 and 2010, India spent around $10 billion on Israeli arms. According to SIPRI, weapons deliveries to India from Israel increased by 175 per cent between 2015 and 2019. Since Prime Minister Narendra Modi entered office in 2014, around 42.1 per cent of all arms exports from Israel have landed in India, with Azerbajiain (13.9 per cent) and Vietnam (8.5 per cent) and the United States (6.2 per cent) making up the other major customers.
The first purchases India made from Israel were two Super Dvora Mk II fast patrol boats in the mid-1990s. Soon we began importing high-end defence equipment, including Israeli Searcher and Heron unmanned aerial vehicles (UAVs) and armed drones, missile systems, and sensors and electro-optical systems or Tavor assault weapons used by the Indian Army's Special Forces.
Between 2014 and 2021, India received combat aircraft radar equipment, armed UAVs, anti-tank missiles and surface-to-air missiles, among other hardware from Israel. This includes Israeli Searcher drones, Herons and several Harpy drones, also known as suicide attack drones. In the "surgical strikes" on Pakistan in 2019, India used Israeli-made "Spice 2000" bombs. Last year, during the standoff with China, India leased and finally bought four Heron-TP Medium Altitude Long Endurance UAVs from Israel Aircraft Industries (IAI).
Made in India, with Israel
As part of Atmanirbhar Bharat, India has worked with Israel in co-producing weapons. In 2017, Israel Weapons Industries and Indian construction company Punj Lloyd created the first private small arms factory in Malanpur, MP, under the name Punj Lloyd Raksha Systems, or PLR Systems. According to PLR Systems, also a joint venture with Adani Group and the SK Group, the factory produces the Tavor Assault Rifle, X95 Assault Rifle, Galil Sniper Rifle, Negev Light Machine Gun and the Uzi Sub Machine Gun used by the Indian military, including Indian Special Forces.
Later in 2017, Kalyani Rafael Advanced Systems Ltd (KRAS), a joint venture between Kalyani Strategic Systems Ltd and Israel's Rafael Advanced Systems, began manufacturing Spike anti-tank guided missiles for the Indian army. It was the first private company to produce missiles in India. In 2019, KRAS received an order of $100 million to produce the Barak-8, a long-range surface-to-air missile, for the Indian Navy. In late 2021, the military ordered Skystriker drones. This will now be produced in a joint venture between Israel's Elbit Systems and Adani-owned Alpha Design Technologies in Bengaluru.
Similar Challenges Lead to Bigger Cooperation
As the barrage of rocket attacks emanating from the Hezbollah controlled South Lebanon on April 6, 2023 demonstrates ad nauseam, Israel faces the same scourge of terrorism as India does. Intelligence sharing is key to fight this menace and informally since the early 1970's, both country's intelligence agencies have cooperated closely. The 2008 Mumbai terror attack brought forth the viciousness and deeply entrenched hatred harboured by terror groups towards Israel and India and their burgeoning friendship. Moshe Holtzberg, a Jewish miracle survivor of the 2008 terror attack who lives now in the Israeli city of Afula with his maternal grandfather Rabbi Rosenberg, was barely two years old when his parents were killed at the Nariman House, a Jewish outreach centre in Mumbai. He epitomises the challenges both the nations face and why they need to further tighten their embrace.
While defence cooperation remains pivotal in the Indo-Israeli relations considering the similarity in terror threat that both these nations have to confront, Israel is also a pioneer in dryland farming, greenhouse cultivation and drip irrigation keeping in view its scarcity of water and the desert landscape. Hence the Indo-Israel collaboration in the agriculture field goes a long way. The first stage of the Indo-Israeli Agricultural Cooperation Project started in 2008 following the signing of a three-year Action Plan based on a government-to-government Agreement. Within the framework of the plan, Israel was requested to share best practices and know-how and provide capacity building through professional training programmes to be conducted both in Israel and in India. The Centres of Excellence for Agriculture were set up under this in various states across India, including Maharashtra. Farmers in Maharashtra, both small and large farm holdings, have benefitted a lot from these practical know-how centres.
Conclusion
Just to drive home the point, I recollect that I had requested my Indian Army colleague who had come to pick me up from the Beirut airport around midnight of November 8, 2001 to make sure he showed me the Litany River on our drive to the UN base. I had just got deployed there as the Chief Humanitarian Officerat UNIFIL. Frankly I imagined it to be a big river like Satluj or Mahanadi or Cauvery for its water to be so attractive that Israel established a buffer zone south of this river from 1978 onwards till withdrawal in 1998, not only to keep the PLO fighters at bay but also to utilise the waters of this river. When the regulation UN Toyota Landcruiser suddenly stopped, rudely waking me up, all I could see was a short culvert. Getting down with curiosity, I was disappointed to see a river the size of our Upper Ganga canal. It highlights the adversities that Israelis face when they have laboured hard since their founding in 1948 to make the country green and bountiful.
Later, I had the honour to represent the Indian UNIFIL contingent at the Hannukah celebrations in Israel where I was pleasantly overwhelmed by the presence of the then Foreign Minister, formerly Prime Minister and later President of Israel Shimon Peres. In a simple yet sombre ceremony, they commemorated the Maccabean Jews victory over the forces of the Seleucid King Antiochus IV Epiphane, regained control of Jerusalem and rededicated the Temple in 164 BCE. A culture as ancient as the Jews will instinctively have a great respect and brotherhood with an even more ancient and eclectic culture like India. In the past century, this bonding has been cemented by our gallant soldiers in 1918 which is cast in stone in the war memorial in Haifa. The current generation of soldiers carry forward that torch of Indo-Israeli friendship with grit and determination.
"L'Chaim" - "To Life!"