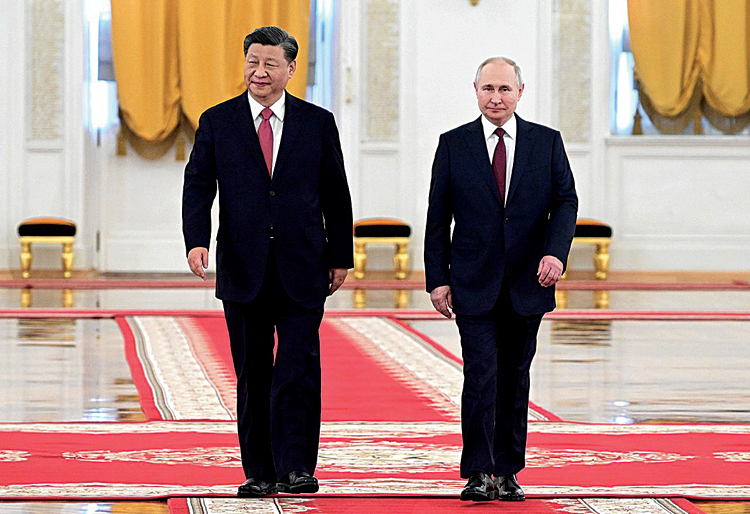 Official welcoming ceremony - Russian President Vladimir Putin with President of the People's Republic of China Xi Jinping
To say that the recent three-day visit of Chinese President Xi Jinping to Moscow for a tête-à-tête with Russian President Vladimir Putin gave Washington goosebumps, would be an understatement. America's Joe Biden administration had "warned" China not to militarily support Russia in Ukraine. This warning, despite the evidence of Russia using Chinese drones in Ukraine, was laughed at by Beijing with China's foreign ministry responding that Chinese support to Russia would be similar to US support to Taiwan.
Xi Jinping's peace plan for Ukraine was shot down by Washington as the US simply does not want a ceasefire in Ukraine. US Secretary of State Antony Blinken had warned that Xi's proposal which calls for the respect of sovereignty and territorial integrity but does not condemn the invasion or call for Russian withdrawal from occupied territories could be a stalling tactic. But many American scholars, strategists and former military and intelligence officials have placed on record that Russian special operations in Ukraine were forced by expanding NATO and posing an existential threat to Russia.
The POTUS is a puppet of America's arms, oil and pharma lobbies of the US. POTUS who cannot effectively change gun laws in his own country must abide by the diktat of America's 'deep state' to wage war against Russia using Ukraine as proxy. Not surprisingly Biden remains high and publicly shakes hands in thin air; while China continues to pump more and more fentanyl in the US.
Russia was the first country Xi Jinping had visited after being elected President of China for the first time in 2013. Meeting President Putin now at the Kremlin, President Xi emphasised the profound historical logic for China-Russia relationship reaching where it is today. He said consolidating and developing China-Russia relations is a strategic choice China has made on the basis of its own fundamental interests, prevailing global trends, and China is firm about strengthening strategic coordination with Russia. Putin said that Russia-China relations in recent years have delivered fruitful results in various areas, Russia stands ready to continue to deepen bilateral practical cooperation, step up communication and collaboration in international affairs, and promote world multi-polarity and greater democracy in international relations.
Earlier, China had released a document on its position on the Ukraine crisis, advocating the political settlement of the crisis and rejecting the Cold War mentality and unilateral sanctions. Putin said Russia has carefully studied China's position paper on the political settlement of the Ukraine issue and is open to talks for peace. He welcomes China to play a constructive role in this regard. One document signed by President Xi and Putin states that both parties are determined to "provide strong mutual support in defending each other's fundamental interests, above all sovereignty, territorial integrity, security, and development".
Western media continued the tirade against Russia during Xi's three-day visit to Russia. British Prime Minister Rishi Sunak's spokesman said, "We hope President Xi uses this opportunity to press President (Vladimir) Putin to cease bombing Ukrainian cities, hospitals, schools, to halt some of these atrocities that we are seeing on a daily basis." This, forgetting that Britain has allied with the US in arbitrarily bombing, invading multiple countries and committing war crimes over the past several decades and is currently pumping mercenaries and weapons in Ukraine to attack civilians in the Donbas region.
Despite the fact that even American air defence systems in Ukraine are ineffective against Russian aerial attacks, America wants to keep Russia engaged in operations because the US is the only country which is benefiting financially and strategically from the war in Ukraine. China is well aware that the US aims to deal with China in similar fashion – indirectly as far as possible though Washington is making noises about getting ready to fight China. The China-Russia military cooperation, therefore, would necessarily keep building to higher levels. There is also speculation that Russia is maybe helping China build its nuclear arsenal.
Russia endorses the "One China Policy" and perhaps also the Chinese claims in the South China Sea. But it has no formal military pact with China perhaps to avoid getting unduly drawn into conflict(s) in the Indo-Pacific. At the same time, Russia and China have been exercising bilaterally and with allies in the waters of the Indo-Pacific. China's relations with the US and Europe is dictated by economic and trade priorities and access to markets in the West but this interest runs both ways. This is the reason why European leaders are heading to Beijing with business delegations despite their partnership with the US-led Anglo-Saxon front against Russia.
Concerns have been raised in some quarters over the China-Russia bonding adversely affecting India. But the fact remains that there is an exceptional and long friendship between India and Russia, which has grown even stronger with the conflict in Ukraine. On March 23, 2023, Russian Ambassador to India Denis Alipov dismissed the geopolitical experts who claimed that the visit of Chinese President Xi Jinping to Russia will have a negative impact on India-Russia relations. Alipov tweeted: "Profusion of analysis these days of the outcomes of Xi Jinping's Russia visit. The impression as though various reputable Indian experts almost dream of Russia-China ties harming Russia-India strategic alignment. A wishful thinking - case in point."
There is no doubt that India-China relations are very strained with the continuing two-year standoff at the Line of Actual Control (LAC) despite both countries interacting in forums like the SCO and BRICS. India even gave China a trade advantage of $100 billion in 2022. But China has designs on Indian Territory and has formed an alliance with Pakistan against India. Notably, Russia has always tried to keep the Russia-India-China (RIC) Dialogue going. Admittedly, Russia cannot stop Xi Jinping from waging war against India but Russia can surely be a soothing influence given the realisation in China that Russia remains the primary supplier of China's growing energy demands, critical raw materials, food grains, defence supplies and spares.