During his official talks with the Japanese Prime Minister, the Indian Prime Minister talked of the mantra of co-innovation, co-design and co-creation for a deeper and mutually beneficial defence cooperation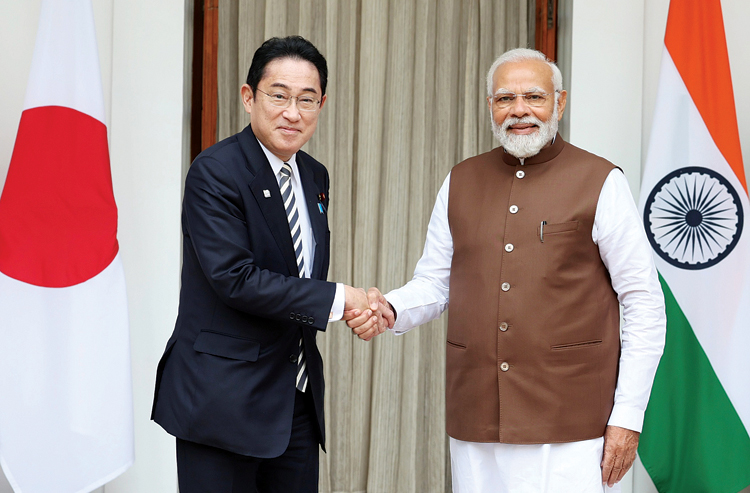 Japanese Prime Minister Fumio Kishida meeting with Indian Prime Minister Narendra Modi on March 20, 2023
Deepening of India-Japan bilateral strategic relations is one of the success stories of Indian diplomacy in the first two decades of the 21st century, which the world is watching closely. The strategic bonhomie, developed over last two decades, is creating ripples in the Indo-Pacific waters. The latest visit of Japanese Prime Minister Fumio Kishida on March 20-21, 2023 has further given a new momentum to bilateral defence, security and diplomatic relations. The cordial but low key relations during the second half of previous century has now evolved into a close ally like partnership. The two countries, equally impacted by the aggressive and expansionist Chinese behaviour are formulating joint strategies to counter the threats posed to them and are a part of a grand alliance of four democracies called QUAD.
The latest visit of Prime Minister Kishida has reaffirmed the resolve to not only move forward bilaterally but multilaterally also to jointly protect their national interests. In the changing geopolitical dynamics this unique bilateral partnership called the special strategic global partnership is tilting the strategic balance in the Indo-Pacific region.
One of the by-product of this deepening strategic understanding is extensive exchange between the defence forces of the two nations. The level and scope of bilateral defence relations now encompasses joint maritime exercises, joint army exercises and for the first time the two air forces together conducted fighter exercises. Thus, the military interaction assumed a significant new dimension, when last January the two air forces conducted first ever joint air exercise. This reflects growing security cooperation between two countries. The inaugural air exercise included the conduct of various aerial combat drills between two air forces. This was another landmark step in deepening strategic ties and closer defence cooperation. The two air forces undertook multi domain air combat missions in a complex environment. During the exercise both forces learnt from each other their best practices. According to an official of Indian defence ministry the joint air exercise "Veer Guardian" will fortify the longstanding bond of friendship and enhance the avenues of defence cooperation between the two Air Forces.
Under the directions of the 2+2 dialogue of the defence and foreign ministers, the two countries have expanded the scope of their bilateral defence ties. However, the missing link in India-Japan defence relations is the defence industry cooperation. The technology rich Japan and human resources rich India has much to offer to each other for fruitful cooperation in defence industry not only for each other's armed forces but for international export also. In the backdrop of increasing Chinese aggression, from land to the sea, not only India but Japan also needs to beef up their armed forces. Japan which calls its armed forces as self-defence forces is now looking outwards to protect it's strategic and security interests. Hence it was natural for the two prime ministers, Kishida and Modi to discuss ways and means to strengthen cooperation between defence industries of the two nations. During his official talks with the Japanese Prime Minister the Indian Prime Minister talked of the mantra of co-innovation, co-design and co-creation for a deeper and mutually beneficial defence cooperation. Defence industry experts are of the opinion that India and Japan could cooperate in the field of next generation warfare equipment and systems. Since both India and Japan missed the bus of fourth generation warfare systems as for platforms like advanced fighter planes, howitzers and advanced missiles, both are till now dependent on friendly defence partners, India and Japan could match their resources to take a lead in the fifth-generation warfare systems.
The technology rich Japan and human resources rich India has much to offer to each other for fruitful cooperation in defence industry
With this aim, during the 2+2 dialogue last September, Indian Defence Minister Rajnath Singh reviewed various aspects of bilateral defence cooperation. Rajnath Singh along with his Japanese counterpart Yasukaza Hamada acknowledged the importance of bilateral defence cooperation and partnership and the critical role it will play in ensuring free, open and rules-based Indo-Pacific region.
Since India Japan relations are also driven by security issues facing democracies in the Indo-Pacific region, both the countries have taken several initiatives to deepen cooperation in various field. Presently five initiatives are in progress. They are:
Agreement concerning defence equipment and technology transfer.
Joint working group on defence equipment and technology cooperation (JWGDETC)
Cooperative research on Augmentation Technology for Unguided Vehicles (UGV)/robotics
Japan India cyber dialogue to review policy and strategic planning for security
MoU regarding space cooperation for surveillance and situational awareness.
The two countries have also entered into a very significant agreement to enable reciprocal provision of supplies and services between two militaries. The agreement known as The Acquisition and Cross Services Agreement (ACSA) between Japan's Self Defence Forces and Indian military, signed in September, 2020, will drive closer military cooperation and contribute to security in the Indo-Pacific.
Since Japan is revising its national security strategy to stimulate the industrial base and focus on emerging technologies and India has recently opened its private sector for defence industries, both countries can align their policies and plans to bring them together. This will build trust and mutually beneficial partnership. The challenge is to provide a congenial ecosystem for them to work together.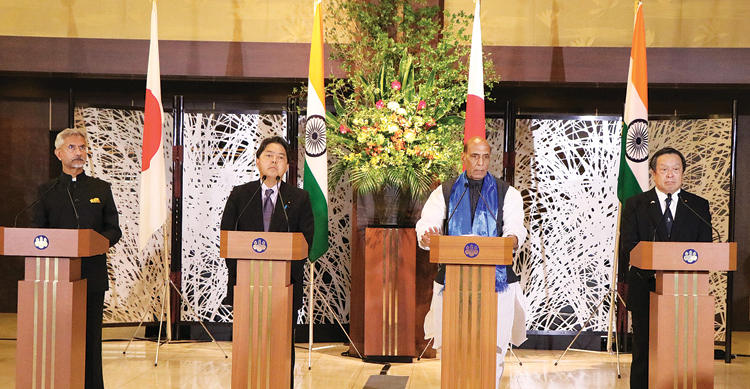 Defence Minister Rajnath Singh, Foreign Minister Dr S. Jaishankar, Defence Minister of Japan Yasukazu Hamada and the Minister of Foreign Affairs Yoshimasa Hayashi at the joint press statement after the India-Japan 2+2 ministerial dialogue, in Tokyo
The bilateral relations began an upward trajectory from the beginning of this century, when the then Japanese Prime Minister Yoshiro Mori visited India and established a very unique Global Partnership between India and Japan. In fact democratic values and respect for human rights and belief in rule of law in International domain brought the two countries further together. As both the Asian giants are facing a challenge and threat to territorial integrity from China, they find a common interest to work together. But China is not the only uniting factor between India and Japan. The deepening friendship between world's biggest democracy and most prosperous, technologically advanced nation is because of common interests they want to pursue for mutual economic development, peace, security and stability in the Indo-Pacific region. To jointly work towards this, India and Japan began the tradition of holding annual summits in 2005, with the visit of the then Prime Minister Junichiro Koizumi, which is not only continuing till date, but also expanded the level of political interaction with the initiation of 2+2 dialogue in 2019 comprising of foreign and defence ministers of two countries. In Japan, there is bipartisan support for strengthening strategic and economic relations with India, hence the ties have evolved and matured so fast. When the then Prime Minister Manmohan Singh paid a return visit to Japan for annual summit, the relationship was elevated as "Global and Strategic Partnership" and in 2014, when Prime Minister Narendra Modi visited Japan for the annual summit, the then Japanese PM Shinzo Abe proposed the elevation of the relationship to "Special strategic and global partnership" and when Shinzo Abe visited India next year, the two countries resolved to transform the Japan India special strategic and global partnership into a deep broadbased and action oriented partnership which reflects a broad convergence of their long term political, economic and strategic goals.
Shinzo Abe and Modi, giving a further boost to this deepening relationship announced "Japan and India vision 2025 Special Strategic and Global partnership working together for Peace and Prosperity of the Indo-Pacific region and the world, that would serve as a guide post for the new era in Japan-India relations."
In order to meaningfully transform the special strategic partnerships the two countries have been strengthening cooperation in security fields also. In 2008, when the then Prime Minister Manmohan Singh visited Japan, the two countries signed the Joint Declaration on security cooperation. To bring this cooperation to visible ground level, the two countries have initiated various framework of security and defence dialogue, which includes the annual defence ministerial dialogue. Under these framework the armed forces of two countries started interacting together through joint exercises and Staff level talks. Japan is also a participant in the four nation Malabar exercises, initially started between India and USA in 1992. Today the two countries have expanded their partnership in the multilateral groupings like G-4, G-20 etc. Japan is also associating India with G-7 through a special invite to Prime Minister Narendra Modi during the Tokyo G-7 summit in May, 2023.