By Lt. General P.C. Katoch (Retd)


Former Director General of Information Systems, Indian Army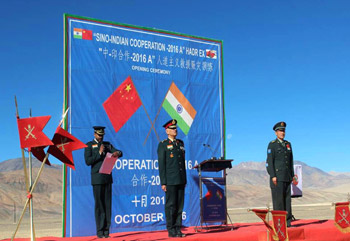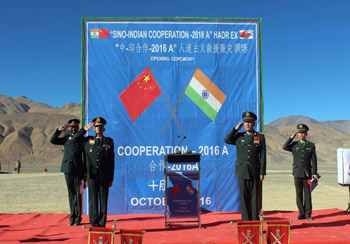 Indian and Chinese army troops carried out a joint exercise in Eastern Ladakh on October 19, led by Brigadier R S Raman and Senior Colonel Fan Jun respectively. The day long exercise on Humanitarian Aid and Disaster Relief (HADR) was based on simulating an earthquake striking an Indian Border village, followed by joint rescue operations, evacuation and rendering of medical assistance by Indian and Chinese army troops. An Indian Army statement said that the exercise was a great success and has not only refined the drills to provide succor to the border population in case of natural calamity but has also increased the level of trust and cooperation between the two border guarding forces along the LAC in Eastern Ladakh. The exercise was actually a sequel to a similar joint exercise held on February 6 on the Chinese side of the Line of Actual Control (LAC) in the area of Border Personnel Meeting Hut at Chushul Garrison of Eastern Ladakh, along with Chinese troops of Moldo Garrison. Both these exercises compliment the Hand in Hand series of the India-China joint exercises and the effort of both the nations to enhance cooperation and maintain peace and tranquility along the border areas of India and China.
This year's edition of 'Hand in Hand' will be held at Aundh, near Pune in Maharashtra, from November 15 to 27. Sure these HADR and Hand in Hand exercises are good to imbue confidence at the tactical level but when China abets Pakistani terrorism, it signals 'stab in the back' policy at the Chinese government level. China stonewalling India's membership of NSG despite herself being a nuclear proliferater indicates she wants India constrained. The timing of establishment of United National Liberation Front of West South East Asia (ULFWSEA) by Chinese intelligence in Myanmar last year combining nine northeastern militant groups including NSCN (K) and ULFA can hardly be construed mere signal to Prime Minister Modi since Chinese have reportedly promised to provide weapons and logistics to the new grouping as they want to keep things boiling in the northeast in view of their claim on the state of Arunachal Pradesh. With all the talk about peace and economic development, and strong leadership of President Xi, it was hoped that China will shun the path of subterfuge. But it appears that Xi has decided to continue with the age old CCP path of hedging through asymmetric means. It is an open secret that militants in J&K are being financed by China and Chinese have established huge control over Kashmiri separatist leaders.
The recent discovery of Chinese flags from terrorist hideouts in Baramula provides further evidence of Chinese nefarious designs. the China-Pakistan sub-conventional nexus dates back to 1960s when Chou-en-Lai advised Ayub Khan that Pakistan should prepare for prolonged conflict with India instead of short - term wars. He advised Pakistan to raise a Militia Force to act behind enemy (Indian) lines. In 1966, when a Pakistani delegation went to Beijing and was met by Chou en Lai, latter while discussing India raised his clenched fist and said, "This is capable of delivering a forceful blow, but if you cut off one finger, the fist loses its power, not by one-fifth, but by fifty percent. If you wipe out a couple of hundred thousand of the enemy spread over a long front, its impact is not as great as wiping out an entire battalion or a brigade — the enemy's morale is dealt a devastating blow. We know this from practical experience."
Witness the shamelessness with which China is protecting JeM chief Azhar Masood at the UN despite his role in numerous terrorist attacks in India. Besides, the United Mission in Afghanistan (UNAMA) report released in July 2016 has specifically highlighted both JeM and LeT involved in terrorist acts in Afghanistan. Now the question is will China stop stabbing India in the back, with her peace homilies laced with ambiguity and deceit? Another question is if major disaster strikes Taiwan, will China be amenable to India providing HADR to Taiwan?
The views expressed herein are the personal views of the author.