When it comes to the defence industry and procurement, Italian companies have developed an outstanding expertise, which can contribute significantly to the 'Make in India' flagship programme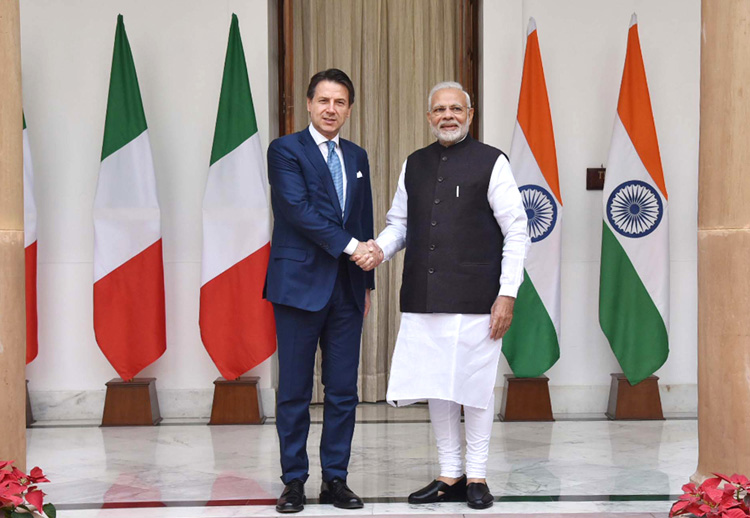 Prime Minister Narendra Modi with Prime Minister of Italy, Giuseppe Conte, in New Delhi, October 30, 2018
Prime Minister of Italy, Giuseppe Conte, paid an official visit to India on October 30, 2018 at the invitation of Prime Minister Narendra Modi. This was Prime Minister Conte's first visit to India after taking office in June 2018. The visit is part of the ongoing celebrations to commemorate 70th anniversary of establishment of diplomatic relations between India and Italy.
Growing Political Ties
Both Leaders reiterated that India and Italy ties are based on shared principles and values of democracy, freedom, rule of law, respect for human rights and territorial integrity of States.
They reaffirmed their commitment to strengthen mutual understanding and expand the range of bilateral engagement to promote peace, stability, economic progress and prosperity of the two countries.
Strengthening Economic Engagement
Underlining the importance of economic cooperation for strengthening the bilateral ties, the two sides agreed to convene the next session of the India-Italy Joint Commission on Economic Cooperation (JCEC) in India in 2019.
Both sides agreed on the need for an institutional framework for a sustained dialogue to enhance the environment for ease of doing business in their respective countries and further facilitate and promote bilateral economic cooperation. To take this forward, the Leaders tasked the JCEC to work towards constituting a CEO Forum and setting up a Fast Track Mechanism to promote two-way investments, and resolve issues, if any, confronted by the businesses in each other's country.
The Leaders welcomed the setting up of an India-Italy Joint Working Group on Food Processing that will be convened at a mutually convenient date.
DST-CII India-Italy Technology Summit
Both the Prime Ministers addressed the valedictory session of India-Italy Technology Summit designed to showcase cooperation across industrial sectors between the two nations. During his address, Prime Minister Narendra Modi announced the launch of the next phase of the India-Italy Industrial Research and Development Cooperation programme. He added that the programme will enable our industry and research institutes to develop new products.
More than 60 Italian companies were present at the Tech Summit, where they displayed the latest developments and cutting edge innovation in a broad spectrum of sectors, such as environment, energy, information and communication technology, aerospace, medical science but also the preservation of cultural heritage.
Nuclear Suppliers' Group (NSG)
Conte reiterated Italy's support to India's intensified engagement with the Nuclear Suppliers' Group (NSG) which strengthens global non-proliferation efforts.
Defence Cooperation
Both Leaders recognised the importance of regular defence exchanges between the two countries. They took note of the 9th India-Italy Joint Defence Committee meeting which took place in Rome on May 16, 2018 and the recently concluded India-Italy 9th Military Cooperation Group meeting in Rome (October 11-12, 2018) which saw the two sides agreeing to the bilateral cooperation plan for the year 2019. Both sides recognised the need to broad base defence ties and make them enduring and mutually beneficial. India invited Italian defence equipment manufacturing companies to invest in India under the 'Make in India' initiative and to collaborate with Indian companies for design and construction of defence equipment.
Current Scenario in Defence Cooperation. With a new leadership in Italy and with the Milan Third Court of Appeals finally clearing the defendants and dismissed all charges, citing lack of sufficient evidence to support the allegations, Italy has reached out to India to revive their defence cooperation and have Italian defence firms take part in Prime Minister Narendra Modi's 'Make in India' programme.
In fact last year, a delegation led by defence secretary Sanjay Mitra visited Italy to look at areas for military cooperation, that included meetings with the Italian defence minister, the head of armaments and three service chiefs. At the same meeting the two navies also agreed to share 'White Shipping' information, i.e. advance information regarding the movement of commercial, non-military merchant ships.
During a meeting in 2017 between Prime Minister Narendra Modi and his then Italian counterpart Paolo Gentiloni it was decided to establish a Joint Defence Committee to enhance and encourage a "structured dialogue" between Indian and Italian defence firms.
Italy and India can forge a mutually beneficial partnership in the defence sector. Contacts between Defence Ministries in this field have increasingly intensified this year, as proved by the reactivation of the Joint Defense Committee. When it comes to the defence industry and procurement, Italian companies have developed an outstanding expertise, which can contribute significantly to the 'Make in India' flagship programme.
Conclusion
Ahead of the Summit, The Italian prime minister, Giuseppe Conti, gave an interview to mainstream press in India that he wants to integrate Leonardo (formerly Finmeccanica), the new defence company, with Prime Minister Narendra Modi's 'Make in India' programme. With the company's fresh name, it could also spell a fresh start for them in India as well.
Italy is India's fifth largest trading partner in the European Union and in 2017-18, India's exports to Italy posted a 16.47 per cent growth at $5.7 billion. Imports increased 20.8 per cent to $4.7 billion. It appears that both India and Italy are seeking to put an end to the uneasiness that crept into bilateral relations and are ready to forge strong strategic and economic bi lateral ties. Italy PM's visit could help write a fresh chapter in India-Italy Defence Cooperation.